Terry Collins' 10 Most Puzzling Managerial Decisions of 2012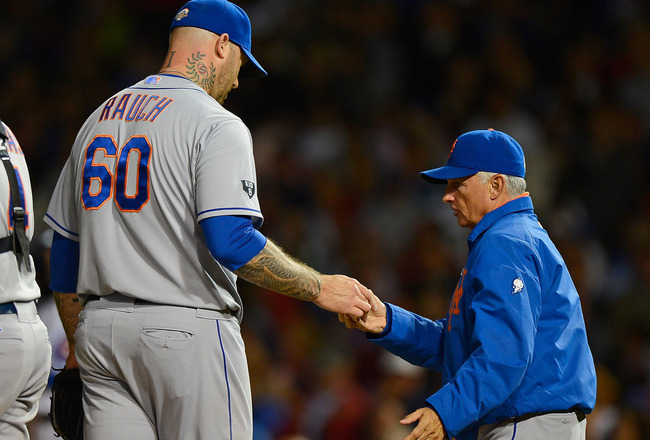 Jonathan Daniel/Getty Images
New York Mets manager Terry Collins has been the beneficiary of numerous hunch decisions gone right, which has been a huge factor in the Mets' surprisingly impressive first half.
This does not mean that he is free from all criticism.
Collins has handcuffed the roster in a number of instances, which could have turned the tides on many losses.
While his strength is in his motivation and even-keeled approach, Collins is not the best in-game tactician, and here are 10 examples of his wrongdoings.
10. Allowing Miguel Batista to Face Robinson Cano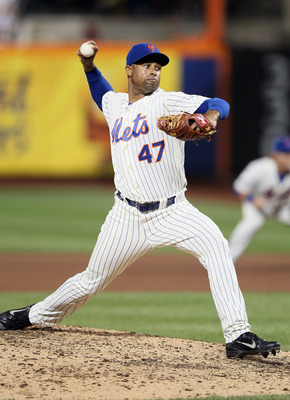 Elsa/Getty Images
It took place during a victory—the lone victory against the New York Yankees—so it is tough to focus on it too much.
Terry Collins, however, should have known better than to allow Miguel Batista to face superstar Robinson Cano.
First of all, Batista is another one of the Mets' relievers who has a significant difference in his lefty vs. righty splits.
Lefties are batting .301, while he has held righties to a .236 average.
Granted, Batista is an experienced pitcher who has been a successful starter in the past, but in the eighth inning after using him to turn around Mark Teixeira and face Alex Rodriguez, it was a questionable decision.
Collins was burned, and Cano took Batista deep to cut the lead to 6-4.
9. Making the Same Mistake and Getting Burned Two Nights Later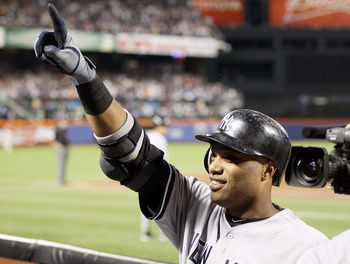 Elsa/Getty Images
"Fool me once, shame on you. Fool me twice, shame on me" goes the saying.
That is precisely what happened, as Robinson Cano took Miguel Batista deep over the center-field fence to give the Yankees the lead, which was ultimately the difference in the game.
Batista threw a spotless seventh inning, and the Mets had their lefty available in the bullpen.
Terry Collins opted to play with fire, and Cano made him pay once again.
There are times that players simply need to execute, but given the circumstances, Batista did not need to be facing Cano in that spot.
8. Convincing R.A. Dickey to Appeal One-Hitter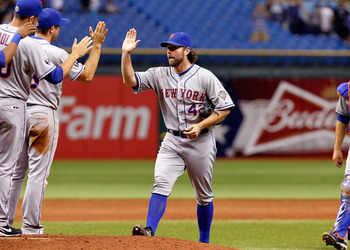 J. Meric/Getty Images
R.A. Dickey was one infield single away from a no-hitter, which ironically occurred in the first inning off the bat of B.J. Upton.
Yes, it was a close call. The fielder was their star, David Wright, and there was no reason to put either player in the awkward situation of feeling responsible for costing the no-hitter.
The Mets appealed the call, which was either going to become their second no-hitter in the month of June or just another one-hitter. It was denied by the commissioner's office.
Even if it was overturned, it wouldn't have felt genuine, considering Dickey did not have to deal with the burden of throwing a no-hitter late into the game.
Terry Collins should have done the right thing and accepted the one-hitter without making the organization look foolish.
7. Batting Jason Bay Second in Lineup During Hitless Skid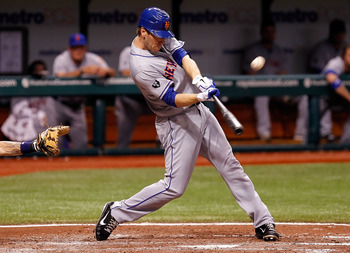 J. Meric/Getty Images
Jason Bay did not have a very successful first two seasons in New York.
His .197 batting average this season, however, made 2009-10 look Cooperstown-worthy.
Granted, Bay has suffered through two separate significant injuries and is not particularly close to coming back.
When Bay was coming back from his broken rib, he really struggled with the bat. He recorded one hit in his first 21 at-bats.
On June 10th, Collins decided to bat Bay in the second spot against lefty Andy Pettitte.
Bay proceeded to go 0-for-4 to drop his average to .197.
Until Bay shows he can make hard contact consistently, he needs to be in the seventh or eighth hole to sort things out and not affect the Mets lineup.
Collins does not owe anything to Bay, who is clearly a shell of the player he once was.
It was puzzling to see him place Bay at the top of the order, when he had previously been slotting him in the bottom third.
6. Not Separating Ike Davis and Lucas Duda in Lineup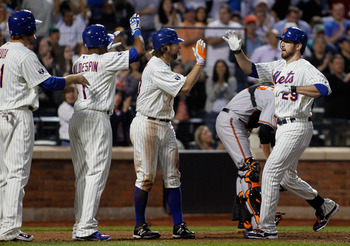 Mike Stobe/Getty Images
It does not help that the Mets' two biggest power threats are lefties.
While Ike Davis was mired in his dreaded slump, Terry Collins often hit him in the sixth or seventh spot.
As he began to finally experience some prosperity, he was used in the fifth spot, often just behind fellow lefty Lucas Duda.
Both of them are legitimate power bats, but they make the jobs of opposing managers much easier if they succeed each other in the lineup while an imposing left-handed pitcher awaits in the bullpen.
Even if a righty starts the game, these two bats should be separated, because they become nearly useless late in a close game.
Davis is batting a paltry .167 against lefty pitchers, which essentially mitigates him to a pitcher hitting.
Perhaps it would not be so bad if Duda had a higher OPS than .567 against lefties.
Collins cannot have them hit fourth and fifth unless he plans on batting for Duda or Davis every single time against a left-handed reliever.
He can save Scott Hairston or Justin Turner to hit for the pitcher's spot if they simply are separated by a righty bat.
5. Pinch-Hitting for David Wright to Avoid Retaliation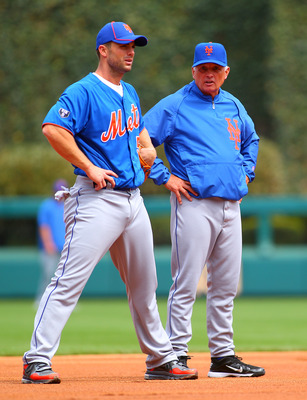 Rich Schultz/Getty Images
David Wright is one of the most professional players in the major leagues. He does not complain, and he respects the game.
On May 15th, it was certainly surprising to see Terry Collins lift his star third baseman for fear that he would be hit by a pitch in response to D.J. Carrasco beaning Ryan Braun.
Wright was prepared to head to the plate and was visibly upset when he was called back. Moments later, television cameras caught him shouting in Collins' face as he voiced his displeasure.
Collins knew that the Milwaukee Brewers would return the favor to Wright—the Mets' best hitter—and he did not want that to happen.
It makes sense to protect your best player, but Collins is an old-school coach, and it was puzzling to see him take a conservative approach.
Obviously, the situation could have been avoided if Carrasco did not take his frustrations out on Braun, but I assumed Wright would take the beaning and move on.
4. Leaving Jon Rauch in for Ninth Inning in Yankee Stadium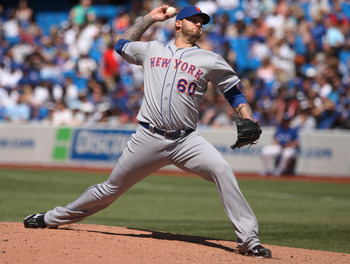 Tom Szczerbowski/Getty Images
Jon Rauch was supposed to bring a veteran presence to the Mets bullpen and provide a steady relief option late in the game.
Thus far, he has been maddeningly inconsistent. The fact that he already has seven losses as a reliever in the first half is almost unfathomable.
He has been the master of allowing late-game home runs.
On June 10th, Rauch allowed a walk-off home run to Russell Martin to give the Yankees a 5-4 win as well as a series sweep over the crosstown rivals.
Rauch was brought in to get the final out of the eighth inning—which he did—but was brought out again for the ninth, when he is very seldom used over the course of two innings.
Some relievers have difficulty coming back out and warming up after sitting through a half inning, and Rauch is one of those.
Martin wasted no time making Collins regret the decision, as he began the ninth with the towering home run.
The Mets had only used Bobby Parnell and Tim Byrdak to that point, so they had arms available.
3. Deciding to Lift Johan Santana After Six Innings and 82 Pitches in Miami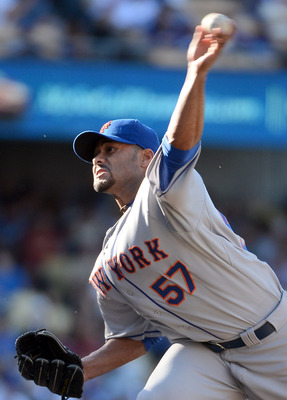 Harry How/Getty Images
On May 11th, the Mets were in Miami for an NL East showdown.
Johan Santana was on the mound and began the first inning uncharacteristically by allowing a three-run home run to Austin Kearns.
He settled in after that and shut down the Marlins lineup for the next five innings and had only 82 pitches through six frames.
In the seventh—down by two runs—the Mets were able to cut the deficit to one run with an RBI double by Mike Nickeas.
With just the man on second, Terry Collins elected to pinch-hit Justin Turner for Santana in order to score a run.
The plan did not work, as the Mets were set aside and their bullpen ultimately allowed the game-winning run to score in the ninth inning.
Now, clearly Collins was trying to tie the game in the seventh, but the Mets ended up not scoring that inning. They did score three times in the eighth inning.
By lifting Santana early, Collins was forced to get nine outs from the shaky bullpen, and he used one of his best bats off the bench earlier than he would have liked.
Many managers would have chosen to do the same move in the National League, but I would have allowed Santana to hit for himself in the seventh with the hopes of him simply hitting a ground ball to the right side to advance the runner.
Johan is so much better than the relievers on the team that he needs to be utilized as deep as he can go.
2. Bringing in D.J. Carrasco in Eighth Inning to Face Todd Frazier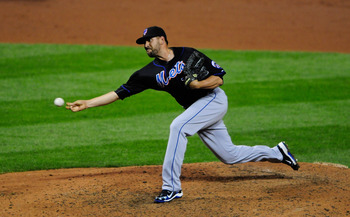 Jeff Curry/Getty Images
D.J. Carrasco was another pitcher the Mets were forced to designate for assignment because he was incapable of getting big outs.
The only difference is that it only took the Mets 3.2 innings to realize Carrasco was an abomination.
On May 16th against Cincinnati, the Mets had the lead with Johan Santana entering the seventh inning with two outs.
Santana proceeded to allow a game-tying home run to Todd Frazier.
The next inning—for some reason—Terry Collins elected to put in Carrasco to face Frazier with Brandon Phillips on third.
Can you guess what happened?
That's right. Frazier hits the first pitch way out of the ballpark, and Collins gets burned by using the rarely effective sidewinder.
Mets lost the ballgame, 6-3.
1. Manny Acosta Entering the Game in Anything Other Than Mop-Up Duty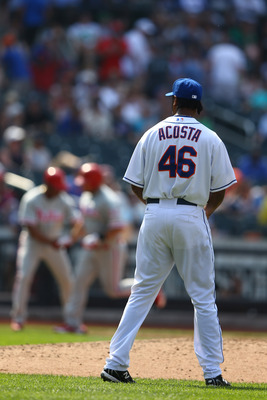 Al Bello/Getty Images
There are different levels of ineffectiveness as a pitcher.
Some pitchers struggle to get outs in key spots, while others struggle to contribute anything to their team. Manny Acosta falls in the latter category.
During his short stint with the Mets this season, comprised of 19 games and 22 innings, Acosta made the bases appear to be a merry-go-round.
He allowed opposing batters to hit .361, and his ERA was an abysmal 11.86.
Among his worst appearances was a 0.1 outing in Colorado in which he yielded seven runs. Not to be outdone, he also gave up three runs in 0.2 innings in Miami.
Clearly, he was incompetent, but Terry Collins allowed him to pitch the ninth inning in Philadelphia on May 28th, when he allowed the decisive three-run home run to Ty Wigginton.
Collins also allowed him to get absolutely torched in that 18-9 drubbing at the hands of Colorado. Acosta was treated as a glorified batting practice pitcher, and it was curious he was left out there to rot.
Again, baseball players should be expected to perform, but if you are having a season like Manny Acosta had in 2012 or Oliver Perez in 2010, your appearances should be few, far between, abbreviated or in Triple-A.
Keep Reading

New York Mets: Like this team?