The Media's Biggest Misconceptions About the New York Giants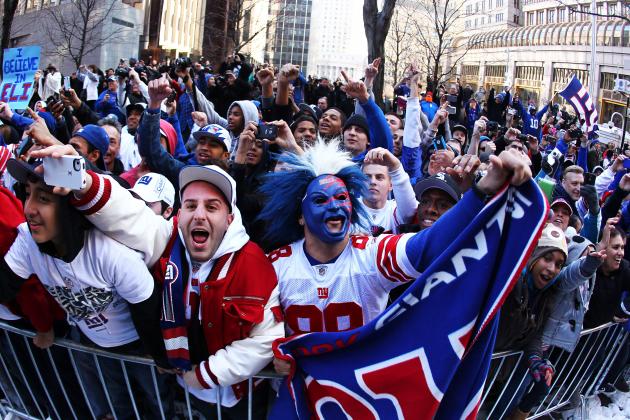 Al Bello/Getty Images
Giants fans congregate in Manhattan to celebrate the team's victory in Super Bowl XLVI.
"Media is just a word that has come to mean bad journalism," said English author Graham Green. Whatever it is, the New York Giants attract plenty of it.
Playing in the nation's biggest city with some of the NFL's biggest names, Big Blue is perpetually engulfed in the media spotlight. However, the picture painted of the G-Men and their fans isn't always accurate.
The Giants have been portrayed in a very particular way in today's nuanced media. Scroll through to check out the biggest media misconceptions about New York and Giants nation.
Begin Slideshow

»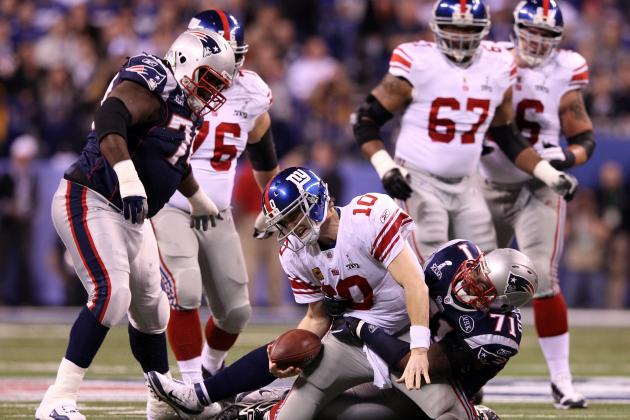 Elsa/Getty Images

For years now, the Giants have been seen as a team that often stumbles and loses control of football games. Season after season, a bevy of analysts and experts knock Big Blue as "lucky," ostensibly unconfident or disorganized out on the gridiron.
Much of this stems from the team's frequent season-ending slumps and struggles and from quarterback Eli Manning's previous penchant for turnovers. Be it former running back Tiki Barber's well-documented fumbling issues or former kicker Jay Feely's troubles in clutch situations, the Giants earned an unsavory reputation as a team that backs their way into games and lacks rhythm and control on the field.
Even in their Super Bowl-hoisting season, many reporters looked to the Giants' 9-7 record and tagged them as uncouth playoff party-crashers.
The team's diehard fans know this to be simply untrue.
Granted, Manning's progression took time, but the Giants have developed a trademark style of play that yields heaps of success. They boast a well-balanced offense, an aggressive defense and operate in their own unique rhythm.
Rather than "getting lucky," let's say New York simply has a knack for stepping up when it matters most.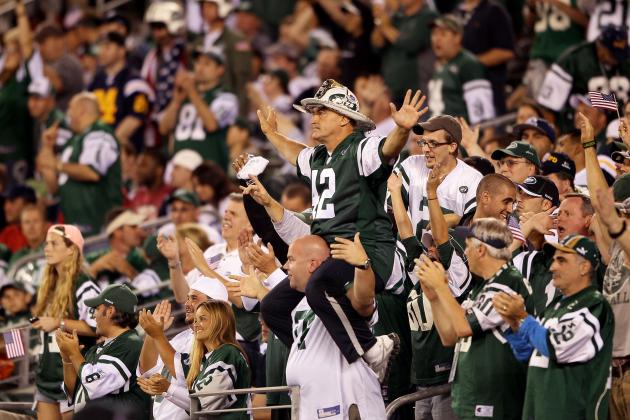 Elsa/Getty Images

Sure, you can find a handful of Jets and Giants fans tangled in heated football debates and bar fights, but all in all, Big Blue's rivalry with Gang Green is largely concocted by Jets head coach Rex Ryan and the subsequent media attention.
Jets and Giants fans generally coexist with ease, and many New Yorkers are fans of both teams. Like the Yankees and the Mets and any other in-state rivalry, allegiances are decided largely by neighborhood and county location, but there's plenty of overlap.
Plus, the teams play just once every four years, aside from an annual preseason clash which is taken with a grain of salt. Members of Giants nation tend to save their energy for Eagles, Cowboys and Redskins fans.
The Giants and Jets share MetLife Stadium, but contrary to media opinion, they don't share all that much of a rivalry.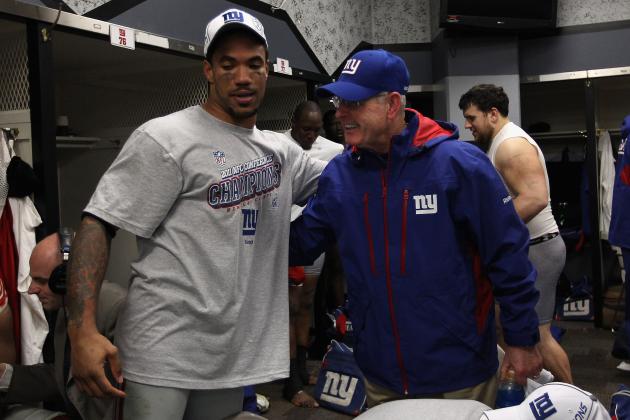 Ezra Shaw/Getty Images

Giants head coach Tom Coughlin is known for being a stringent, hard-nosed disciplinarian. That doesn't mean Big Blue doesn't know how to have a little fun.
Despite his media portrayal, Coughlin leads a rowdy, goofy, well-natured locker room. His players certainly know how to celebrate, and it looks like Coach doesn't mind a little dancing himself.
Fans and analysts alike mock Coughlin's grave facial expressions on the sideline, but the Giants have lively locker room decor and entertaining quirks.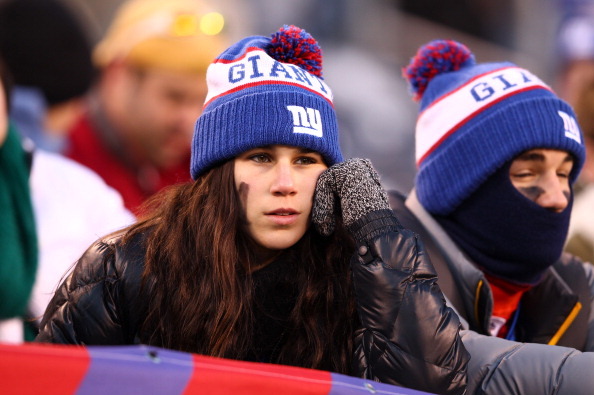 Al Bello/Getty Images

True, New Yorkers are a tough crowd, but the conception that Giants fans are too harsh towards their favorite players isn't entirely accurate.
Booing fans are inevitable, but Big Blue supporters are still astoundingly passionate about their team's stars. Many Giants fans backed Eli Manning's status as an "elite quarterback" well before the 2012 playoffs even started. Throngs of fans also defended legendary linebacker Lawrence Taylor as he dealt with his impending status as a sex offender.
Of course, not everything is all sunshine and rainbows in Giants nation. But fans of the G-Men are generally supportive, understanding and articulate with their criticism.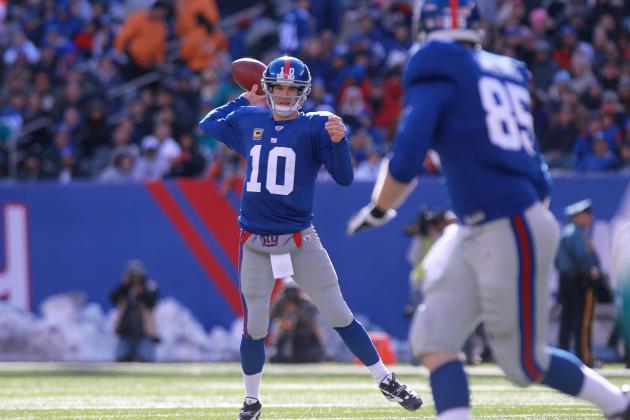 Nick Laham/Getty Images

For well over a half-decade now, the Giants have been denigrated for running a boring, unimaginative offense.
New York fans know there's nothing boring about Victor Cruz and the Big Blue plan of attack.
The G-Men were run-heavy through most of the 2000s, but that didn't make them a purely conservative offense. The Giants frequented outside handoffs, pitches and draw plays with Tiki Barber at the helm, and now, as Eli Manning continues to improve, Big Blue's play-callers have allowed their quarterback to stretch the field and test the vertical passing game.
Offensive coordinator Kevin Gilbride and company have been increasingly creative in their packages for Cruz and have made deep passing plays a staple of game day.
Plus, Giants fans smile with unabandoned joy when remembering fourth-and-one plays with "Hefty Lefty" Jared Lorenzen.