Vader: Does the Mastadon Have Enough Left to Make a WWE Comeback at 57?
July 3, 2012

After Vader dominated Heath Slater on the June 11 episode of Monday night RAW, some people might believe that the 57-year-old has enough left to make a comeback.
Unfortunately, while Vader is easily considered a legend by most, the 57-year-old does not have what it takes to get back in the squared circle.
It's always great to see a former champion like Vader get back into the ring every now and then, but unfortunately just from watching his match against Heath Slater, it's clear that Vader wouldn't be able to handle a full time return.
Physically Not Fit
Vader has always been a pretty big guy.  His return showed that he has clearly put on extra weight, though.  Add that with the fact that Vader has had double knee surgery and it's no wonder why Vader seemed to struggle moving around the ring.
How could we expect Vader to actively compete in his current condition?
If Vader were to comeback,, how would he successfully compete barely being able to move around the ring?  That was one of Vader's key abilities when he wrestled through the mid 80's and into the turn of the century.  He was a big man who could move around the ring.
Vader isn't physically fit to perform anywhere near the level he used to perform at.  It's not like this is a bad thing, the man is 57 and has had knee surgery, so it's acceptable that he can't move like he used to.  Still, his time in the ring is physically up and most wrestling fans have accepted that.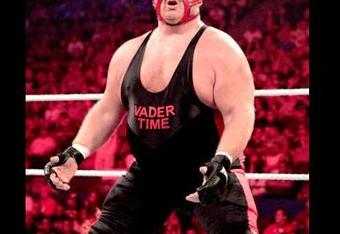 Nostalgia
It's always great to see a wrestler like Vader get back in the ring one more time.  As fans, we accept the fact that he won't be able to move, or for that matter wrestle like he used to.  It's like when you go to a movie and suspend belief for an hour or two so that you can fully enjoy the movie. 
We forget that Vader is 57 and not physically in shape so that we can see him squash his opponent one last time and be reminded of the entertainment he used to provide us with.
Nostalgia is great, and Vader definitely brought it when he got back in the ring.  However, that doesn't mean he is ready for a comeback of any kind.
How many times could we actually suspend belief and watch as Vader struggles to squash opponent after opponent?  Eventually it would become harder to watch and not notice how much he struggles to move around the ring.
Bringing back legends in small doses is great but anything more than the occasional squash match and it becomes hard to watch.
No Room On The Roster
Another big reason why Vader wouldn't be able to make a comeback is for the fact that there is no room on the current roster.
Where would Vader fit in?  Would he be willing to travel and make a lot more TV appearances?  More than likely not, the wear and tear would be too much on his body at this age.
We've also seen what the WWE has done when superstars return.  Tensai, for example, is getting buried at this point after being hyped up months ago.
While the WWE might not bury Vader with a younger audience, a Vader comeback might not take off like some would think.
Older fans remember who Vader is.
But what about the younger generation?
If Vader made a comeback and didn't generate as much revenue as expected, what would the WWE do then?
With so many wrestlers on the roster who are trying to not get buried, there is no room for Vader to make his comeback.
His Time Has Passed
In the end, the biggest reason for Vader not to make a comeback is because his time has passed.  Vader had his moment in the sun, much longer than a lot of other wrestlers.  He was a dominate force for years and should be remembered that way.
Through his illustrious careers in AWA, New Japan Pro Wrestling, WCW, and the WWE, Vader will always be remembered as a force to reckon with.
While it's great to see him get in the ring every now and then, he clearly could not make a solid comeback into the wrestling business as a wrestler.
Those of us that remember watching Vader will remember a big man who moved around the ring with ease and dominated many wrestlers that he went up against.  That is how I want to remember Vader at least.  I don't want to remember him having trouble moving around the ring, and trying to wrestle when his time in the ring is clearly up.
Vader is a legend and was one of the best wrestlers of his time.
And while wondering if Vader could ever make a comeback at the age of 57 is fun to think about, in actuality it's something that just couldn't be done.