Could the Atlanta Hawks Acquire Dwight Howard in a Trade with Orlando?
July 3, 2012

Kevin C. Cox/Getty Images
The Atlanta Hawks have been very active on the trade front during the early free-agency period dealing Joe Johnson to the Brooklyn Nets and acquiring Devin Harris. The Hawks roster will have an entire different look at the start of the season, but they will have valuable assets that they may try to package in order to acquire Dwight Howard from the Orlando Magic. Although Howard had told ESPN he was not going to sign a contract extension with any team other than the Brooklyn Nets, it is possible that they could convince the All-Star center to sign long term. 
The Hawks would likely have to deal both Al Horford and Jeff Teague, as well as another contract and possibly a draft pick to match values. Although they would be sacrificing two athletes with bright futures, they are set to replace them both if they were to be moved in a deal.
Al Horford would easily be replaced by the star power of Dwight Howard, who is not only a better fit at the center position but is one of the best defensive players in the league. Howard averaged 20.6 points on 57.3 percent shooting, 14.5 rebounds, 1.9 assists, and 2.1 blocks per game, which would be a great upgrade over Horford's last few seasons with the Atlanta Hawks where he never averaged over 16 points or 10 rebounds per game. Howard will likely make another push for Defensive Player of the Year next season and would be the face of the franchise for the Hawks for years to come. 
Although they would have to give up their young and talented point guard, Jeff Teague, the Hawks will be able to replace him quickly in the starting lineup by placing Devin Harris into the rotation. Although Harris is much older than Teague at 29 and had one of his worst seasons in recent memory last year, he still produced 11.3 points per game on 44.5 percent shooting, 5.0 assists, 1.8 rebounds and 1.0 steals. Teague posted slightly better stats last year, but it is likely that Harris will bring himself closer to his career averages that could put him ahead of Teague's output.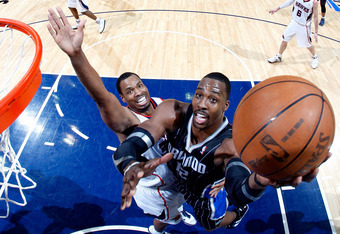 Kevin C. Cox/Getty Images
The only issue with the deal is the possibility that Howard would not be interested in signing an extension with the Hawks, which would make a trade out of the question. The Hawks have a solid start at convincing Howard to stay long term, as Josh Robbins points out that Atlanta has two of his closest friends on the roster for next season: 
The #Atlanta #Hawks now will have 2 of Dwight Howard's best friends in the #NBA: Josh Smith and Anthony Morrow. #coincidence?

— Josh Robbins (@JoshuaBRobbins) July 2, 2012
If Dwight Howard would sign a long-term contract with the Atlanta Hawks, this deal could end up being Atlanta's best chance of becoming a championship caliber team in the near future. With Howard on the team Atlanta could convince Josh Smith to return to the team long term and attempt to attain Chris Paul when his contract comes up at the end of the season. (They would have to get creative for CP3.) Expect to hear more rumors about Atlanta deals all week, as it is likely the Hawks will be looking to make at least one more trade in the near future.