Wimbledon 2012 Scores: Most Shocking Results from Fourth Round
July 3, 2012
Pool/Getty Images
Much like the first three rounds of Wimbledon, the round of 16 didn't fail to disappoint in terms of upsets and excitement. 
Not only did we see the first No. 1 of the tournament bow out, we saw a few other top seeds struggle with lesser opponents. 
Let's take a look at the most surprising scores from Monday's action. 
Note: For a complete look at all the scores from Wimbledon, check out ESPN
Sabine Lisicki Beats Maria Sharapova (6-4, 6-3)
I guess it wouldn't be a true Grand Slam tournament if No. 1 Maria Sharapova failed to take home the title. 
The ever-efficient Sharapova has taken home four career major victories, but she's never done it as a No. 1 seed. Call it a curse, call it added nerves, call it whatever you want. The fact of the matter is it has held true once again.
Sharapova fell to the 22-year-old German in straight sets, marking the third time Lisicki has made it to the quarters at Wimbledon (the only three times she has done so at a major). 
Lisicki may only be the world No. 15, but she clearly knows how to get it done at Wimbledon. Watch out for her in the quarters and beyond. 
Roger Federer Beats Xavier Malisse (7-6 (7-1), 6-1, 4-6, 6-3)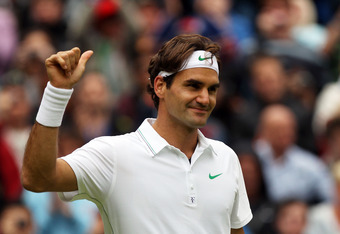 Clive Rose/Getty Images
With most of the men's fourth-round matches being delayed, there aren't a whole lot of surprising results to choose from.
Novak Djokovic rolled in straight sets, and No. 26 Mikhail Youzhny took care of Denis Istomin in five hard-played sets. 
That leaves Fed-Ex. It certainly wasn't surprising that he beat Jennifer Capriati's former boyfriend, but he did drop a set. 
Even that isn't surprising, especially considering Federer played through an apparent back injury. Nonetheless, that's three sets he has lost in the last two matches, and he's looking far from unbeatable. 
Federer should get past Youzhny in the quarters, but then he'll likely see Novak Djokovic in the semifinals. He needs to get back to 100 percent before that match, which is suddenly not far away. 
Serena Williams Beats Yaroslava Shvedova (6-1, 2-6, 7-5)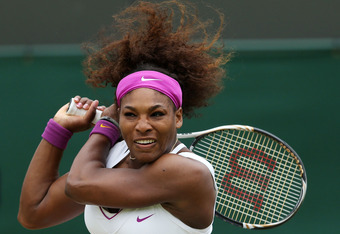 Julian Finney/Getty Images
This is the second straight match the No. 7 Williams has failed to easily put away a lesser opponent. She struggled with Jie Zheng in the third round, and she needed a late break to help defeat the No. 65 Shvedova. 
Williams needs to get her act together, or she's never going to make it past Petra Kvitova, the defending Wimbledon champ.