Roger Clemens Will Be a Key Linchpin for Baseball Hall of Fame Voting
July 3, 2012

Chip Somodevilla/Getty Images
One of Roger Clemens' old managers thinks The Rocket deserves to be enshrined in the Baseball Hall of Fame.
Apparently, this is news.
In case you're just now joining us after returning from your mission to the moon, somebody asked Joe Torre on Sunday if he thinks Clemens is a worthy Hall of Famer despite his connections to performance-enhancing drugs.
Here's Torre's response, courtesy of the New York Daily News:
He is to me. I can't make other people look at him. I can just tell you the way I feel about him. I was proud to have him play for me and I respect him.
Keep in mind that this is coming not only from Clemens' old manager, but Major League Baseball's head of on-field discipline. He's not one to give juicers a free pass. 
Not that Clemens is a juicer, of course. He's certainly been accused of juicing, as his name popped up in the Mitchell Report, and then he found himself in court after Congress decided that Clemens had lied about knowingly using performance-enhancing drugs.
You may have heard that Clemens was acquitted of all charges a couple weeks ago. Just like what happened with Barry Bonds, the government tried very hard and ultimately failed to nail Clemens to a wall. It turns out you need more than unreliable witnesses to get a perjury conviction.
As it's been oft-noted since the announcement was made, Clemens' acquittal doesn't mean that he didn't knowingly use PEDs. It just means nobody can prove beyond a reasonable doubt that he did.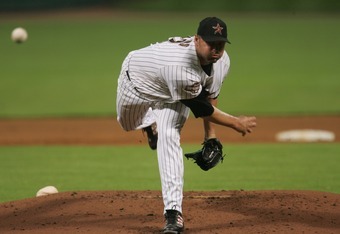 Ronald Martinez/Getty Images
We, the people, still have doubts, and rightfully so. As good as Clemens was, he was a little too good for a little too long. Something unnatural probably happened.
It boils down to this: We all suspect that Clemens is a juicer, but none of us know that he is. There's a huge difference between the two, and it's what makes Clemens' Hall of Fame candidacy so tricky.
The voters have spoken when it comes to known juicers. Mark McGwire, who occupies the No. 10 spot on baseball's all-time home run list, has yet to earn more than 25 percent of the vote in his six years on the ballot, according to Baseball-Reference.com. Rafael Palmeiro, 12th on baseball's all-time home run list, earned just 11 percent of the vote in his first year on the ballot in 2011 and just 12.6 percent of the vote in 2012.
Per Hall of Fame voting requirements, you need 75 percent of the vote to get in. Both McGwire and Palmeiro have a long way to go. And from the way things are going, they're not getting in at all unless the voters soften their stance on confirmed juicers.
In other words, they're probably never getting in.
But Clemens is not in the same boat as McGwire and Palmeiro. He's more in Jeff Bagwell's boat, and that represents a big dilemma for the voters.
Bagwell deserves to be in the Hall of Fame. As David Schoenfield of ESPN.com showed using post-WWII WAR statistics (which sounds funny if you say it out loud), Bagwell is one of the best players to come along in the last 50-to-60 years. 
He only got 41.7 percent of the vote his first year in 2011, and 56 percent of the vote in 2012.
The reason for Bagwell's low vote totals is simple: He may have taken PEDs during his playing career.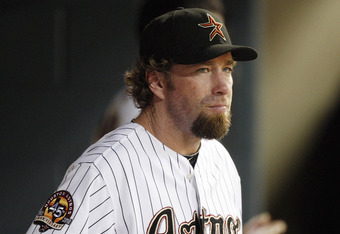 Bob Levey/Getty Images
Bagwell's name does not show up in the Mitchell Report (ESPN.com has a rundown if you want to see for yourself), and he denied ever using PEDs in an interview with ESPN's Jerry Crasnick a couple years ago. Nonetheless, as Crasnick noted in a separate article, voters have basically made Bagwell guilty by association.
Despite this, the voting totals show that Bagwell is trending towards Hall of Fame acceptance. He's not in yet, but a jump from 41.7 percent of the vote one year to 56 percent the next is a significant jump. This suggests that voters are softening their stance on Bagwell.
This makes sense, of course, because there's no evidence that Bagwell ever juiced, and the only people who have accused him of juicing are merely suspicious blowhards.
You can probably see why Bagwell's situation is so important as it pertains to the Clemens discussion.
All voters have on Bagwell are their own suspicions, and even those aren't standing in the way of Bagwell getting over 50 percent of the vote. If the lack of evidence of juicing, namely positive tests and straight-forward admissions, isn't standing in the way of Bagwell progressing towards Cooperstown, then it must not stand in Clemens' way either.
And let's face it: Bagwell has a strong argument to be in the Hall of Fame, but Clemens has a much, much stronger argument to be enshrined in Cooperstown. His statistics and overall career accomplishments make him one of the greatest pitchers ever, and a quick search on Baseball-Reference.com will reveal that Clemens has the highest career WAR of any pitcher to come along in the post-WWII era.
The circumstances require voters to make a decision that they're going to have to stick with regarding suspected PED users.
If they accept that it cannot be proven that Clemens cheated his way to higher rankings in the baseball record books, then he needs to be in the Hall of Fame. Period. If there's one pitcher from the last half-century that belongs in Cooperstown, it's Roger Clemens. Keeping him out on the grounds that he might have cheated is pretty cheap.
But if that's the way the voters want to play his case, so be it. 
However, that means they have to give all other suspected users the same treatment.
If Clemens can't be allowed into the Hall of Fame, then neither can Bagwell. Ken Griffey, Jr. should probably be left out too, just to be safe. Same goes for Ivan Rodriguez, Frank Thomas and Jim Thome.
If The Rocket doesn't get in, neither should they. There's as much hard evidence against them as there is against Clemens, after all.
The choice is yours, Hall of Fame voters. All I ask is that you be consistent.
If you want to talk baseball, hit me up on Twitter.