New York Knicks: The Jeremy Lin Decision Has Always Been Bigger Than the NBA
July 3, 2012

Jonathan Daniel/Getty Images
Remember Linsanity? For a Knicks fan, it's kind of hard to forget.
Better yet, it's kind of hard to forget even if you were a casual basketball fan. It was magical; it was legendary; it was easily the best 26 days of the regular season, and maybe even sports as a whole in 2012.
Better yet, it was the underdog story that David Stern and the NBA are always hoping for. It proved that you just can't count out any player in the NBA. The Knicks certainly struck gold with Lin, and many teams jumped on the bandwagon and tried to recapture that magic. 
But Lin was more then just a basketball oddity and the exception to the rule; he was and still is an overnight global sensation.
Plus, it didn't hurt that he was in the biggest basketball market in the entire world, playing every other game in "the world's most famous arena." 
The coverage was insane, and by the end of the first week, everybody knew who Jeremy Lin was, and everybody knew that he wasn't going away any time soon.
But then, he went away. Almost as quickly as he appeared. Just like that, Lin's knee stopped him in his tracks, and he was all but finished...for now. 
So, with the season over, and Lin's future in NYC very uncertain, things are starting to get very interesting again for the 23-year-old who captivated the sports world back in February. 
The thing is, even after all of the early Bird rights nonsense, even with the BILLIONS of Lin fans around the world and even with the team's need of a point guard, there's no guarantee that Lin will be in a Knicks jersey when next season rolls around.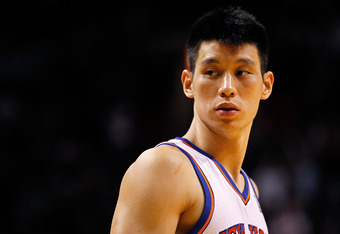 Mike Ehrmann/Getty Images
Why? Well, there are a lot of reasons. But mostly it's because there's a more talented, proven option out there that the Knicks may have set their sights on.
And if Steve Nash ever does decide to come to The Garden, that's the end of Linsanity. You can at least guarantee that. But there's also other factors that could keep Lin out of a Knicks jersey.
One poison-pill contract, and the Knicks would have a cap room nightmare on their hands in the next few years. Is a guy with only 26 games under his belt really worth that kind of money and commitment?
At the very least, it's a huge gamble that probably no team would take. 
But here's the thing that many people may be overlooking: The Knicks are in a position that few teams ever end up in, because re-signing Jeremy Lin is not just about his current skill, or his amazing run or his potential in the future.
It's about much more than that...much much more.
First off, like I mentioned earlier in the article, Jeremy Lin is a global phenomenon, in a sport that becomes more and more popular and global every single year. In other words, he's the kind of guy who sell tickets, jerseys and whatever else with his name on it.
The guy didn't even have to play to be relevant. He's going to be a top-five jersey seller no matter where he goes or how much he plays. 
And no matter what you thought of Lin during his run, he did put butts in the seats in whichever stadium the Knicks travelled to. 
So what happens if Lin goes to another team, or worse, Brooklyn? And then, what happens if he brings all of his Linsanity magic over there with him? Can the Knicks really let that happen without some kind of fan backlash?
The Knicks will certainly be kicking themselves, that's for sure. Maybe not this year, but definitely a few years down the road. 
And that whole media onslaught during Lin's run? You can't say that the Knicks front office didn't enjoy that. Any team would, and I'm sure they would like keep that up...for the right price, of course. 
Lin definitely has an entire legion of fans behind him, who will follow the man wherever he goes. Also, he's almost a guaranteed All-Star starter next year, as long as he plays even somewhat like he did last season.
Hey, if Yao Ming kept getting those votes, there's no doubt that Jeremy Lin will too. Yao Ming didn't even play a game in 2011, and yet he still got the nod. 
Is it ridiculous? Sure. But so is fan voting. 
Either way, a Lin resurrection means more media coverage, more butts in the seats and more of a profit for whichever organization that ends up with Lin. 
And I hate this comparison too, but Lin really IS the Tim Tebow of basketball. He's got the fans, he's got the media love and he's got the country's love. Plus, he always seems to say the right thing, and he's a role model for just about anybody.
Yes, and the skill is there—maybe it's overhyped, but the skill is there. 
But is the skill enough for the Knicks to say yes (it sure was enough for the Jets)? In any other situation, the answer would be oh so simple. But nothing with Jeremy Lin ever seems to be.
So, that's where the Knicks stand right now. Waiting for the rest of the offseason smoke to clear, waiting for that poison-pill deal and wondering if Linsanity was just a honeymoon phase.
Well...Jeremy Lin may have been just a flash in the pan, but Linsanity certainly is not. For the first time in a long time, a team's decision almost relies solely on what this man can do off the basketball court, not on it.
Is Lin talented? Yes, but who knows honestly how talented? Twenty-six games is just not enough to know for sure. 
And it's up to the Knicks now to decide if they're willing to take a gamble on a global phenomenon and hope they get a point guard along with it.