Why Marouane Fellaini Is World Football's Most Unappreciated Star
July 3, 2012

Ian Walton/Getty Images
The Belgian midfielder's haircut has in part propelled him to a role as one of Everton's most recognizable players, but hypothetically speaking, if Marouane Fellaini was to cut off his trademark curly locks, he would probably disappear back to his role as Everton's glue player, which builds the case for his under-appreciation as a budding star.
Anyone who was fortunate enough to tune in to watch Everton battle back from a two-goal deficit after falling behind 3-1 against Manchester United saw with their own eyes how valuable and special of a player Fellaini is.
His versatility as an athlete who is more than just a one-dimensional player is extremely useful, and he has performed admirably in many roles, yet he is often overlooked and not even mentioned in the same breath as top-tier centre midfielders such as Barcelona's Xavi Hernandez and Bayern Munich's Bastian Schweinsteiger.  
Granted, Fellaini is a bit younger than the current crop of stars at just 24 years of age, but I believe that is even more of a testament to the talent this young man oozes.
Fellaini exhibits the poise of someone who has racked up double the number of appearances, as the young Belgian has appeared in 107 matches for Everton in the Premier League.
Not to mention, Everton Manager David Moyes has vigorously inserted Fellaini into numerous different positions, even utilizing him as a second striker during the 2008-09 season after injuries forced all potential forwards out of action.
This past season, Moyes had Fellaini playing no less than three different roles as a centre midfielder, and he responded gracefully and exceeded expectations by carrying The Toffees to a respectable seventh-place finish.
His tackling skills are highly desirable, yet as crucial as tackling is to the game of football, it is such an overlooked statistic—one Fellaini just so happened to rank in the top percentile for.
A fantastic chart complied by The Executioner's Bong entitled the "pressometer" clearly shows Fellaini's defensive prowl.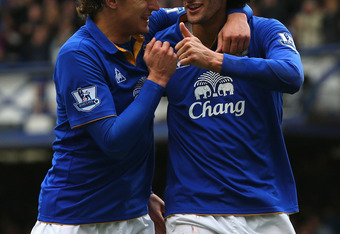 Alex Livesey/Getty Images
Statistics tell a whole lot when examining a player's game, and as a far as Fellaini is concerned with tackling, there isn't really anything that he should change.
He executed an average of three successful tackles per contest this past season, and given that he was playing such a demanding position as an attacking centre midfielder, his numbers here could have slipped even further than a single tackle from two years ago to three this past season.
As a centre midfielder, one would expect Fellaini's passing skills to be more than sufficient, and this would be the case, as his crisp passing has been a saving grace for Everton's offense.
Fellaini is an extremely accurate passer, and this rang loud and clear after last season, when he completed 1231 of his attempted 1500 passes—good enough for a 79.4 percent passer rating.
And we must keep in mind that this was all accomplished while playing in a system that favors the long ball, as opposed to the short and crisp passes that would normally add up to a higher percentage of completed passes executed throughout the course of last season.
Another standout feature of Fellaini's play that makes him such a good centre midfielder is his unparalleled ability to win balls out of the air more often than not.
The culmination of this desire to sacrifice his body for the name of controlling loose balls was put on display against the Manchester United squad in April, when Fellaini dominated aerial play to the tune of an 88 percent success rate—greater than any other centre back who played.
His successes in the United match were no fluke, either. Fellaini boasted a 77 percent success rate in his aerial duels for the season.
His balance—even with a 6'4 frame—is one of the key physical attributes that allows for his domination of loose balls.
Fellaini is a fearless tackler who uses all of his frame and physique to overpower his opponents, often leading to an odd man rush favoring The Toffees.  
All of these useful attributes of Fellaini's game may not be the most flashy, as they don't often result in him finding the back of the net, but because these statistics are more important contributors to the overall team game, I find Fellaini to be the under-appreciated star of an often overlooked squad in Everton.