Counting Down the Top 10 Players in the NFC East: No. 9, Evan Mathis
July 10, 2012

Rob Carr/Getty Images
We're counting down the top 10 players in the NFL's most popular division. This is based mainly on what went down in 2011, but we've projected a little as well. Whittling it down to two handfuls of guys was no easy task—it felt as though a couple dozen Dallas Cowboys, New York Giants, Philadelphia Eagles and Washington Redskins were worthy of the top 10. 
No. 9: Evan Mathis, Guard, Philadelphia Eagles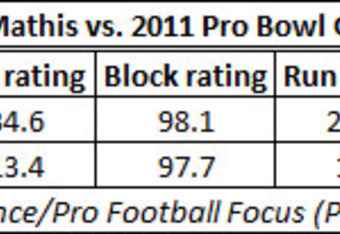 The fact that Mathis didn't make the Pro Bowl last year is all you need to know about that popularity contest. Mathis was undoubtedly the most dominant guard in football in 2011, which is why it was so shocking to see him get snubbed by All-Pro voters, too. 
Whatevs. Dude will take his new five-year, $25 million contract and the overwhelming degree of respect/fear he's getting from his peers and keep killing it in 2012. 
Smack dab in the middle of his prime, the former Bengal, Dolphin and Panther soared in his first year with Philly, helping pave the way for one of the league's most productive running backs and teaming up with Jason Peters to protect the sometimes unprotectable Michael Vick.
Sure, Vick still took a lot of hits last year, but it's tough to find many that could be pinned on Mathis, who surrendered zero sacks on 600 passing plays in 2011, per Pro Football Focus. Mathis lined up 1,024 times last season, and on only three of those occasions was he responsible for a hit on his quarterback. 
Yet where he really excelled, obviously, was as a run blocker. Mathis scored a PFF rating of 20.4 in that category last year, a number nearly 300 percent higher than the next guy on the list (Marshal Yanda, 6.9).
What's odd—and a little bit concerning to some—is that Mathis' big year came out of nowhere. He was playing on a one-year contract and had only 22 career starts under his belt despite being a seven-year veteran at the age of 29.
Maybe it just took Howard Mudd and the right system to bring out the best in the former third-round pick out of Alabama.
This year might have been somewhat of an anomaly, but even if Mathis' production dips noticeably in 2012, he'll likely still be one of the best interior offensive linemen in the game.