2012 Home Run Derby Contestants: Breaking Down Top Contenders in Loaded Field
July 3, 2012

Marc Serota/Getty Images
Jose Bautista is my personal favorite to win this year's Home Run Derby, but he's only one of eight sluggers who will be blasting balls into the bleachers at Kaufman Stadium on July 9, 2012.
The Home Run Derby is always one of my favorite parts of the MLB All-Star Game. It brings the game back to its roots, which has and always will be centered around having a good time. There isn't anything riding on the outcome, and the contestants always give the crowd something to cheer about.
Let's take a look at the top contenders who have the best chance to win against this year's loaded field.
Jose Bautista, Toronto Blue Jays
Bautista must have found the fabled Fountain of Youth a few years ago. 
He's a nine-year veteran who never showed much power at all until 2010. Since then, though, he's one of the best in the business. 
After hitting 54 home runs in 2010 and 43 in 2011, Bautista leads the majors at the midway point of the 2012 season with 26 home runs. His smooth stroke is a beautiful thing, and I look forward to watching him stroke ball after ball into the cheap seats when the action commences.
Carlos Beltran, St. Louis Cardinals
Jeff Curry/Getty Images
One thing you have to love about baseball is that players often get better at hitting as they age, sometimes well into their middle-to-late 30s. Such is the case with Beltran who continues to consistently produce runs at the age of 35.
He's only hit 40 or more home runs once during his long and successful career, but Beltran's sweet swing is set up to excel in a controlled environment like the Home Run Derby, which is nothing more than an exalted batting practice. 
He's tied for eighth place in the majors with 20 home runs to this point, and he's my second-favorite slugger to win the event this year.
Robinson Cano, New York Yankees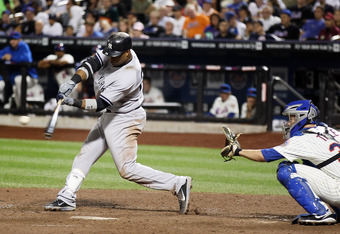 Elsa/Getty Images
Cano is well ahead of his normal pace at this time of the year. Over the course of his career, he's never hit more than 29 bombs in a single season, yet he is tied with Beltran and Mark Trumbo for eighth place with 20 home runs so far.
Cano is riding a hot streak right now, winning the American League Player of the Week award after he hit .414 (12-for-29) with four home runs and 10 RBI in seven games last week, according to MLB.com.
He's been hitting the cover off the ball all year long, too, and the American League captain will be fired up to represent his team well in the Home Run Derby.
Prince Fielder, Detroit Tigers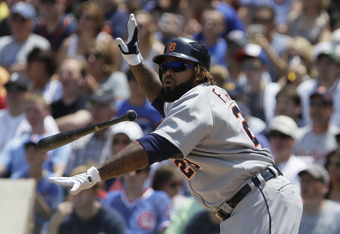 John Gress/Getty Images
Fielder is my dark horse to win this year's derby. He hasn't been able to get hot so far during the regular season, only hitting 12 home runs, but he can still pound balls into the bleachers during batting practice. 
He's a fan favorite, and I'm glad to see his inclusion into this event, even though he didn't put up the kind of numbers the rest of the contestants did. 
It won't shock me in the least to see Fielder come away from the derby as the 2012 champion, and I look forward to watching him attempt to make it happen.