Toronto Maple Leafs' Free Agent Frenzy: A Look at What's Left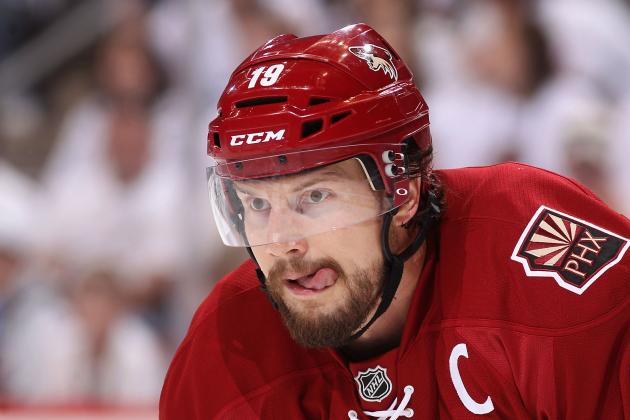 Christian Petersen/Getty Images

The big day has come and gone.
July 1st was a fairly uneventful day for Toronto Maple Leafs fans around the world. Like many of you, I was glued to TSN's three hour coverage of "the event".
We all watched together as many of the names who we envisioned Brian Burke wooing to play in Toronto this coming season were snatched up by more active teams.
Tootoo to Detroit. Parros to Florida. Prust to Montreal. Burrish to San Jose.
Hell, we even saw Colby Armstrong be the first to announce on his Twitter feed that he had signed a deal with his boyhood team, the Montreal Canadiens.
Leaf fans were left to debate the signings of Jay McClement and Mike Kostka. As I have said in the past, Burke certainly went in a direction that few people expected with those two signings.
However, I'm not here to argue for or against Burke's moves on July 1st just yet. It is far too early for that.
Instead, this article will examine the options that remain available to the Leafs' GM as the summer rolls on and who I feel can fill a need on the current roster. This, of course, does not take into consideration the different moves Burke might have to make to squeeze any one of these players in.
Lazy, I know. Give me a break - it's a holiday today.
Begin Slideshow

»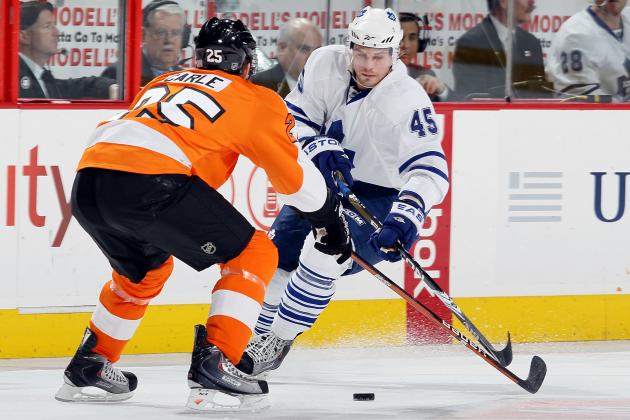 Jim McIsaac/Getty Images

What?! Another defenseman?!
Yes, most people are tired of Burke's never-ending quest to improve the Leafs' blue line. And for the record, I count myself as one of those people.
However, it's easy to see that Burke will improve at any position whenever the opportunity presents itself. "Best player available" is a philosophy that he employs at the NHL Entry Draft, however, I feel it could apply to free agency as well.
The Maple Leafs would likely have to overpay for a player like Matt Carle. If Filip Kuba can get $8 million on a two-year deal, there is no telling what kind of money Carle is going to command. But if Burke can grab the 27-year-old at a reasonable value, he will have improved his defensive core.
Carle is smart and versatile. He's not huge at 6'0", 205 pounds but he is able to play a sound defensive game. He's been a plus player in each of his last five seasons, posting a career-best +30 in 2010/11. He's also scored between 35 and 40 points in each of his last three seasons.
Bringing him in will allow Burke to trade other players such as Carl Gunnarson or Cody Franson.
Gunnarson has been a serviceable defenseman, however, he could be used as a part of a package for an upgrade up the middle or in goal. He's put up half the point production that Carle has over the last few years and has been on the wrong side of the +/- stat recently.
In Franson's case, while I think he is an absolutely awesome and underrated defenseman, there is no guarantee that he will even be coming back. He certainly did not enjoy being in Toronto—under Ron Wilson, at least.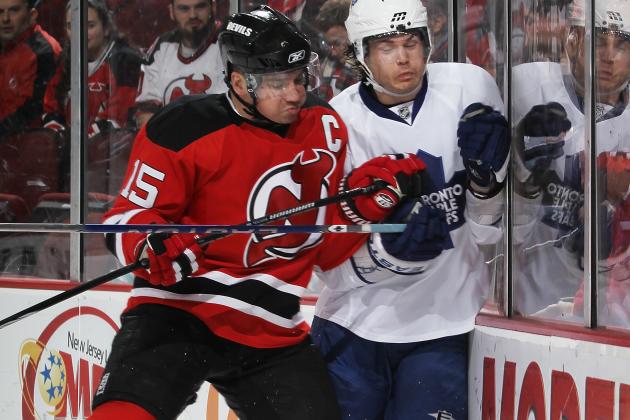 Bruce Bennett/Getty Images

At the end of the season, we all heard Burke's comments about bringing in veteran leadership to help Dion Phaneuf. Burke stated that he is more than happy with Phaneuf as his team's captain, however, he implied that he has been on a bit of an island in the Leafs' dressing room in terms of leading his squad.
Honestly, I have to say that I'm not wild about the idea of bringing in Jamie Langenbrunner from the perspective that he will not produce much in the way of offense. He really has never produced at an elite level offensively, topping out at 69 points in 2008-2009 with the New Jersey Devils.
He's been in an offensive free-fall ever since.
What he does bring, in spades, is a hell of a resume in terms of veteran experience. Lord knows that the Leafs could use an upgrade in this department after having consistently been among the league's youngest teams over the past many seasons.
Langenbrunner has been a part of two Stanley Cup champion teams in the 1998-1999 Dallas Stars and 2002-2003 New Jersey Devils. When he won the cup with New Jersey, he also led the playoffs in scoring.
He was the captain of Devils from 2007-2011 and, in 2010, he was named captain of Brian Burke's US Olympic men's hockey team which saw them make a dazzling, Cinderella-story run to the finals before being beaten by the Canadians on Crosby's OT winner.
It is completely plausible that Burke would bring Langenbrunner to Toronto to slide into the third line right wing position for a year or two, depending on his price tag.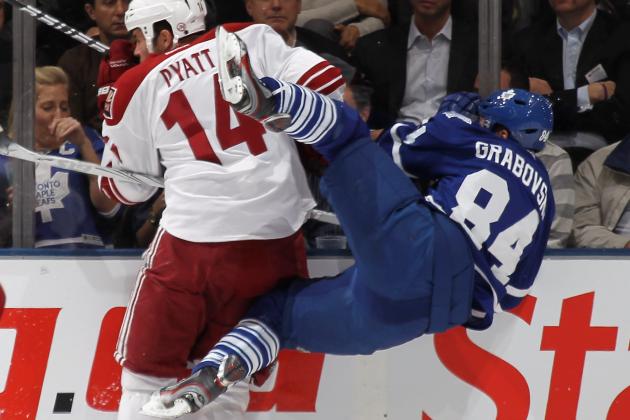 Bruce Bennett/Getty Images

According to Brian Burke, as interviewed on the opening of free agency in 2012, his quest to get bigger overall will continue as the summer wears on.
Ladies and gentlemen, I present to you: Taylor Pyatt. He stands 6'4" tall and weighs in at 230 pounds. Is that big enough for you Brian?
This burly left winger would be an excellent addition to the Leafs' third line.
With Joffrey Lupul and now James van Riemsdyk drawing into the equation in the top two left wing positions, Clarke MacArthur would likely be bumped down to third line duty. He plays with passion on most nights and tends to play bigger than his body would seem to allow, so I don't want to take too much away from MacArthur. He's been entertaining in Toronto.
But when I think of a third line, I think of size and toughness. Pyatt would be a massive upgrade on MacArthur in this department. Teams would really have to keep their heads up with Pyatt on the ice.
He's also not afraid to get involved in fisticuffs, as he has shown throughout his NHL career. He's bravely taken on the likes of Raitis Ivanans, Deryk Engelland, Chris Stewart, Robyn Regehr, Jim Vandermeer, Steve Montador, and Brian McGrattan. And while he's not a pure fighter like some of the aforementioned players, he clearly won quite a few of these battles!
He fits everything that Burke would want in a third line left wing and I think Burke would be foolish not to pursue him.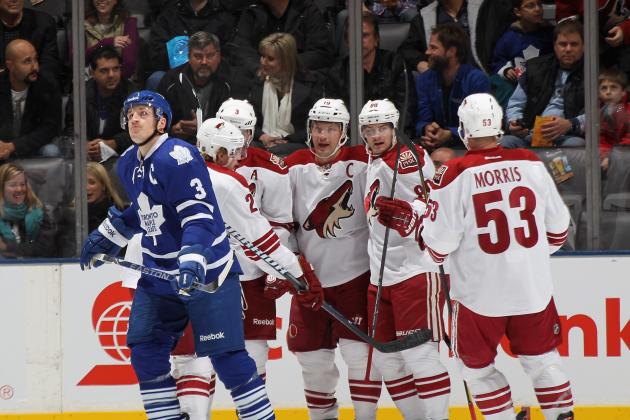 Bruce Bennett/Getty Images

This may actually be the most obvious choice for Brian Burke to make.
It was widely reported by virtually every media outlet on July 1st that Doan will wait until July 9th to make a decision, at which point he will know whether Greg Jamison's bid to buy the Phoenix Coyotes will have been successful or not. Going from the league's least financially stable team to one of the world's most profitable sports franchises may be tempting for Doan.
Shane Doan addresses almost every major need that Burke wishes to address: size, grit, leadership, and scoring. Come to think of it, I'll be damned if he doesn't also help the goaltending situation somehow. He's that awesome.
Being a right winger, he would give Randy Carlyle a great deal more flexibility on that side of the ice. Nikolai Kulemin, who still seems to be deciding whether or not he is a top six forward, could slide down to the third line where he does know he can be an elite two-way forward. Not only that, but it would even allow him to play on his natural left side for the first time in quite a few years if they so choose.
Lupul, JVR, Kulemin, Komarov. I like the look of that left side!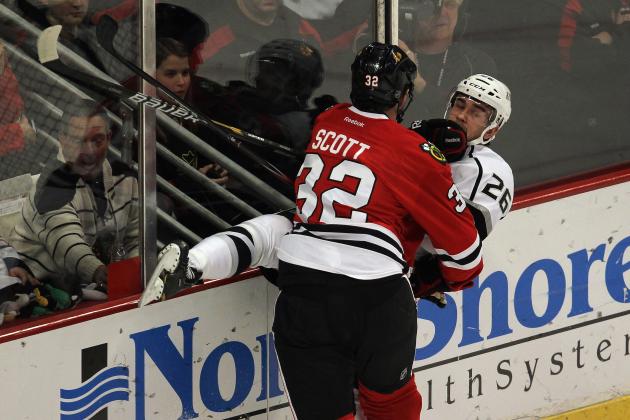 Jonathan Daniel/Getty Images

When I learned that the Buffalo Sabres signed tough guy John Scott, I laughed out loud a little bit.
They got pushed around way too often last year, particularly by the Boston Bruins and Milan Lucic, so Scott is supposed to be the solution.
I don't see it.
But I do have to admit, Brian Burke is likely in the market for another tough guy. Jay Rosehill is still a free agent and Colton Orr does not look ready to make the jump back up into the big leagues. Orr has improved, but his conditioning continues to be well below par for the NHL.
All in all, I'm glad Burke didn't sign John Scott, but Leaf fans may have to prepare themselves for the signing of a similar type of player in the coming weeks. In fact, many were of the opinion that a guy like George Parros was all but guaranteed to join the Blue and White until he decided to join the Florida Panthers on the opening of free agency.
As far as I can tell, there are a few options Burke may look at in this department. I will not debate the merit of signing one of these players, however, I just have a feeling that both Burke and Carlyle will want the security of having a pure fighter available to them. Especially now that John Scott is in such close proximity.
Some of the more well-known options include Krys Barch, Eric Godard, D.J. King, Brian McGrattan, and Pierre-Luc Letourneau-Leblond. Alternatively, Burke may consider bringing back Jay Rosehill for another go-round.
Again, I will allow you all to debate the merits of signing an enforcer, but I think it's fairly clear that Mike Brown will not be allowed to carry the load on his own in this department this season.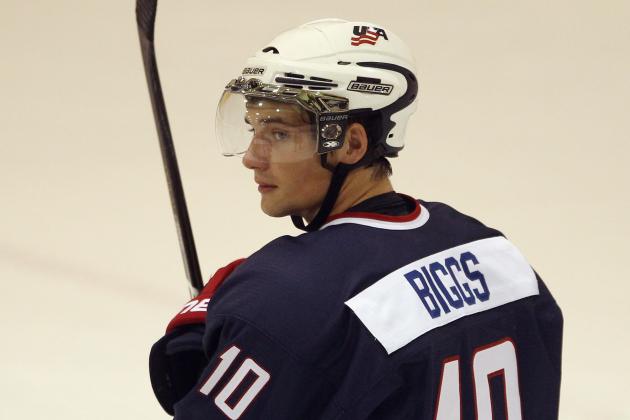 Bruce Bennett/Getty Images

There are still many options available to Brian Burke as far as the free agent pool is concerned. Of course, the UFA landscape is ever-changing. In fact, during the course of writing this article, Olli Jokinen signed with the Winnipeg Jets.
Fortunately for my blood pressure, none of the players I mentioned in writing this article have been scooped up as of this very moment.
It appears as though many have been frustrated by Burke's performance in the free agent market during his tenure in Toronto. The players that the fans always seem to want (this year it was Tootoo, Gaustad, Moen, Prust, Parros, Burrish, etc) never seem to either make it to July 1, or, they choose other teams.
I myself was disappointed when Burke wasn't able to bring in Prust or Tootoo. I wanted them both. However, it is clear that in the future, Burke has ensured that we have our own grit and sandpaper on the way.
Tyler Biggs and Brad Ross will become two very physical, gritty players for the Leafs in years to come. And I'm excited for it. I'd rather watch the kids come up through the system in the next year or two than pay $10 million over four years to a 28-year-old Brandon Prust. I mean I like the guy, but there's a limit considering his skill set.
In the meantime, don't be disappointed. The Leafs are not done. There are viable solutions still remaining in the UFA market. I'm not talking about Ryan Suter and Zach Parise, or any other elite talent, but upgrades can still be made via unrestricted free agency. Not to mention the fact that Burke has stated that there will be trades made in the near future to address the needs he has identified.
I am in the same boat as many of you: impatient, but excited to see the moves that will be made next!
Thanks for reading!
You can follow me on Twitter: @Jason_Ham