2013 NFL Mock Draft: Matt Barkley, Tyler Wilson and 1st-Round Predictions
July 3, 2012

Stephen Dunn/Getty Images
In 10 months we'll know the answers to all 32 of the first-round questions, but until then, we only have to go through training camp, the regular season, the playoffs and the Super Bowl (and the Pro Bowl, if you count that garbage). Not to mention the combine, scouting reports and free agency, but after that we'll have arrived at the 2013 NFL Draft!
This kind of stuff is pretty much impossible to predict this far in advance, but it's not out of the realm of possibility to make a few educated guesses. 
So, for fun's sake let's take a look at my official first mock for the 2013 NFL draft.
If nothing else, it'll be something to look back on and laugh at come next April.
1. Jacksonville Jaguars: Matt Barkley / QB / USC
The Jaguars probably won't be the worst team in the NFL, but they'll certainly realize by the year's end that Blaine Gabbert isn't the solution at quarterback. 
Barkley would have challenged RGIII to have been the second QB off the board this year and, with a strong senior campaign, figures to be the top quarterback of a strong 2013 class. 
2. Cleveland Browns: Jackson Jeffcoat / DE / Texas
Yes, that's right: another year, another receiver-less first round for the Browns. 
The fact of the matter is that Mike Holmgren doesn't believe in taking receivers this high in the draft and should look to upgrade the teams' pass rush.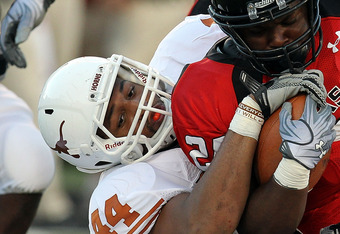 Ronald Martinez/Getty Images
Jeffcoat is a bit of an underdog to be the first pass-rusher taken, but he's got as much ability as any defensive end in this draft. He came on strong for the Longhorns in the second half of the season and tallied up over eight sacks. 
3. Minnesota Vikings: Robert Woods / WR / USC
The second Trojan off the board in the top three picks, and Woods is completely deserving. His 111 catches for over 1,200 yards and 15 scores was unbelievable for the 12 games he played last season. 
At 6'1" and 180 lbs, Woods doesn't have the ideal size for a top-five wide receiver, but his numbers don't lie, and neither do his hands. 
4. Miami Dolphins: Jarvis Jones / OLB / Georgia
The Dolphins are in desperate need of a pass-rusher opposite Cameron Wake and, despite the fact that they drafted Oliver Vernon in the third round this year, they still need some serious depth at the position. 
Jarvis Jones may fall in this draft, because he's really only a 3-4 player, but he'd be an excellent addition to the Dolphins defense.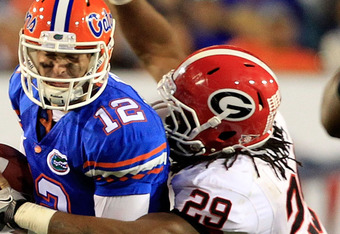 Sam Greenwood/Getty Images
5. Indianapolis Colts: David Amerson / CB / N.C. State
The Colts got their quarterback of the future in Andrew Luck, but there's still a lot to be desired on the defensive side of the ball. 
With pass-rushers like Dwight Freeney and Robert Mathis on the outside, Indy could really benefit from a playmaking corner.
That's exactly what they'd get in David Amerson. 
Amerson had 13 interceptions last year at N.C. State, including four multi-pick games. He'd be an instant starter for the Colts, even today. 
6. Tampa Bay Buccaneers: Star Lotulelei / DT / Utah
A few years ago, Tampa tried to revive its defensive line by taking Gerald McCoy in the first round and Brian Price in the second. 
Unfortunately, McCoy can't seem to stay healthy, and Price has never really panned out.
Lotulelei has been a beast at Utah and has drawn favorable comparisons to Haloti Ngata. He'd be a great fit up front for the Bucs.
7. Oakland Raiders: Tyler Wilson / QB / Arkansas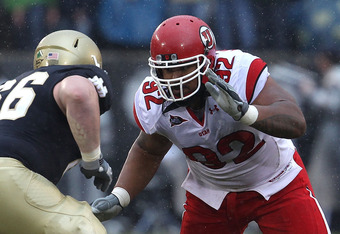 Jonathan Daniel/Getty Images
GM Reggie McKenzie may be stuck with the Carson Palmer deal, but he'll do everything he can to make up for it.
Palmer probably doesn't have much left in the tank and, with a strong receiving corps, the Raiders should be looking for their quarterback of the future.
And Wilson could be making a run at Matt Barkley for the top pick.
Wilson has a cannon arm and all the tools you look for in a quarterback. He'll benefit greatly from learning under a player like Palmer for a year.
8. St. Louis Rams: Justin Hunter / WR / Tennessee
The Rams missed out on taking Justin Blackmon after the Jags jumped ahead of them, and they're still in the market for a receiver.
Hunter missed most of the 2011 season but has the size and all the tools to be an elite-leve receiver in the NFL.
He's averaged 25 and 18 yards per catch in his two seasons at Tennesee and will hope to stay healthy enough in 2012 to earn some national recognition.
9. Arizona Cardinals: Logan Thomas / QB / Virginia Tech
Logan Thomas is one of the names floating around there right now that could be a major quarterback prospect come the 2013 draft.
Matthew Stockman/Getty Images
Arizona has a situation at quarterback, and maybe the most possible outcome is that both John Skelton and Kevin Kolb fail, leaving the Cards vulnerable.
Thomas' size and athleticism make him a very interesting prospect, but he'll have to prove it on the field first.
10. New York Jets: Eric Reid / S / LSU
It's no question that the Jets are thin at safety. They've put their eggs in the LaRon Landry basket and hope he can simply stay on the field.
Reid is an intriguing prospect, and some say he's a better player then Mark Barron, who flew up boards close to draft day this year.
With two injury-prone safeties and one (Eric Smith) who's basically useless, the Jets need to start rebuilding their secondary.
11. St. Louis Rams (via/ Redskins): D.J. Fluker / OT / Alabama
This is pretty far for the draft's top offensive lineman to fall, but the Rams are pretty happy about it.
St. Louis' offensive line is a complete mess, and they really need the help up front to protect franchise QB Sam Bradford.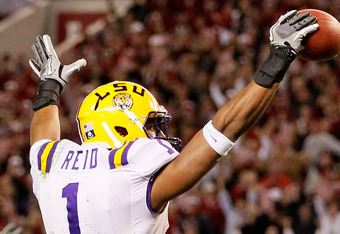 Kevin C. Cox/Getty Images
Linemen change all the time, so Fluker may not even be the guy come draft day, but I bet the Rams spend one first-rounder on a tackle.
12. Carolina Panthers: Sam Montgomery / DE / LSU
The Panthers passed on defensive linemen in 2012 to improve their linebacking corps, but they still have a real lack of pass-rushers.
Sam Montgomery is one of the best pass-rushers in the 2013 class and could provide an instant impact to the Panthers defense, opposite Charles Johnson.
13. San Diego Chargers: Jonathan Hankins / DT / Ohio State
The Chargers haven't been very good defensively the past few seasons, and, to me, that starts up front. 
Antonio Garay is 32 and out of his prime. Having a guy like Hankins up front could mean the difference between wins and losses. 
Just look at the Steelers' defensive rankings after they acquired Casey Hampton.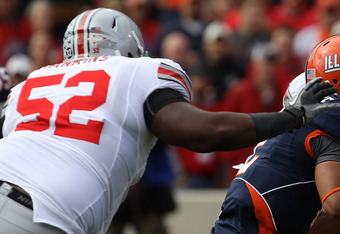 Jonathan Daniel/Getty Images
14. Tennessee Titans: Barkevious Mingo / DE / LSU
The Titans have a bit of a quandry across their defensive line. The verdicts is still out on Derrick Morgan, and Kamerion Wimbley was a solid pickup.
But outside of those two, Tennessee doesn't really have much. 
Mingo might be better suited for a 3-4, but it's obvious his pass-rushing talents can have him playing either end or linebacker.
The Titans could relly benefit from a threat like Mingo on the outside.
15. Seattle Seahawks: Manti Te'o / ILB / Notre Dame
Seattle desperately wanted a shot at Luke Kuechly this year and missed out on the opportunity. They shouldn't let that fall through their hands again.
Te'o is very close to the prospect Kuechly was; he's just not as good in the passing game.
He'd still be an instant upgrade over anything the Seahawks have to offer at the position right now, but with Pete Carroll you never really know.
16. New York Giants: Luke Joeckel / OT / Texas A&M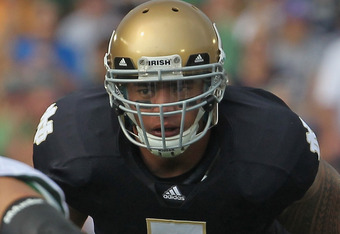 Jonathan Daniel/Getty Images
The reigning Super Bowl Champs might not find the same success in 2012, but they're not going to fall off the face of the earth.
One thing that will show this season, however, is their lack of offensive-line depth.
Joeckel could be an instant starter for the Giants who are struggling to find guys to block for Eli Manning.
17. Cincinnati Bengals: Marcus Lattimore / HB / South Carolina
It's amazing to think that a back of Lattimore's caliber could fall this far in the first round, but with the role of backs changing (or even diminishing) in the NFL today, it's not out of the realm of possibility.
Lattimore has all the size and athleticism one would desire in a back, but his receiving skills are in question.
Regardless, the Bengals would be overjoyed if Lattimore ended up in Cincinnati in 2013.
18. New Orleans Saints: William Gholston / DE / Michigan State
It's no shock that the Saints would be picking this high. With all the off-field distractions going on, it's a miracle they're not in the top 10.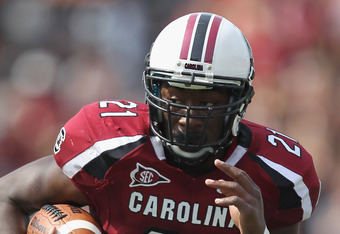 Streeter Lecka/Getty Images
The Saints pass rush doesn't really exist now that Gregg Williams is gone, and Steve Spagnuolo comes from the Giants school of thought, meaning that you can't have enough pass-rushers.
Gholston has a ton of ability, but he has to keep his head on straight or else he could end up like his cousin Vernon.
19. Buffalo Bills: Geno Smith / QB / West Virginia
Buffalo has gotten a lot of praise for its offseason maneuvers to fix the defense, but people seem to have forgotten all the interceptions Ryan Fitzpatrick threw in the second half of the 2012 season.
If Fitzpatrick is on point, the Bills can be real contenders, but that doesn't mean Buffalo can't look for their QB of the future.
Chan Gailey loves athletic quarterbacks, and Geno Smith is just that. He's got a strong arm and can move. His numbers at WVU are very impressive, but he still needs some time to develop into the NFL game.
But he's still the least likely of the top QBs to be taken in round one. 
20. Detroit Lions: Xavier Rhodes / CB / Florida State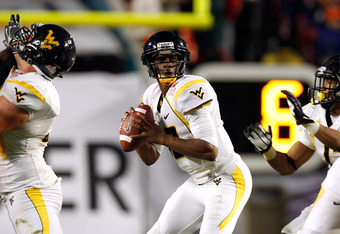 J. Meric/Getty Images
Detroit has needed a corner in the last two drafts and opted for other positions. But it's come to a point at which they can't go another year without one.
Rhodes has great ability and would make an immediate impact on a Lions defense that faces some pretty good offenses every week.
21. Denver Broncos: Knile Davis / RB / Arkansas
Few teams use the running game as well as the Broncos, and Knowshon Moreno just cannot stay healthy.
The addition of Ronnie Hillman might make this pick void, but before his injury, Davis was one of the best backs in college football.
Davis might be too good of a weapon for the Broncos to pass up. 
22. Dallas Cowboys: Barrett Jones / OL / Alabama
I listed Jones as an offensive lineman because, well, that's what he is. He's played tackle, guard and will now play center in 2012 for the Crimson Tide. 
This works out especially well for the Cowboys, whose interior offensive line is an absolute mess, especially at the center position.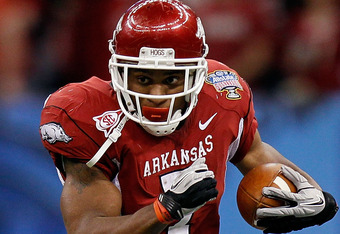 Kevin C. Cox/Getty Images
23. Kansas City Chiefs: Landry Jones / QB / Oklahoma
Oh what the difference a year makes. 
Just a short time ago Landry Jones was being brought up in the same breath as Andrew Luck. Now, he's lucky if he sneaks into the first round. 
The Chiefs have some of the best talent in the league, except at the quarterback position. If Jones can be the QB he was two years ago, he'd be an unbelievable addition to an already-stacked Chiefs roster.
If not, he'll be luck to be taken in the third round.  
24. Philadelphia Eagles: T.J. McDonald / S / USC
Philadelphia fixed their issues pretty well at linebacker and on the interior of the defensive line, but the Eagles did very little to fix their gaping hole at safety. 
The team will head into 2012 with Nate Allen and Kurt Coleman expected to start.
That pair did virtually nothing last season.
T.J. McDonald is a big safety who plays best when in the box and around the line of scrimmage. He'll help fix an Eagles run defense that has been pedestrian at best.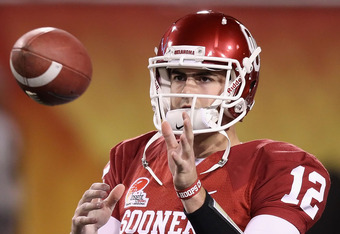 Christian Petersen/Getty Images
25. Baltimore Ravens: Chris Faulk / OT / LSU
The Ravens have an aging offensive line and lost one of the best guards in football this offseason to free agency. They'll now have to prepare for the eventual retirement of Bryant McKinnie.
Chris Faulk has played in big situations and done a fantastic job at LSU. He could help anchor a rebuilt offensive line for the Ravens.
26. Chicago Bears: Gerald Hodges / OLB / Penn State
Chicago has lived on its defense for the past eight or so seasons, and that defense has been led by a linebacking duo of Brian Urlacher and Lance Briggs.
But the fact is that both players are nearing the ends of their careers.
Even if Hodges doesn't replace Briggs right away, he'll add a great third option at linebacker and help start the youth movement in Chicago.
27. Pittsburgh Steelers: Jonathan Banks / CB / Mississippi State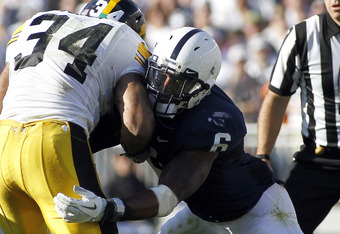 Justin K. Aller/Getty Images
It's been a long time since the Steelers had a shutdown corner, and after a playoff game like the one they had in Denver, the secondary is all Pittsburgh fans have been talking about.
Banks is a very talented corner who could shoot his way up the draft boards if he has a good year, and the Steelers should thank their lucky stars he's here in this draft.
28. Atlanta Falcons: Tyler Eifert / TE / Notre Dame
At the moment the Falcons have the best tight end ever to play the game of football on their roster. But Tony Gonzalez has seen his better days and won't be around too much longer.
Eifert is a great receiver and an above-average blocker who hauled in 63 catches and 5 scores in 2011.
If he has a good 2012 campaign, he'll all but guarantee himself a first-round selection.
29. San Francisco 49ers: Tyler Bray / QB / Tennessee
This will be the sixth quarterback I've projected in the first round, and it's highly doubtful that happens, but the 2013 class could be one of the best ever for QBs.
San Fran took a good, hard look Peyton Manning, and Jim Harbaugh doesn't seem sold on Colin Kaepernick.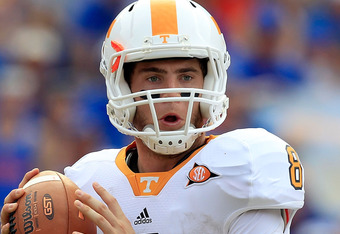 Sam Greenwood/Getty Images
Bray has a strong arm and, with a strong 2012 season, could fight his way into the top 10 picks of the 2013 draft.
30. New England Patriots: Kawann Short / DE / Purdue
The Patriots have done a really nice job over the past few drafts of trying to rebuild their defense. But the one spot they haven't been able to fill is the 5-technique end.
Short can play both inside in a 4-3 and outside in a 3-4, which benefits the Pats who play both schemes.
31. Houston Texans: Jake Matthews / OT / Texas A&M
Matthews is the best right tackle in the draft, which is good for the Texans because they'll be in the market for one.
After losing Eric Winston to free agency, Houston didn't ever really replace him. And given that the Texans take great pride in how good their offensive line has been over the past few seasons, they'll need to fill that hole.
32. Green Bay Packers: Tony Jefferson / S / Oklahoma
The Packers watched as their secondary collapsed on them last season and they were upset by the eventual champions, the New York Giants.
They also have to deal with the fact that Nick Collins most likely will never play in the NFL again due to severe neck injuries.
Add that up, and Green Bay needs a safety.
Jefferson is a good tackler and needs to work on his ball-hawking, although he did have a three-interception game last season.