Joey Barton: Why Queens Park Rangers Were Right to Keep Him On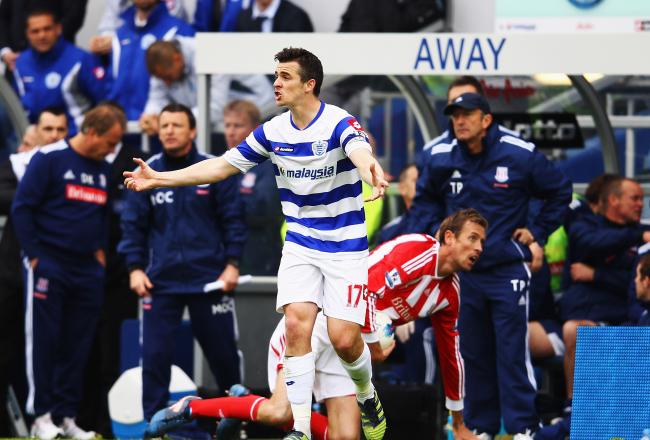 Julian Finney/Getty Images
Last May's season-ending game between Manchester City and Queens Park Rangers was always set to be dramatic with the implications it had for both the top and bottom of the table. The drama didn't end there though, as QPR captain Joey Barton infamously got himself sent off.
Following the incident Barton was slapped with a £75,000 fine from the FA and banned for twelve matches. It looked as though the club was done with him as rumours surfaced that they would be looking to offload him immediately.
However the simple fact was that the club had no choice in the matter. With an £80,000-a-week contract and a twelve-match ban to consider, no club in their right mind would move for the midfielder this summer. The only other option would have been to terminate his contract.
This too was not an option the club could have followed. According to Mel Goldberg, the chairman of the British Association of Sport and Law, Barton's contract could only be terminated due to gross misconduct, which is very hard to prove. Goldberg told The Mirror,
"If they try to tear up his contract, he will sue for wrongful dismissal and I think he will get a pay-off for the full value of his contract."
The only other option would have been to come to an agreement with Barton to end his contract early. Instead the club has fined Barton six weeks' wages and stripped him of the club captaincy and it looks as though he will be staying with the club.
After his performance against City the natural reaction of many would have been that Barton should not play another minute for the club. If QPR had been relegated then this would have surely been the case. Yet in the situation the club is currently in, keeping Barton is a wise decision.
Should QPR have kept Barton or got rid of him?
For keeping Barton around to be a good idea, his importance to the squad needs to outweigh the potential discipline problems he poses. It may be that this most recent ban will spur him into becoming a more mature player, but with a history as chequered as Barton's, that seems to be a very long shot.
Despite this, Barton's ability makes him a necessary evil for QPR next season. Currently there is a serious lack of steel in the middle of the park for the club. Apart from Barton, Samba Diakité is the only other payer with the motor to track back tirelessly and harry the opposition.
Of course Rangers will have until September to bring somebody in to fulfil a similar role to Barton, and with his twelve-match ban they may still have to. However having Barton available to come back after a quarter of the season gone could be a vital breath of fresh air to a potentially struggling club.
Going forward Barton contributed a respectable three goals and three assists from 31 games last season. If the strike-force of Bobby Zamora and Djibril Cissé can gel then Barton could provide the service that they need.
Hopefully stripping Barton of the captaincy will be the wake-up call that he needs to take responsibility as a squad player and put his discipline problems behind him.
He is saying the right things, following his punishment he tweeted, "Money comes and goes, it's not important to me. Losing the captaincy and missing 12 games is what really hurts."
After this recent setback, finding a team to buy him will be impossible so QPR may as well get the most that they can out of him and give him a final chance to prove his worth as a Premier League player.
This article is
What is the duplicate article?
Why is this article offensive?
Where is this article plagiarized from?
Why is this article poorly edited?