Florida Football 2012: 7 Things That Will Be Different from Last Year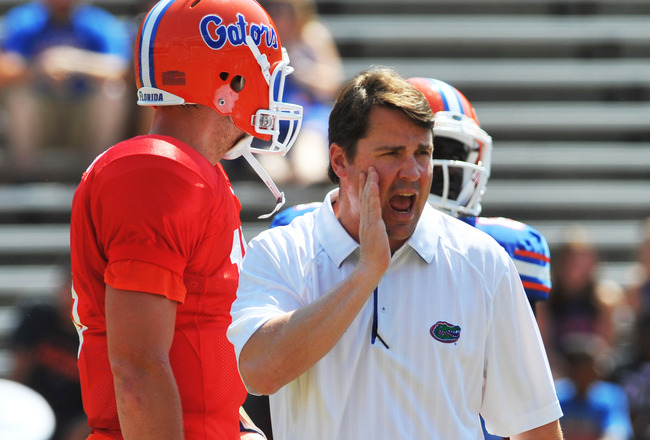 After a forgettable first season, Florida coach Will Muschamp is now hoping to get the Gators back in the SEC East race in 2012
Al Messerschmidt/Getty Images
Will Muschamp's first season at Florida certainly wasn't the most memorable campaign in Gators history.
After starting off the year 4-0, Muschamp's squad finished just 3-6 in its final nine games of 2011.
Clearly, Muschamp and his players will be looking to put last season's struggles in the rear-view mirror and instead focus on getting back into the SEC East race in 2012.
With 17 total returning starters and one of the strongest defenses in the country, Florida has the pieces in place to give division foes such as Georgia and South Carolina a real run for their money this season.
In order to make it to Atlanta, however, Muschamp will have to figure out how to make the key changes needed to turn this team into a true conference contender.
Florida should be a much different team than the one we saw in 2011, and here's a look at the seven main differences to expect in 2012.
1. Will Muschamp Will Officially Step out of Urban Meyer's Shadow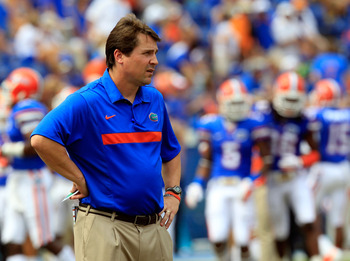 Will Muschamp
Sam Greenwood/Getty Images
Last season, Will Muschamp found out that following Urban Meyer, a coach who won two national championships, two conference championships and averaged nearly 11 wins per season during his six years at Florida, was actually even more difficult than it sounded.
Muschamp's first season in Gainesville certainly wasn't what he was hoping for, as the Gators finished just 7-6.
On the surface, that's certainly not an impressive introductory campaign. But when you dig deeper and realize that the team's six losses came to Alabama, LSU, Auburn, Georgia, South Carolina and Florida State, it's definitely a bit more understandable.
Muschamp knows how to coach at a high level at a big program, which is something he's proven during stints as a defensive coordinator at places such as LSU, Auburn and Texas.
Now that Florida is one year removed from the "Urban Meyer's not feeling well" debacle, it's time for this to officially become Muschamp's team, and he's got the type of talent at his disposal that he needs to compete for an SEC East division title in 2012.
2. The Offense Will Be in Better Hands Under Brent Pease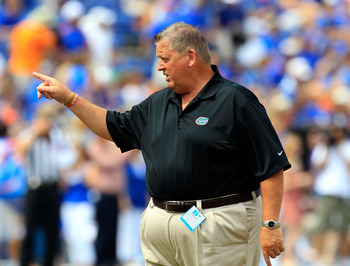 Charlie Weis
Sam Greenwood/Getty Images
Former Notre Dame head coach Charlie Weis just never seemed like a great fit at Florida.
Weis' offense struggled mightily throughout the stretch run of the 2011 season, and the unit ended up finishing 10th in the SEC in total offense last year.
After just one season in Gainesville, Weis has moved on to become the head coach at Kansas.
Now, in his place, former Boise State offensive coordinator Brent Pease will take control of the Gators offense.
Under Pease's watch last season, the Broncos finished fifth nationally in scoring offense and ninth in total offense, averaging 44 points and 481 yards per game.
Obviously, Florida's offense isn't going to come close to putting up that kind of production against SEC caliber defense, but Pease seems like the type of offensive mind that can really add a fresh feeling to a unit that grew stale over the past two seasons.
3. There Will Be More Athleticism at the Quarterback Position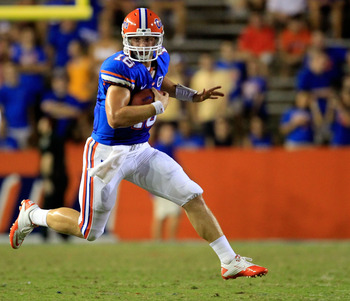 Jeff Driskel
Sam Greenwood/Getty Images
During his two years as a starter, QB John Brantley didn't exactly make any Florida fans forget about Tim Tebow.
In fact, now that he's gone, Brantley's name will probably be forgotten rather quickly.
Brantley just never came close to developing into the elite quarterback that he was forecasted to be when he initially arrived at Florida as a 5-star recruit.
Since Brantley's gone, there will now be a two-way battle between quarterbacks Jacoby Brissett and Jeff Driskel to replace him.
Just like Brantley, Driskel and Brissett were both highly touted high school prospects in the state of Florida. However, the difference between them and the man they're trying to replace is that they each possess more natural athleticism and more mobility than Brantley had to offer.
It will be interesting to see who coordinator Brent Pease ultimately chooses to be his signal-caller, and it will also be interesting to see how he decides to shape the offense around that player's specific skill set in 2012.
4. The Offense Won't Have an Explosive Scat Back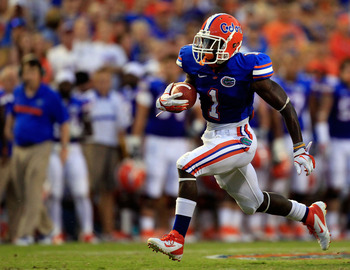 Chris Rainey
Sam Greenwood/Getty Images
Florida's offense lost its two most productive rushers from last season—Chris Rainey and Jeff Demps, who combined to rush for 1,450 yards and eight touchdowns in 2011.
Rainey and Demps were two small, but speedy, explosive scat backs who could really strike fear into the heart of an opposing defense.
Now that they're gone, it will be bigger, stronger senior back Mike Gillislee who will be asked to carry most of the rushing load in 2012.
Gillislee may not be the same type of dangerous home-run threat that both Rainey and Demps were, but he did manage to average a very impressive 5.9 yards per carry last season.
With Gillislee leading the way, it will be interesting to see how Florida alters its rushing attack this season.
5. Xavier Nixon Will Regain His Old Form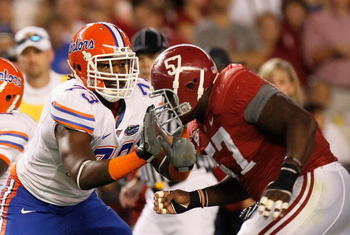 Xavier Nixon
Kevin C. Cox/Getty Images
Through the first two seasons of his career, Florida tackle Xavier Nixon looked like he was developing into a future franchise-type of NFL offensive tackle prospect.
Last year, however, Nixon regressed and ended up playing so poorly that he lost his starting spot to freshman Chaz Green.
After spending a year hearing about how his work ethic wasn't up to par, Nixon should transfer his hunger for food into a hunger to be great again on the field in 2012.
If he comes into camp in the proper condition, the 6'6'', 309-pound senior has the chance to really impress the coaching staff and move from the dog house back into the starting lineup this season.
With the desired size, strength, athleticism and fundamentals, Nixon could be one of the top senior tackle prospects available for the 2013 NFL draft, but he first must show a renewed desire and a renewed focus in order to get his job back.
6. The Secondary Will Pick off More Passes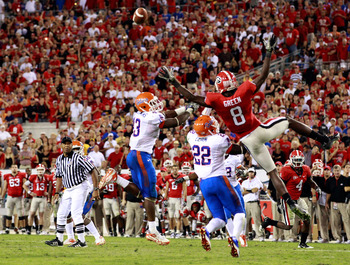 Matt Elam
Sam Greenwood/Getty Images
Last year, Florida had one of the strongest secondaries in the country, as the Gators ranked sixth in the country in pass defense, allowing just 166 yards through the air per game in 2011.
With all four starters returning, including potential All-SEC standouts such as cornerbacks Marcus Roberson and safety Matt Elam, Florida will once again have one of the most secure defensive backfields in the country this season.
Being more opportunistic and creating more turnovers in the passing game has to be a priority, though, as Florida finished with just eight interceptions last season, which was the lowest total in the SEC.
Roberson, Elam and fellow defensive backs such as corner Jaylen Watkins and safety Josh Evans all have the ball skills to make game-changing interceptions. They just have to learn how to be more opportunistic and take advantage of the key opportunities when they're presented in 2012.
7. There Will Be More Discipline and Less Penalties
Rob Carr/Getty Images
Something that had to drive coach Will Muschamp crazy last season was the fact that Florida had 100 total penalties, which was the seventh highest total in all of college football in 2011.
Obviously, when you're averaging 59 yards of penalties per game and constantly shooting yourself in the foot, it's going to be just that much more difficult to win games, especially in a conference like the SEC, where there's very little room for error.
Discipline and focus are two words that the Gators are likely going to hear Muschamp preaching about a lot throughout the offseason.
With a veteran-laden team, which includes 17 returning starters, the Gators should respond well and cut down on all of the careless penalties in 2012.
Keep Reading

Florida Gators Football: Like this team?