No NFL injury has been talked about more over the past few seasons than Peyton Manning's neck injury. It required four surgeries, including stem cell treatment, and he missed all of 2011.
The 2011 Indianapolis Colts tanked without Manning and drafted Andrew Luck with the first overall pick in the 2012 NFL Draft. Manning was released and courted by several quarterback-needy teams before landing in Denver and providing John Elway a convenient escape from Tim Tebow.
After backing into the playoffs in 2011, the Broncos hope they are getting the old Manning and not an old Manning coming off a severe neck injury.
While the injury may be healed, Manning is likely to be rusty. Prior to the injury, he had started every game since entering the NFL. No one knows how the injury or the layoff will impact Manning, but don't be surprised if the rust has more of an impact than the injury itself.
What will impact Manning more?
By the time the preseason rolls around, Manning will not have taken a snap in an NFL game in 20 months. That's an incredible layoff for a 36-year-old quarterback who has never had to take time off of football.
The most successful example of a quarterback coming off a severe injury was Dan Marino in 1994. Marino ruptured his Achilles in 1993 and came back in 1994 to pass for 4,453 yards and 30 touchdowns, and he had a statistically better season than his season in 1992. Marino was 33 at the time.
Other recent examples that produced mixed results: Tom Brady and Carson Palmer in 2008. Both came back in 2009, but failed to match their pre-injury numbers in their first seasons back. Both Brady and Palmer were much younger than Manning at the time of their injuries.
Brady still won 10 games, but not as convincingly or as easily as the wins came in 2007, and his passing numbers dipped. He was still great, but not necessarily what he was prior to the injury, and he didn't totally regain form until 2010.
Palmer returned in 2009, and his stats dipped across the board, but he avoided mistakes and the Bengals defense played well enough to earn the team a playoff berth. In 2010, Palmer had a statistically equal year to his pre-injury 2007 season.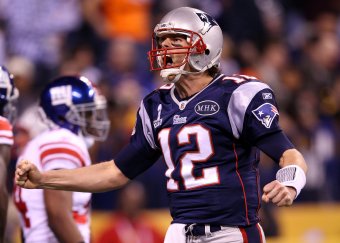 Elsa/Getty Images
Manning had a career-high in passing yards in 2010 and equaled a career-high in touchdowns, but on many more attempts. His passer rating was 91.9 in 2010, his worst since 1999, and while this is a flawed statistic, it's still useful for comparing the QB to himself.
If 2010 was one of Manning's worst years since his sophomore season, it will be interesting to see if he can regain some of what he had during his prime after missing an entire season and at age 36. He isn't going to turn into JaMarcus Russell, but that doesn't mean he'll be the same Manning he was two years ago.
Few quarterbacks have rebounded as strong or stronger than they were pre-injury during their first seasons back. There are few, if any, examples of a 36-year-old quarterback missing a season and coming back without skipping a beat. There is likely to be some sort of drop-off, and if the zip on Manning's passes and the accuracy are still there, the only thing to blame would be rust.
Expectations are sky-high for Manning and Denver, but even a little rust could derail the Broncos' playoff hopes in a tightly contested AFC West.