2012 US Olympic Gymnastics Team: Who's Better, Danell Leyva or John Orozco?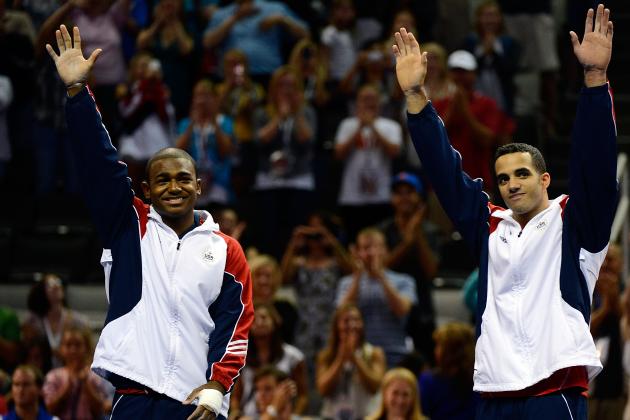 Ronald Martinez/Getty Images

Danell Leyva and John Orozco are the two best gymnasts the U.S. Olympic Gymnastics team has for the 2012 Summer Games in London, and they will compete with each other in London.
Leyva beat Orozco during the U.S. Olympic trials, but it was the other way around at this year's U.S. championship.
In both events the winner won by a very slim margin, and there is no clear favorite between the two Americans. Because of this, we have to examine them in each individual event to determine which will do better in London.
With that, let's examine the closest rivalry in men's gymnastics.
Begin Slideshow

»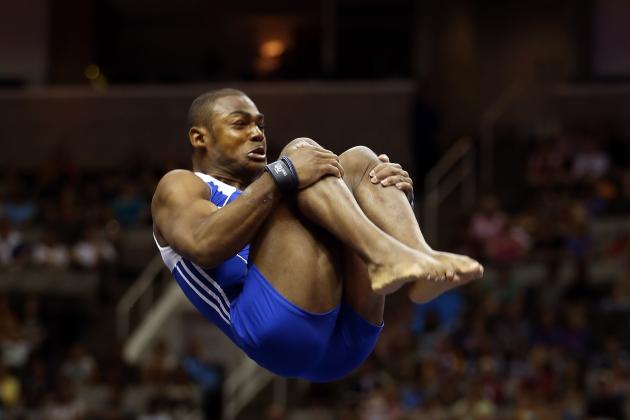 Ezra Shaw/Getty Images

The floor exercise is arguably the closest between these two competitors. John Orozco beat out Danell Leyva during the U.S. Olympic trials by a substantial margin, but that was only because Leyva was uncharacteristically sloppy.
Leyva suffered a fall on a strength pose, which is usually his forte. It would have been ludicrous to suggest that he would do so before he competed, but he struggled and was blown away because of it.
It's difficult to pick out which of these men will win in London, especially after seeing Leyva struggle. Because he had a poor performance at trials, I'd like to see a little more of Leyva. But for now I have to give the slight edge to Orozco.
Verdict: Slight Edge to Orozco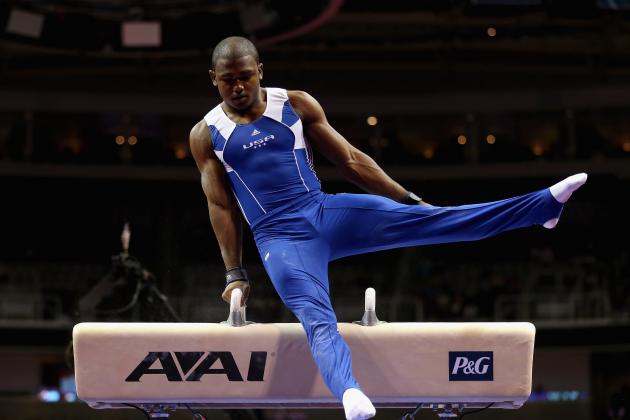 Ezra Shaw/Getty Images

The pommel horse is easily the worst event for the Americans, and almost everyone on the team struggles with the event.
However, John Orozco is respectable on the horse, while Danell Leyva is below average.
Orozco looked smooth at trials, unlike just about every other American in the field. He was graceful beyond expectation, and he looks poised to build up a lead on the pommel horse.
Verdict: Edge to Orozco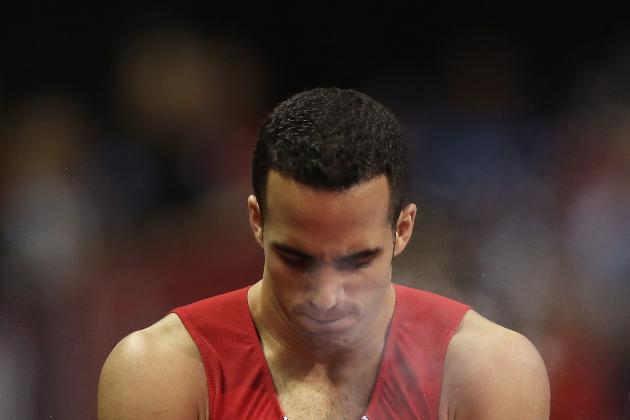 Ezra Shaw/Getty Images

This one isn't much of a question between these two. Danell Leyva is the world champ when it comes to parallel bars, while John Orozco struggled mightily at the trials.
While Orozco took a clear lead after the first two events on this list, Leyva erases that completely, as he dominates on the bars. Leyva will look to this event as one where he can either make up ground or build a lead against his rival.
Verdict: Big Edge to Leyva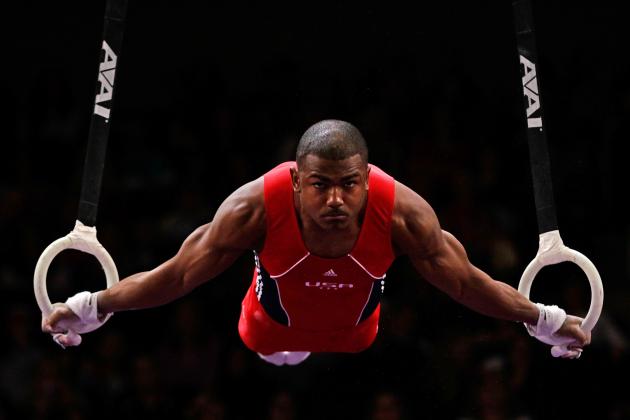 Chris Trotman/Getty Images

The still rings will be another close event between these two rivals, as John Orozco's score of 15.35 at trials beat out Danell Leyva by a mere 0.15 points.
In my personal favorite event, the battle between these two may be decided because if either competitor can beat the other by a substantial margin, he will move ahead of the other in a close race.
As of now I give the slight edge to Orozco, who performed well at trials, and I believe that he should have won by a larger margin. His grace while upside down was truly remarkable, and I think it will be rewarded in London.
Verdict: Slight Edge to Orozco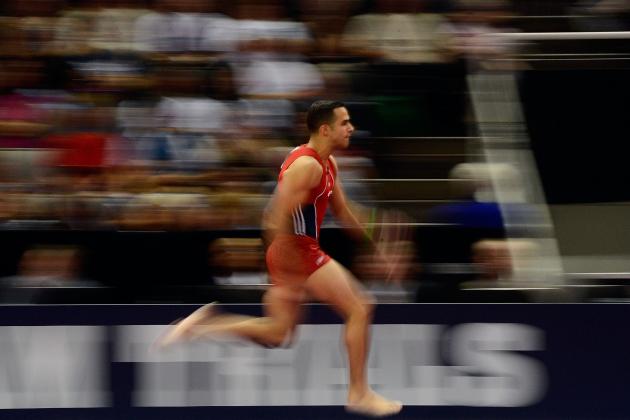 Ronald Martinez/Getty Images

The vault is yet another very close event between these two. It comes down to which competitor is willing to take a risk and whether or not that risk pays off.
At the trials it was Orozco who took a risk, and it certainly paid off. He beat Leyva in the event, but I believe that is because Leyva decided to play it safe because he thought he could win if he lost by a slim margin.
And he did.
I think that Leyva is actually the better of the two on the vault, but again, it will come down to the score heading into the event.
Verdict: Slight Edge to Leyva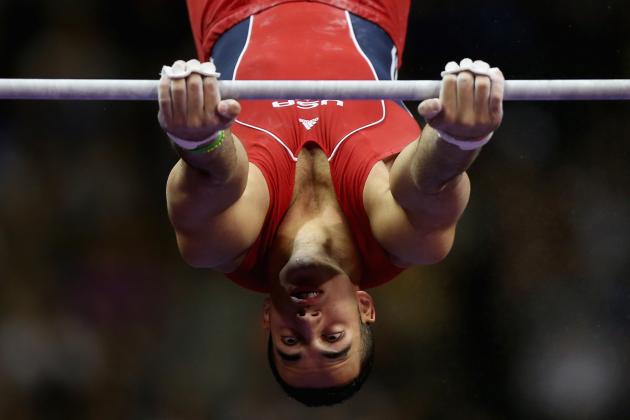 Ezra Shaw/Getty Images

The high bar is the event that will decide which of these two gymnasts will be the top-scoring American, and it could help one man win the gold medal.
This event is the reason Danell Leyva conceded a slight loss in the vault, and it worked to his advantage.
Leyva puts acrobats to shame when he is on the high bar, and he could easily join the circus with this act. While John Orozco isn't bad by any stretch, Leyva is simply much better than he is.
Verdict: Edge to Leyva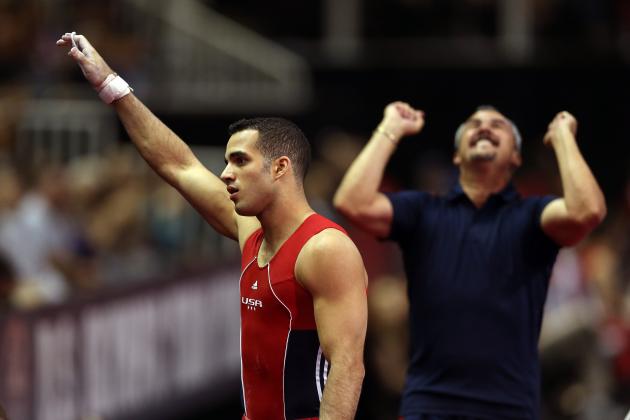 Ezra Shaw/Getty Images

After examining the six events these two will be competing in, I have to give the edge to Danell Leyva.
The kid from the Bronx will make it big at the 2012 Olympics. He will be the best American in the field and will compete for the gold.
While it is very close with rival John Orozco, I think that Leyva will beat him by less than a point, thanks to his excellence on the bars.
Look for Leyva to be the highest American on the podium in the individual all-around in London.