MLB All-Star Game 2012: Voting Results Show It's Time to Rein in the Fans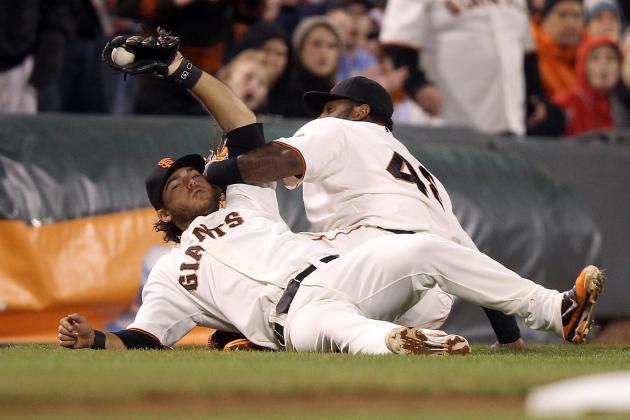 Ezra Shaw/Getty Images

For those of you who aren't San Francisco Giants fans, the two gentlemen in the picture above are Pablo Sandoval and Brandon Crawford.
Neither is having a year worthy of inclusion in the 2012 Major League All-Star Game, but the Kung Fu Panda is starting the Midsummer Classic at third base over the New York Mets' David Wright. Meanwhile Crawford came within 300,000 votes and change of supplanting the St. Louis Cardinals' Rafael Furcal as the National League's starting shortstop.
We'll get to Pablito in due course so let's deal with Crawford.
As a Giants die-hard, I've become a fan—the kid has a slick glove and has settled down in the field after a brutal start, but he is basically half a major-league player at this point. He's showing signs of life at the plate in recent weeks, yet he's posting a slash line of .232/.282/.328 and he's been caught stealing (twice) as many times as he's hit a home run (once) or successfully swiped a bag (once).
On defense?
Sure, he's been playing like an All Star for weeks now, but even focusing on D, you can't ignore the early season yips that led to 12 errors. Again, I don't mean to pick on BC, but that he's even in the all-star discussion is borderline insane.
And the lunacy doesn't stop there.
The Gents' sometimes-starter Brandon Belt was the second leading vote-getter at first base behind Joey Votto. Freddie Sanchez can't even be properly classified as a second baseman this year since he has yet to lace 'em up for San Francisco , but he somehow managed to finish fourth in the voting at the keystone.
Of course, you can't really blame the people doing the voting—as has been said before, "fan" is short for "fanatic" for a reason.
What you can do is blame Major League Baseball for making it entirely too easy to stuff the ballot box and, consequently, giving the casual fan far too much influence.
But before we get to the blame-and-fix portion of the program, let's take a look at the most egregious consequences of the 2012 ballot-box stuffing fiasco.
Begin Slideshow

»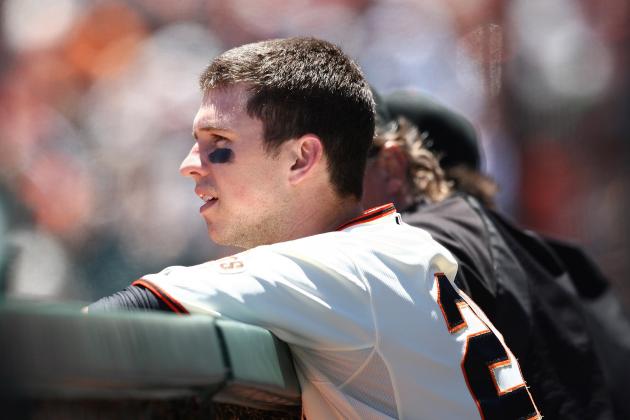 Tony Medina/Getty Images

Who Should Be Starting: Carlos Ruiz, Philadelphia Phillies, .356/.420/.579, 38 R, 11 HR, 43 RBI, 4.0 WAR
Again, it pains me to say it as a Giants die-hard, but the San Francisco faithful ran rough-shod over common sense in their ASG voting.
Gerald Dempsey III is having an amazing year, posting gorgeous numbers and leading los Gigantes' offense after suffering one of the most gruesome injuries you'll see on a baseball field last year. He's been the heart and soul of a first place team's offense and hasn't missed a beat on defense.
He's definitely a worthy All-Star.
It's just that we're talking worthy starters and the Phillies' backstop has been head-and-shoulders better.
Frankly, St. Louis Cardinals' catcher Yadier Molina has a pretty strong case, too, but let's focus on Chooch—the guy's league-leading average trumps Posey's by 50 points and his slugging percentage has Posey's beaten by almost 100 points. His on-base percentage is 50 points higher than Posey's and only 60 points behind the latter's slugging percentage.
That's all shades of crazy before you consider Carlos is taking all his at-bats while donning the tools of ignorance.
Not literally. Though his year would only be slightly more incredible if he were taking cuts while wearing his gear.
Posey, on the other hand, has seen numerous innings at first base to rest his surgically repaired ankle.
Any way you slice it, Ruiz deserves the starting nod.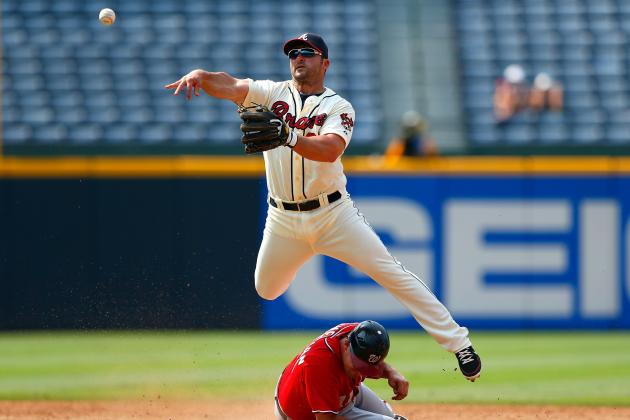 Kevin C. Cox/Getty Images

Who Should Be Starting: Aaron Hill, Arizona Diamondbacks, .300/.359/.512, 35 R, 11 HR, 38 RBI, 2.8 WAR
Uggla's place in the starting lineup is absurd because there are quite possibly four or five second basemen who have had better seasons thus far. Jose Altuve for the Houston Astros and Brandon Phillips for the Cincinnati Reds deserve mentions, but ultimately, it's Hill who should be on the diamond for the first pitch.
The Snakes' second-sacker has grabbed headlines recently, becoming only the fourth player in MLB history to hit for the cycle twice in a season, but his 2012 excellence goes beyond that flashy achievement.
Although Uggla has him licked in the runs scored department and owns a significant lead in RBI, those particular stats are generated in large part by the team around the player. As far as the pure individual stats, the story isn't particularly close once you get past the homers—Hill's average is almost 70 points higher and his slugging percentage is better by about 100 points.
And then there's the strikeouts—Uggla has fanned a whopping 92 times compared to only 45 for Hill.
For good measure, Aaron's swiped seven bags. Not a huge total, but that's seven more than the All-Star starter.
Which is yet another reason the voters got it wrong.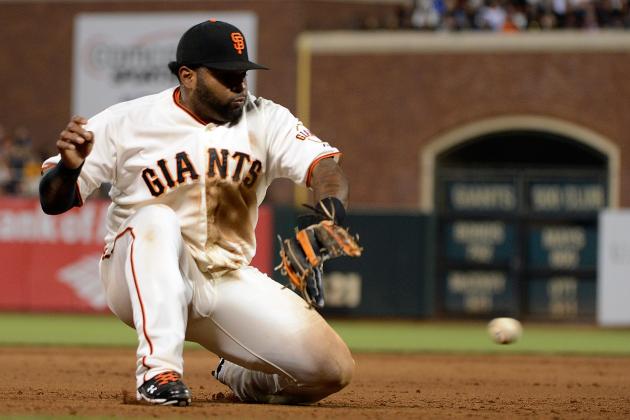 Thearon W. Henderson/Getty Images

Who Should Be Starting: David Wright, New York Mets, .354/.447/.560, 53 R, 9 HR, 50 RBI, 4.5 WAR
Look, I love Little Money as much as the next Giants fan, but there is very little argument for him to even be on the All-Star team, let alone starting. If you check the statistical leaderboard for NL third basemen, you'll notice that Sandoval's name doesn't appear.
That's because the lovable Venezuelan missed considerable time with a broken hamate bone, leaving him with only 188 plate appearances on the year. By contrast, Wright has 329.
Think about that—Gotham's man at the hot corner has almost twice the plate appearances as Sandoval and is still hitting 50 points higher. The disparity is also one of the reasons that Wright has roughly twice as many runs scored, twice as many runs batted in and as many doubles (26) as Sandoval has runs scored.
There may be an argument for Sandoval as an All-Star given the watered-down nature of the position, his personality and the late charge he's put on since getting healthy.
But there is no debate about who should be starting.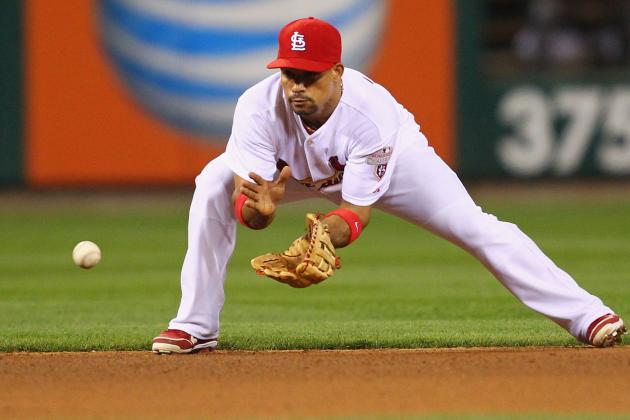 Dilip Vishwanat/Getty Images

Who Should Be Starting: Ian Desmond, Washington Nationals, .276/.308/.484, 41 R, 13 HR, 43 RBI, 2.7 WAR
As I see it, the rightful starter is a toss up between the Washington Nationals' Ian Desmond and the Chicago Cubs' Starlin Castro.
Both youngsters struggle with the glove at a premium defensive position, posting 11 and 13 errors, respectively. But it's not like Furcal is picking it clean, with seven errors of his own, and the enormous disparity in UZR, though not conclusive, has to count for something.
Meanwhile, the offensive numbers all tilt in favor of the newbies.
Desmond gets the edge because he's a better combination of speed and power than Castro, who has stolen 16 bases, but has been nabbed an unseemly nine times while flashing less power.
As for Furcal, the Nats' up-and-comer is simply better.
Rafi's on-base percentage is quite a bit north of Desmond's and he's got more runs scored, but Desmond has a huge edge in slugging percentage and more RBI. What really makes his case persuasive, though, is that Desmond's doing it for the offensively challenged Nationals while Furcal benefits from one of the best offenses in baseball.
The diminutive shortstop is a major part of said offensive production to be sure, but he's got plenty of help and what's that saying about many hands?
Plus, the Redbird is old and boring (unless he's throwing, still got that cannon) whereas Desmond is young and exciting.
Even worse, Furcal's an ex-Dodger.
Forget that guy...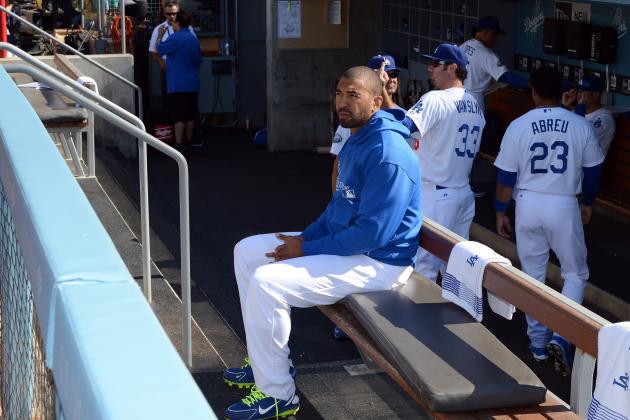 Harry How/Getty Images

Who Should Be Starting: Andrew McCutchen, Pittsburgh Pirates, .354/.407/.600, 50 R, 15 HR, 52 RBI, 3.8 WAR
In fairness to Dodger fans (that phrase just made me vomit a bit in my mouth), this is strictly about health.
If Kemp had stayed even a bit healthier during the first half, he's a no-brainer. In fact, even after missing over 50 percent of LA's games thus far, he's still got a decent argument for being an All Star.
Just not as a starter.
Especially when there is a slew of viable candidates chomping at the bit to supplant him. You could make a case for the Milwaukee Brewers' Ryan Braun, if you don't hold that whole performance-enhanced controversy against him. Likewise, you could tab the Colorado Rockies' Carlos Gonzalez for the gig and feel good about yourself. Or even the Atlanta Braves' Michael Bourn or Jason Hayward.
Ultimately, though, the Bucs' McCutchen offers that rarest of packages—a jaw-dropping athlete in baseball cleats.
The youngster can flat-out get after the ball in center field and has begun to show off his power stroke in 2012, yanking 15 bombs to go along with the speed he's always possessed (14 SB v. 4 CS). Plus, he's a large reason for Pittsburgh having a legitimate shot at breaking one of the most dubious distinctions in professional sports.
And he's never been implicated in a PED scandal.
So there's that.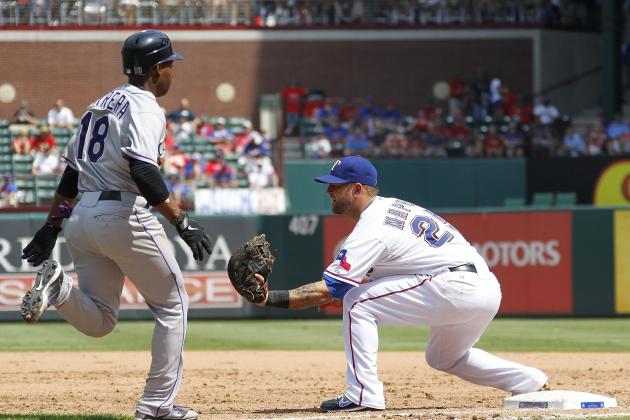 Rick Yeatts/Getty Images

Who Should Be Starting: Joe Mauer, Minnesota Twins, .327/.417/.446, 39 R, 4 HR, 37 RBI, 2.5 WAR
The American League voters didn't do much better than their NL counterparts as demonstrated by their selection at catcher (amongst others).
Mike Napoli might have had a wonderful 2011 and been a big reason for the Rangers' march to last season's World Series, but I don't truck with the idea that an All-Star honor is somehow related to performances prior to the year in which it is bestowed.
And if you're not looking beyond 2012, there's no argument for Napoli.
Mauer has him dead to rights across the board with the exception of home runs. But any edge in the long ball is easily eroded by the Rangers catcher's piddling .235 average. Furthermore, if power is your pleasure, then A.J. Pierzinski is your man, not Napoli.
Of course, I refuse to say anything more positive than that about Mr. Double Play.
Mauer it is.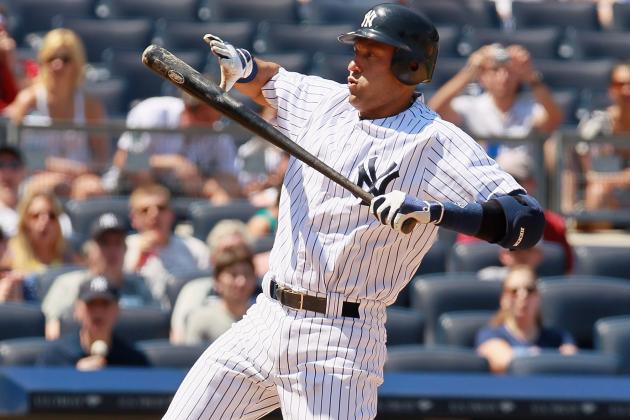 Mike Stobe/Getty Images

Who Should Be Starting: Elvis Andrus, Texas Rangers, .307/.383/.412, 51 R, 1 HR, 32 RBI, 2.9 WAR
Death, taxes and Derek Jeter getting named as the All-Star starter every year until he retires—these are the only certainties in life.
You know Andrus deserves to start, I know it and I'd bet even Captain Clutch knows it. He just won't admit it.
Hey, at least Jeter actually belongs on the team this year.
Let's just move on.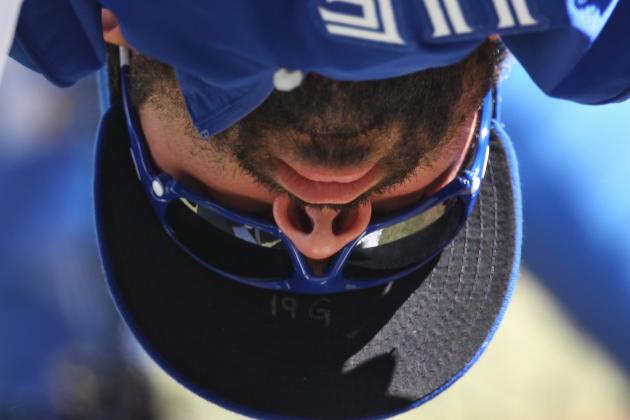 Tom Szczerbowski/Getty Images

Who Should Be Starting: Mike Trout, Los Angeles Angels, .339/.395/.542, 51 R, 9 HR, 33 RBI, 4.3 WAR
I know, I know, Joey Bats has 27 home runs and some of them went really far and he had a scorching month of June.
He's still hitting .243.
Call me an old school, call me a purist, call me a jackass, but I think there's still more to the beautiful game than swinging from your heels every time the bat leaves your shoulder. Which is where Mike Trout enters the frame.
Much better average? Check.
Better on-base percentage? Check.
Comparable slugging percentage? Check.
Incredible defense? Check.
Then there's the speed—the Angel has 22 thefts while getting pinched only thrice; why is it that stat that always gets ignored? Give me a guy with power who can also turn a walk into a double (or better) over a guy who's heading back to the bench when he's done at the plate, either because he's circled the bases or failed to get on one.
Trout deserves the starting nod before you factor in his tender age of 20 while Mr. Bats should be at the game, but coming off the bench.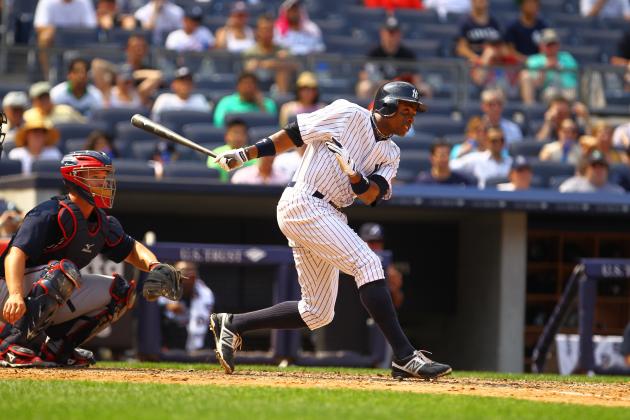 Al Bello/Getty Images

Who Should Be Starting: Austin Jackson, Detroit Tigers, .322/.404/.524, 47 R, 8 HR, 35 RBI, 3.5 WAR
By all accounts, Curtis Granderson is a hell of a nice guy and he's a fine ballplayer, which makes the parallel to Pablo Sandoval downright eerie before you point out that, like the Panda, he falls into that "arguably shouldn't even be at the game, let alone starting it" category.
There are over 20 AL outfielders who are more valuable as measured by Fangraphs' wins-above-replacement. That's just another flawed statistic, but when it speaks in such volumes, like ultimate zone rating, it's gotta count for something.
Speaking of UZR, that's not a good look for C-Grand, either.
Unfortunately for the Yankees, who shipped Jackson away as part of a package to get Granderson, both WAR and UZR fit Austin like a finely tailored suit. Only the aforementioned Mike Trout and Josh Hamilton have been more valuable as measured by WAR while Jackson's UZR is top 10 and miles away from Granderson's.
The young Tiger also has the erroneous starter outclassed in average, on-base percentage and slugging percentage.
Yes, Curtis has him edged in the counting stats while swamping him in the home-run department.
Let's all remind ourselves that Granderson plays for the Yankees and then agree that Jackson should be starting.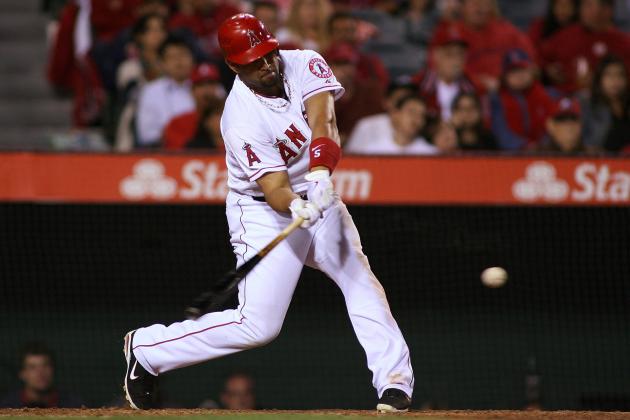 Jeff Golden/Getty Images

Between the two leagues, there were 17 starting spots up for grabs in the All-Star game—eight position players in each league and a designated hitting spot on the AL squad.
By my count, the fans blew it with nine of those selections and we're not talking just your garden-variety errors. We're talking flat-out butchered them. Even if you can carve out a case for a couple of the guys I included, you're still left with at least seven head-scratchers.
Unless, of course, you employ some tortured logic about the body of work and name recognition meaning more than on-field performance like this braying donkey over at ESPN, but I digress.
Yeah, Albert Pujols is NOT an All-Star.
Regardless, the Midsummer Classic voting process has reached its tipping point.
When a heretofore restrained fan base like my fellow Giant faithful overwhelm reason and the larger voting public in a last minute dash to the ballot box, things only promise to get worse.
Combine the proliferation of online voting and the vote-your-team button, sprinkle in free WiFi at AT&T Park and a late homestand, add a dash of the potential for legitimate injustice that sparked an all-out marketing campaign from the club—Melky Cabrera had fallen out of a starting spot heading into the final weekend—and you see what happens.
But it won't take that perfect storm for a more rabid fan base to land all eight of their position players (in pinstripes) on the All-Star team.
I understand that fan-voting is an essential part of the celebration, but it's time to dilute its influence. There's already a mandate that each team must have at least one player on the roster, so throw down another one—only two starters from any one team.
Give the managers a couple vetoes to be used in egregious instances.
Place a voting limit on each voter well south of the current and absurd 25.
But Major League Baseball has to do something before the lunatics get total control of the asylum.