5 Tactical Changes That Liverpool and Brendan Rodgers Must Make to Succeed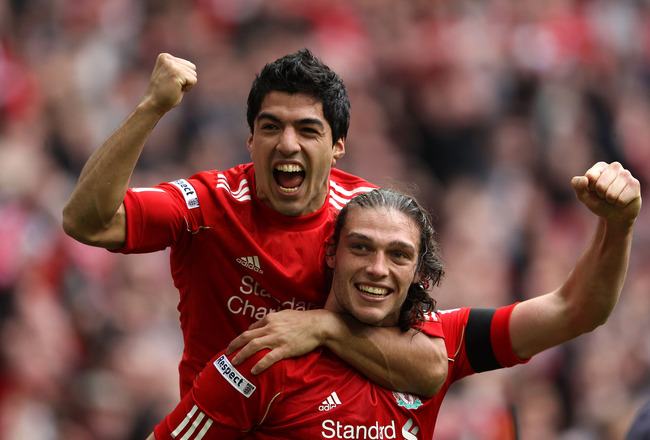 Scott Heavey/Getty Images
Liverpool are just about ready to gear up their preparations for the new season ahead. Players have begun to return for preseason training and the first friendly games under new manager Brendan Rodgers, who will look to implement a number of new tactical ideologies at the club.
While last season was a success for Liverpool, in terms of their domestic cup runs, returning to European football and picking up silverware for the first time in several years, it was also a disappointment in the Premier League with an eighth place finish.
That led to the eventual sacking of Kenny Dalglish and, eventually, to the appointment of new man Rodgers.
Here are five things the new boss will need to look at tactically to ensure a return to domestic league success for Liverpool next season.
The Players' Mentalities Are the First Thing That Needs to Change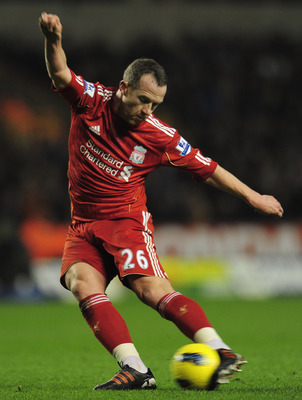 Shaun Botterill/Getty Images
Quite aside from positional play, the first and most important item on Brendan Rodgers' list of improvements for Liverpool next season must be the players' state of minds.
Should Reds fans cast their collective minds back just three or four years or so to a team filled with the likes of Javier Mascherano, Fernando Torres, Xabi Alonso, Alvaro Arbeloa and plenty of others, could any supporter really say this team would have bottled it against the likes of QPR?
Some of the players in the Reds current ranks are technically very able.
But, they were unused to and unprepared for life at the very top of the football pyramid. They were unable to change that mentality sufficiently in their first full season under Kenny Dalglish.
Rodgers must, either by adding to the squad or working his man management magic, increase the trust and self-belief this group of players have.
They must not wilt in the face of a late onslaught, must not deviate from the tactical plan at hand and must remember that the club they now represent has been led by giants of men before them.
They are expected to, at the very least, stand up and be counted in the same manner.
Shift Luis Suarez to a Free, Roaming Role from One Flank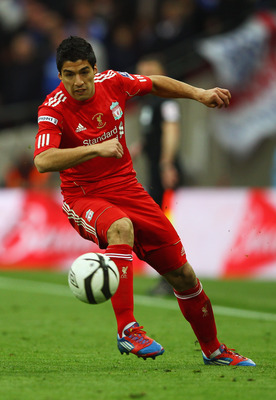 Clive Brunskill/Getty Images
There has been plenty of speculation and discussion about the ideal role to get the best performances out of star forward Luis Suarez.
Since Brendan Rodgers is extremely likely to utilise a three-man attack next season—with two wide forwards and one central in either in a 4-3-3 or a 4-2-3-1 system—the best option is almost surely to let Suarez roam free from one flank.
Operating through the middle, Suarez can cause havoc, drop deep, link up play and attack defenders with the ball at his feet. But, there is too frequently nobody in the penalty area to feed off him or make a run on goal.
As a result, Suarez was often seen last season trying to run the entire 20 or 30 yards to goal, taking on defenders as he went and ending up shooting from an awkward angle or while he was off balance.
Leaving another player in the central striker role—whether that be Andy Carroll or a new incumbent is yet to be determined—would give Liverpool a better presence in the penalty area and give Suarez someone to play off.
He would, playing from the right-hand side, be free to roam infield and attack through the middle of the pitch as he likes to do. He would also be a great asset to the Reds as he worked the channels and attacked the box from wider areas.
Much of his good work for Liverpool comes down the channels as he works the spaces between centre-back and full-back. He has also shown an aptitude to linking up well with an attacking right-back such as Glen Johnson.
This would be a tactical switch which will hugely benefit Liverpool in the final third.
Press Higher and Quicker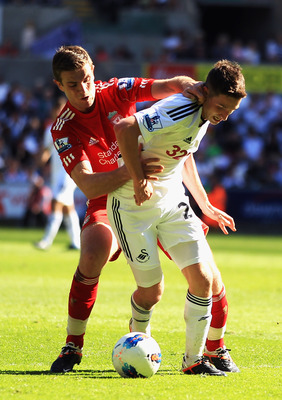 Bryn Lennon/Getty Images
A feature of Swansea City's play which was very noticeable last season—and one which Liverpool need to adopt as quickly as possible—was that of pressing opponents as high up the pitch as possible.
Liverpool certainly had the players last season to work hard in the final third after losing possession—Luis Suarez, Dirk Kuyt and Maxi Rodriguez are all happy enough to work their socks off—but neither of those players nor that option was perhaps utilised in the best possible way.
This season, the Reds will look to dominate possession as much as possible. When they do lose the ball, they will certainly be expected to work hard and fast to win it back in the first wave of pressure from the front.
Utilising "Inside Forwards" Better and Higher Up the Pitch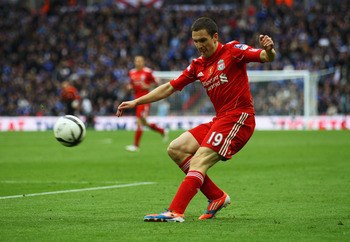 Clive Brunskill/Getty Images
The inside forward has become one of the biggest features of the top teams in the European game—David Villa for Barcelona, Arjen Robben for Bayern Munich and Victor Moses of Wigan Athletic being just three examples.
Obviously, the theory behind the move is that the player can receive the ball in wide areas, thereby maintaining width and space for the team to play in.
He then can cut infield towards goal with the ball on his preferred foot—and being taken away from the full-back's likely preferred foot—with the aim of shooting or passing as he approaches the penalty area.
Fine when it works, but often frustrating and predictable when it doesn't.
Liverpool's Stewart Downing was used in a similar role during the first half of last season, in particular. But, as a wide midfielder in a more or less 4-4-2 system, he was much more an inverted winger than inside forward.
Any players playing the forward role for Liverpool would be an important 15, 20 or even 25 yards closer to goal when they receive the ball most of the time, allowing them to focus their energies on what they do best—create danger close to goal.
Swansea last season played with one such forward on the left—usually Scott Sinclair—and, for balance, a right-footed player on the right side—such as Nathan Dyer.
Suarez is something of a better player than Dyer and would be able to comfortably play as both an inside forward and a wide attacker from the right.
Or he could play as the inside forward on the left, cutting in frequently to attack the goal with his right foot.
Improved Ball Retention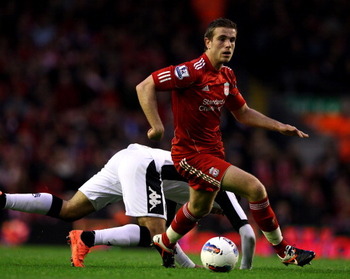 Clive Brunskill/Getty Images
One of the most fundamental tactics Liverpool have long been associated, though have not necessarily always done well with over the past few seasons, will be excellent ball retention.
Dominating possession will be one of the key tactics Liverpool use to beat teams at home and away.
Brendan Rodgers will encourage and teach his players to cherish the ball, to keep possession and to work their way through opposition defences with constant movement, a good tempo on the ball and by always looking to receive the ball in space.
Passing for passing's sake is not the aim. Ball retention is merely the path Liverpool will take to achieve their goal of winning the game.
This will be the fine line that Rodgers and his team must tread—for a side which is still partially recovering from the hellish edge-of-our-own-box war of attrition that was the Roy Hodgson era.
Along with the passing philosophy, a continuous high tempo must be imparted to the players as being key in unsettling teams.
It promises to be an entertaining and enlightening season ahead for Liverpool fans.
Whichever tactics Brendan Rodgers does choose to implement, Kopites everywhere will be hoping that the squad takes them on board sooner rather than later.
Liverpool will strive to regain a place in the top four of the Premier League, and attain the Champions League status that should come with it.
Keep Reading

Liverpool: Like this team?