Nets–Hawks Trade: Winners and Losers from Joe Johnson Swap
July 2, 2012

Kevin C. Cox/Getty Images
According to Yahoo! Sports' Adrian Wojnarowski, the Atlanta Hawks and Brooklyn Nets have reportedly agreed in principle on a deal that would exchange All-Star shooting guard Joe Johnson for a first-round pick and a smattering of players who may not be around Atlanta for long:
The Nets and Hawks have agreed in principle to complete the Joe Johnson trade, league sources tell Y! Sports.

— Adrian Wojnarowski (@WojYahooNBA) July 2, 2012
ESPN's Marc Stein and Chris Broussard believe the Hawks will wind up with Jordan Farmar, Johan Petro, Anthony Morrow, Jordan Williams and DeShawn Stevenson.
In Johnson, the Nets acquire a sidekick for free-agent hopeful Deron Williams. In return, the Hawks have a handful of expiring contracts to improve the team's offseason flexibility in 2013 and beyond.
The final analysis suggests this to be a move that makes a lot of sense. However, that doesn't mean everyone comes out ahead.
Here are the winners and losers of this summer's first blockbuster deal.
Joe Johnson: Winner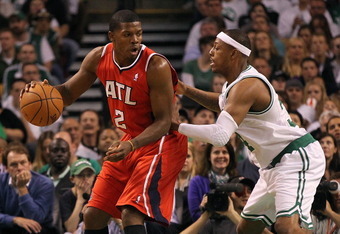 Jim Rogash/Getty Images
The opportunity to play with a well-rounded superstar point guard like Deron Williams would do wonders for the All-Star's declining game. That's not a knock on up-and-coming point guard Jeff Teague, but there's no denying that Williams excels at making his teammates better.
His scoring ability can draw a defensive crowd and he's one of the best passers around, outside of Steve Nash and Chris Paul.
Johnson remains a capable shooter, but his ability to create his own offense isn't what it used to be. With Williams around, someone else can create the offense for him.
Deron Williams: Winner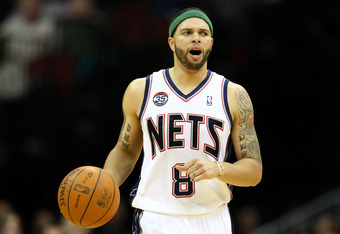 Chris Chambers/Getty Images
MarShon Brooks had a nice rookie campaign, but Williams needs a backcourt sidekick who can help him down the stretch. Johnson's experience and willingness to take the big shot will take some pressure off of Williams along with some defensive attention.
In the short term, Williams will have a much better chance at making the playoffs and potentially making some noise while he's there.
Brooklyn Nets: Loser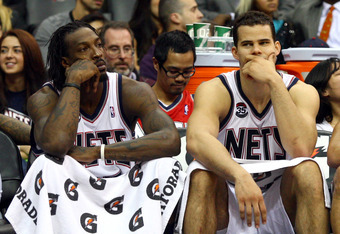 Chris Chambers/Getty Images
So, if this deal is good for Johnson and Williams, shouldn't it be good for the Nets?
Not really—at least not in the long-run.
Insofar as this deal helps keep Williams around, it's hard not to like it. Whether Nets fans will still be liking in three years is an altogether different question. Just ask Hawks fans.
Johnson's contract is one of the worst in the league. He'll make around $90 million through the next four seasons, and he'll probably be worth about half of that. The real cost to the Nets is cap flexibility—the same problem Atlanta ran into.
What happens when Brooklyn wants to get younger in two years or decides the formula is broken? This is the cost of taking the New York Knicks' path to instant gratification. It's an all-or-nothing gamble with a dangerously small margin for error.
Atlanta Hawks: Winner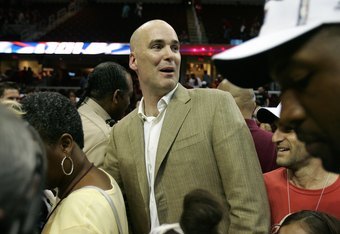 Jonathan Daniel/Getty Images
New general manager Danny Ferry accomplished what he sought out to do and significantly improved his organization's flexibility.
Without Johnson's contract on the books, the Hawks will have an ocean of cap space in the summer of 2013. They would have an unbelievable opportunity to surround Al Horford and Jeff Teague with top-shelf free-agent talent.
The Joe Johnson experiment wasn't a complete failure. The Hawks made it to three consecutive Conference Semifinals series on his watch.
However, there was no chance this club was going anywhere as currently constituted. The change of scenery will be a good thing for Johnson and the Hawks alike.
That first-round draft pick won't hurt the team's rapid rebuild either.
MarShon Brooks: Loser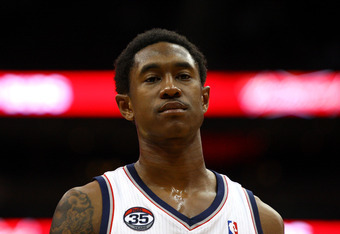 Chris Chambers/Getty Images
Unless Brooks gets packaged in a deal that would otherwise upgrade the rotation, the sophomore appears set for at least a year of somewhat limited sixth-man duty.
Granted, he won't have much competition on the bench, but it won't be easy to get big-time minutes behind Joe Johnson and Gerald Wallace. The Nets may be well-served by sliding Wallace to the 4 and Johnson to the 3, creating some additional minutes for Brooks.
The 23-year-old had a breakout rookie year, averaging 12.6 points and 3.6 rebounds per game. It will be a shame if he doesn't find a way to stay on the floor.