Joe Johnson to Nets: Trade Analysis, Grade and Twitter Reaction
July 2, 2012

Kevin C. Cox/Getty Images
Deron Williams and Joe Johnson are reportedly on their way to teaming up in Brooklyn to give the Nets a talented and imposing backcourt, meaning the Atlanta Hawks would no longer have to pay Johnson. 
Adrian Wojnarowski of Yahoo! Sports tweets that this deal in done in principle:
The Nets and Hawks have agreed in principle to complete the Joe Johnson trade, league sources tell Y! Sports.

— Adrian Wojnarowski (@WojYahooNBA) July 2, 2012
If that is correct, there is nothing foreseeable that would keep it from becoming official. 
To pull off this trade, the Nets had to agree to send nearly half a team to Atlanta, as the Hawks are receiving Jordan Williams, Johan Petro, Jordan Farmar, Anthony Morrow and DeShawn Stevenson. 
This is a huge trade with big implications. It certainly reshapes the landscape in the Eastern Conference a bit, and it could alter the future for Dwight Howard. 
Analysis of a Blockbuster
Six-time All-Star Johnson did not come cheap, and he'll continue to put a dent in the wallets of Nets ownership. Johnson makes bank; he is scheduled to make just under $20 million next season. Covering four more seasons, Johnson's contract gradually escalates to the point where he'll make nearly $25 million in the 2015-16 season. 
Johnson is 31. This means the Hawks are set to be on the hook for $24-plus million for a 35-year-old. That is a risky proposition. Wait, it's actually not that risky, in that "risky" implies there is a chance of this working out. There is no way that a 35-year-old Johnson is going to be anywhere near a player worthy of a max deal. 
This move is going to severely limit the cap flexibility of the Nets. and it is hard to see any scenario where they could land Dwight Howard as a free agent following next season.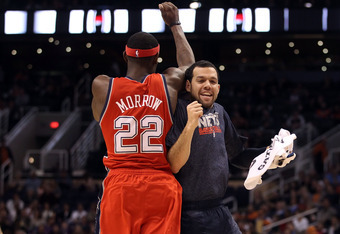 Christian Petersen/Getty Images
However, they can certainly still trade for him if they can put together a package that the Magic deem acceptable, now that they have unloaded so many players—a highly unlikely scenario. 
Talent-wise, the biggest pieces the Hawks are receiving are Farmar and Morrow. Farmar is a solid backup point guard, and Morrow is one of the league's best three-point shooters. 
Williams is a dispensable forward, Stevenson is on his last legs and Petro is nothing but an expiring contract, and for the Hawks, that's what this is all about: expiring contracts. 
Nets Grade: C-
The Nets had to do something to show free-agent Deron Williams they could bring in some talent to line up alongside him, and he and Johnson will definitely be a dynamic duo. Johnson averaged 18.8 points per game last year on 45.4 percent shooting from the floor.
This is going to give the Nets one of the best and biggest backcourts in the league (assuming Williams does re-sign). The sheer size of this combination will give opponents fits, and the two should work well together.
Both players know how to handle the ball. Williams excels at penetration, and Johnson is a master of the mid-range game. The two will create plenty of looks for each other.
I have no problem with whom the Nets gave up to get Johnson. They aren't going to miss any of these players, as they still have plenty of backcourt depth, with Gerald Green and youngster MarShon Brooks.
The problem here revolves around Johnson's contract. For a 31-year-old, there is just far too much money left to be paid for too many years. 
While this is presently an exciting move for the Nets, this is still certainly not a championship-caliber team, and this is a move that Nets fans are going to regret in couple of years—if not sooner.  
Hawks Grade: B+
The Hawks win by subtraction. As they had been constructed, they showed glimpses of promise, but it had become painfully obvious they were not going to get any rings with this group, and they had little flexibility with Johnson's huge contract. 
The Hawks traded one of their main players, and they didn't get back a single player worth being overly excited about—or one that is even really fit to be a starter—but they now have the flexibility to reshape this team. And that is flexibility they weren't going to have with Johnson. 
The Hawks are going to struggle next season, and they'll be lucky to make the playoffs, but they are going to have cap space after that to pursue a superstar. 
What's Tweeting
How bad is Joe Johnson's contract? Let's ask the New York Post's Mark Hale:
Does Joe Johnson have THE single worst contract in the NBA? Yes. Yes, I think he does. #nets

— Mark Hale (@HaleMark) July 2, 2012
The re-signing of Deron Williams certainly seems likely at this point, but Mike Vanriel puts it all into terms that may make D-Will still seek greener pastures:
Deron Williams has a choice to play with Dirk Nowitzki or Joe Johnson. A coach who won a NBA title in Dallas or a coach who lost there.

— Mike Vanriel (@MikeVanriel2) July 2, 2012
Bleacher Report's Austin Green isn't shy about letting the world in on his favorite part of this deal:
The best part of this whole Joe Johnson thing? Dwight Howard getting screwed because of his own indecision #basketballjustice

— Austin Green (@AustinAGreen) July 2, 2012
Speaking of Dwight Howard, as HoopsWorld's Alex Kennedy points out, this deal opens up the door for a new team to throw their hat in the D-12 ring:
The Atlanta Hawks will have a lot of money to spend next summer. This deal allows them to pursue Dwight Howard and Chris Paul.

— Alex Kennedy (@AlexKennedyNBA) July 2, 2012
The NBA world currently revolves around Dwight Howard. There is no sense in fighting it. ESPN's Chad Ford has a pretty good feeling of what Howard's next move is:
With Hawks-Nets deal on verge … waiting for Dwight Howard to increase # of teams on his list in 3, 2, 1 …

— Chad Ford (@chadfordinsider) July 2, 2012
Haz puts the Nets' likely lineup for next year in tweet form, and he poses the far-from-ludicrous question of that being a playoff lineup:
#Nets Playoff lineup?? D-Will, Joe Johnson, Marshon Brooks, Gerald Wallace, & Brook Lopez.Not to mention the best Euro player, Teletovic!

— Haz (@BXBomberz) July 2, 2012
He's referencing Mirza Teletovic, who has been heavily rumored to be on his way to Brooklyn. 
That certainly is a nice lineup, but it is not much more than that. The Nets are fooling themselves if they think that lineup can contend for a championship, and they are now going to have a hard time making any further improvements to this team for the foreseeable future.