Boston Celtics: How Jared Sullinger and Fab Melo Will Help in 2013
July 2, 2012

Jim Rogash/Getty Images
When the Boston Celtics discovered that they would have the 21st and 22nd picks in the 2012 NBA draft, I don't think they were thinking of Jared Sullinger as a player whom they could potentially select. Last season, Sullinger was considered to be top-five pick material, but he decided to come back for his sophomore season at Ohio State.
Sullinger's stock took a bit of a hit during his 2011-12 campaign for the Buckeyes, but that was due much in part to the fact that this year's draft pool was significantly deeper than last year's. Still, most felt that Sullinger would be a top-10 pick.
Then, right before the draft, reports came out that Sullinger was having back problems (bulging discs, to be exact), and that essentially gave his stock the death sentence. The power forward proceeded to drop out of the lottery and right into the hands of the Celtics at No. 21. Sullinger was just too talented for Danny Ainge and company to pass up, so they made him their choice at that spot.
With their next pick, the C's decided to go with Syracuse center Fab Melo—a seven-foot, 255 lb. behemoth who has the potential to develop into a more than stout interior defender in the NBA, similar to Kendrick Perkins during his days in green.
This past season, a lack of size and rebounding absolutely killed the Celtics. They were one of the worst teams on the glass in the league, and—outside of Kevin Garnett—they had no intimidators in the paint. Greg Stiemsma proved to be a very valuable shot blocker, but he is far from a physical player that strikes fear into the hearts of opposing teams and deters them from driving into the lane.
Now, Boston has the 6'9," 265 lb. Sullinger and Melo—two young guns that should drastically improve Boston's interior game on both ends of the floor.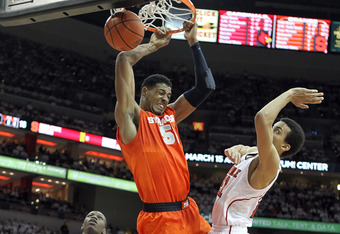 Andy Lyons/Getty Images
"We're going to put these guys on a speed course," said Ainge during the rookies' press conference on Monday. So, make no mistake, C's fans: Just because these guys are first-year players does not mean that they are not going to be expected to contribute.
As evidenced by the fact that Garnett agreed to a three-year, $34 million deal to stay in Boston, and that the Celtics are doing all they can to re-sign their own free agents (such as Ray Allen, Jeff Green, and Brandon Bass) while still perusing the market for other names to add to the roster—Ainge is in win-now mode, and his selections do nothing but confirm that notion.
Yes, Melo may be a bit raw, but you cannot teach size—and that alone will likely make him an integral part of Boston's team next season. It will particularly help the C's against the Miami Heat, who got into the lane far too frequently during the Eastern Conference Finals last month. Along with K.G., Melo will provide the Celtics with a second line of defense against the likes of LeBron James and Dwyane Wade.
As for Sullinger, he is unquestionably NBA-ready. He possesses a very refined low-post game—something that is conspicuously absent (yet all too valuable) in the league nowadays. He has also turned into a fine jump shooter, even hitting on 16 of 40 three-point attempts during his second and final season at Ohio State. Also important? Sullinger shot 77 percent from the free-throw line last year—and for a guy who is apt to draw a lot of contact, that is obviously huge.
Sullinger will certainly add another dimension to Boston's offense, as—outside of Garnett—the C's did not have anyone whom they could dump the ball to down low for easy buckets this past season. As a matter of fact, Paul Pierce was probably the Celtics' second-best low-post player. A frontcourt of K.G. and Sullinger could be absolutely lethal offensively, as both can score with their back to the basket and both can knock down jumpers.
Of course, none of that can happen if Sullinger's back acts up, but Sullinger said in an interview on WEEI that he is "feeling great." Also, according to Jared's father, the reason why he had bulging discs was due to tight hamstrings and quads, and that he has been working on keeping those loose. So hopefully, the back will never be an issue again.
I think it is safe to say that Boston is far from done adding pieces to its roster, as it has been recently reported that it is interested in the likes of Marcus Camby and Jason Terry (both of which—especially Camby—would be outstanding signings) to go along with attempting to sign back its own free agents. That makes the addition of Sullinger and Melo all the more exciting, as it means that the Celtics are going to have a very deep team next season.
Also, keep in mind that Sullinger and Melo will now both have the opportunity to learn from one of the best to ever do it: Garnett. I think a big reason why Boston gave K.G. three years was so he could mentor the two youngsters—and don't think for a minute that he will not have a profound effect on their growth, especially a player like Melo who is being looked at as a potential defensive stopper.
For the first time since Perkins and Shaquille O'Neal were healthy for the C's during the 2010-11 campaign, the Celtics are finally going to have a big team, and that could end up making all the difference for Boston in 2013.