The Biggest Media Misconceptions About the Cincinnati Bengals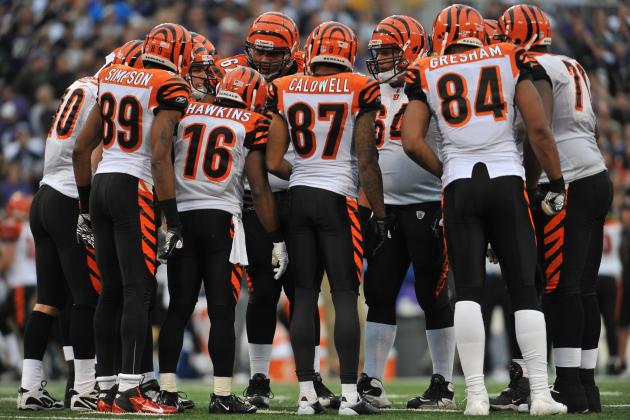 Larry French/Getty Images

Ah, the Cincinnati Bengals, the butt of every NFL joke you've ever heard.
Having struggled to recover from the departure of Boomer Esiason in 1993, the Bengals have suffered through two decades of ineptitude sprinkled with a hearty helping of off-the-field indiscretions to boot.
It's no surprise then that Cincy find themselves battling long-held media misconceptions on a weekly basis, and following an unlikely playoff berth in 2011, it seems nothing has changed.
Despite an image overhaul and a revised philosophy in the post-Ochocinco Cincinnati, skeptics are still not ready to raise their expectations, and perhaps rightfully so.
However, these new-look Bengals seem determined to build upon an impressive 2011, and that includes proving every misconception wrong.
Here are just some of the assumptions the 2012 Bengals will be hoping to correct when the league year kicks off in September.
Begin Slideshow

»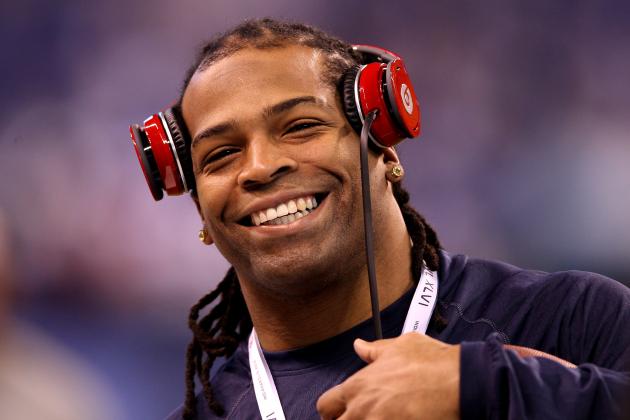 Elsa/Getty Images

With the departure of Cedric Benson all but guaranteed this offseason, running back appeared to be one of the Cincinnati Bengals' primary concerns, with Michael Bush appearing to be the most attractive prospect.
It was not to be, however, and BenJarvus Green-Ellis was the first addition to the running game. Seen by most as a bit player, many expected the Bengals to address the position through the draft.
This led to suggestions that trading up for Trent Richardson could be on the cards, or that one of Cincy's two late first-round picks would be spent on a player that could provide a 1-2 punch with Green-Ellis.
Neither happened, and it left many scratching their heads and asking whether the Bengals have actually improved their running game at all, given Green-Ellis' limited field time in New England.
However, Green-Ellis' ball handling skills are a dramatic improvement on Benson's, who struggled with fumbles in 2011. Plus, converting in the red zone is bread and butter to BJGE, a trait the Bengals sorely need.
Add to this discussion the replacement of Nate Livings and Bobbie Williams/Mike McGlynn with Travelle Wharton and Kevin Zietler, and there is reason to believe Green-Ellis will have a better shot of making something from the ground game in 2012.
Since the Bengals rode Benson all the way to the playoffs in 2009, his attitude has been mired in selfishness and he has not fully bought into changes to the system.
Green-Ellis' time under Tom Brady has molded him into the ideal unselfish running back, the consummate team player, and just the guy the Cincinnati Bengals need right now.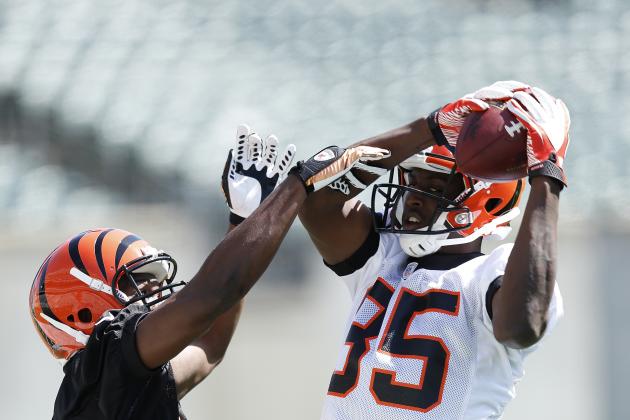 Joe Robbins/Getty Images

Following the departure of Jerome Simpson this offseason, the Bengals have acquired talent at WR both through the draft and through in-house progression.
Armon Binns, Marvin Jones, Mo Sanu, Ryan Whalen and Brandon Tate all find themselves battling for the No. 2 gig, with Tate appearing to be the favourite as we head towards training camp.
Media speculation has centered around whether the Bengals will bring in a veteran to play opposite A.J. Green, with Braylon Edwards being the prime candidate.
However, the reality is that the Bengals only need their No. 2 to be serviceable in 2012, making an expensive veteran unnecessary.
Jermaine Gresham is likely to see the most receptions after Green this year, with Jordan Shipley following closely behind.
Brandon Tate appears to be re-committed to the WR position and could be a solid candidate to start on opening day. Whoever snags the starting job, the significance of it is not nearly as important as is being made out by the media.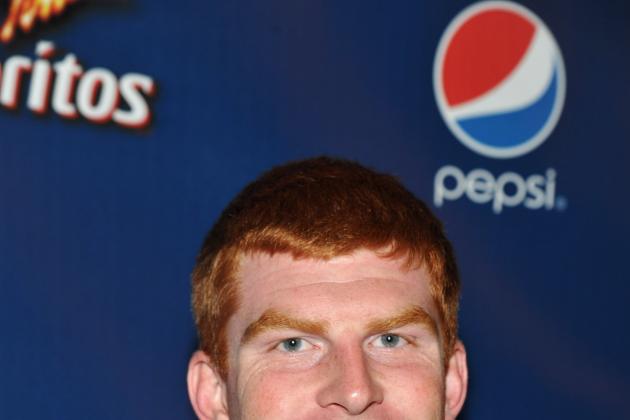 Mike Coppola/Getty Images

Perhaps one of the most bizarre accusations levied at the Bengals offense this off-season is that Andy Dalton doesn't have enough arm strength to be a long term solution at QB.
It was Greg Cosell of NFL Films who suggested that the Bengals organization were concerned about Dalton's arm, a claim the Bengals have since laughed off as being wholly inaccurate.
Suggestions that the Bengals adopted the West Coast offense to suit Dalton are incorrect. Rather, the Bengals drafted Dalton because he was the best fit for the West Coast system Jay Gruden was gearing up for.
Dalton may suit the short passes that the West Coast offense throws up, but he is not incapable of throwing deep as some have suggested.
If there's one person who can attest to Dalton's arm strength, it's fellow Pro Bowl rookie A.J. Green, who hauled in the vast majority of Dalton's long balls in 2011.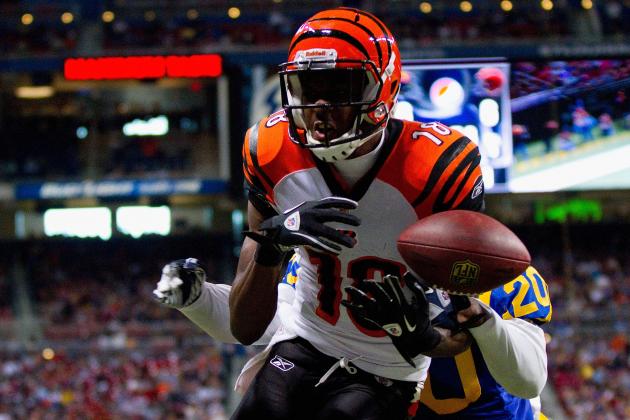 Dilip Vishwanat/Getty Images

For most, the 2011 season marked the beginning of a rebuild for the Cincinnati Bengals. This was a belief that was almost universally agreed upon by the NFL media, which made their playoff appearance all the more surprising.
Yet it hasn't changed perceptions. The Bengals are still considered too young to pose a significant threat to their in-division rivals and in high-pressure games such as the Houston loss back in January.
The Bengals took a rookie QB and WR combo to the playoffs in 2011, bolstered by a young and largely unknown defense. It must also be remembered that they did so without a true offseason in which to acquaint themselves with Jay Gruden's system.
It became clear in 2009 that the Bengals were hindered by a veteran QB who had lost his drive and disgruntled veteran stars in the form of Chad Ochocinco, Terrell Owens and Cedric Benson who were not buying in to their respective programs.
The Bengals have clearly benefited from the exodus in 2010, with a young roster untainted and unfazed by Cincy's historic ineptitude.
With that argument in mind, it seems that the Bengals are stronger than ever and in a much better place to succeed. Youth may bring inexperience but it also brings fresh and energetic legs and minds.
So far so good for these young Bengals.