Texas Football 2012: 7 Things That Will Be Different from Last Year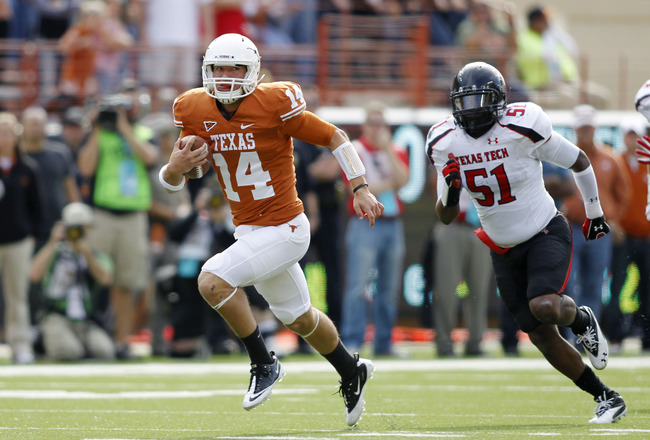 Will QB David Ash lead the Texas Longhorns back to prominence?
Erich Schlegel/Getty Images
Remember the good old days when Texas was piling up double-digit victory totals season after season, and slugging it out with rival Oklahoma for Big 12 championships and BCS bowl berths?
Even though that was pretty much what occurred on an annual basis throughout the last decade, it really seems like so long ago, given how mediocre the Longhorns have been over the last two years.
After winning 10 or more games for nine straight seasons, Mack Brown's squad has slid back to the pack in the Big 12 recently. Lousy quarterback play and overall lack of consistent effort have doomed Texas in each of the past two seasons, but this is a team that's now looking to change its ways and and hopefully start dominating again in 2012.
Texas certainly isn't the only team that had a disappointing campaign last year, and like the rest of that bunch, the Longhorns will be looking for different results this fall.
So what will be so different between the 2012 and the 2011 seasons?
Here's a look at seven major differences from last year.
1. David Ash Will Be the Undisputed Starting Quarterback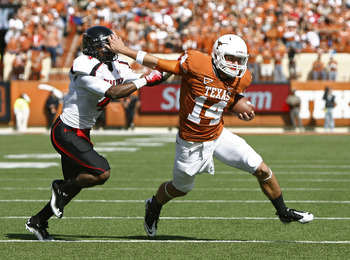 David Ash
Erich Schlegel/Getty Images
If you mention the name Garrett Gilbert anywhere around Austin, you'll probably immediately hear a good amount of groans and sighs from whoever's surrounding you. That's because Gilbert was a quarterback who failed to capitalize on his promising high school recruiting hype, and he turned out to be a major bust for the Longhorns last season.
Gilbert could not manage to keep the tradition of great quarterback play set up by the likes of Vince Young and Colt McCoy going in Austin, and it will be up to his replacement David Ash to get things back on track in 2012.
Ash certainly didn't overwhelm anyone with his performance as a freshman in 2011, as he threw for just over 1,000 yards and finished with a very unimpressive 4-8 touchdown-interception ratio.
Still, the experience that he gained should prove to be invaluable for Ash and the rest of the offense this season.
Unlike Gilbert, no one is forecasting Ash to be a "star," but any time you're the quarterback at Texas, there's going to be a great deal of pressure and responsibility to deal with.
The 6'3'', 222-pound sophomore signal-caller has some intriguing physical tools to work with, and it will be interesting to see how he fares in 2012 now that he'll have an entire offseason to mentally prepare for being the starter.
2. The Longhorns Will Now Have a True Three-Headed Running Back Monster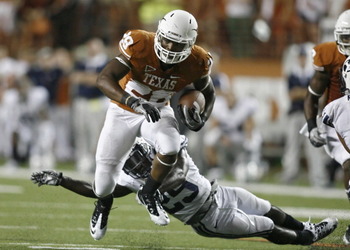 Malcolm Brown
Erich Schlegel/Getty Images
With the sensational sophomore running back duo of Malcolm Brown and Joe Bergereon returning to Austin for the 2012 season, Texas' backfield was already shaping up to be one of the most stacked in college football this year.
The rich got even richer, though, when record-breaking 5-star running back recruit Johnathan Gray signed on the dotted line to become a Longhorn back in February.
With Brown, Bergeron and Gray all set to tote the rock this season, it's going to be nearly impossible for defenses to slow down Texas' ground game in 2012.
The Longhorns averaged a respectable 4.4 yards per carry last season, but with that type of dynamic backfield trio running behind one of the nation's strongest offensive lines, that number is surely going to go up this season.
3. Emmanuel Acho and Keenan Robinson Won't Be Around to Make Key Plays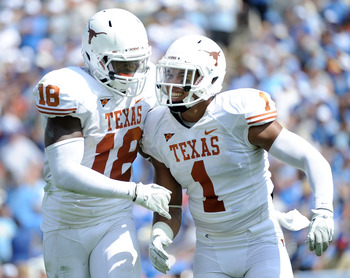 Emmanuel Acho and Keenan Robinson
Harry How/Getty Images
The Texas defense is obviously going to miss its two leading tacklers from 2011—linebackers Emmanuel Acho and Keenan Robinson.
Acho and Robinson combined to rack up 239 total stops last year, and they were two of the Longhorns' most trusted defensive playmakers.
Both players were selected in this year's NFL draft, and both of them will be difficult to replace.
The good news is that the Longhorns have two potential breakout stars in the linebacker corps this year, as junior Jordan Hicks and sophomore Steve Edmond are both expected to emerge as valuable cogs in the front seven.
After the type of performances we saw from Acho and Robinson last season, Hicks and Edmond will definitely have a lot to live up to in 2012, but both players should be capable of taking the next step and becoming two integral pieces of the Texas defense this year.
4. Jaxon Shipley Now Has a Year of Experience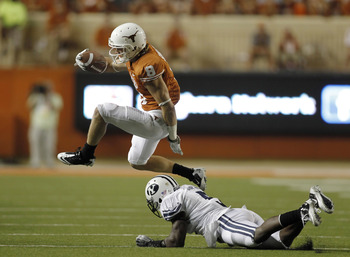 Jaxon Shipley
Erich Schlegel/Getty Images
Jaxon Shipley came to Texas knowing full well that he was going to have to work his way out of his older brother Jordan's shadow. However, he didn't seem to have much trouble shedding the "Jordan's little brother" label during his freshman season in 2011. Right away, he made a name for himself by stepping into the starting lineup and catching 44 passes for 607 yards last year.
Shipley now has a year of experience going up against Big 12-caliber defenses, which means he should be ready to have an even bigger and better campaign in 2012.
The 6'1'', 190-pound sophomore is the same type of consistent, effective and trustworthy receiver that his brother was during his time in Austin.
If he gets solid play from quarterback David Ash, Shipley's got the chance to possibly have an even more impressive collegiate career than his older sibling did.
5. There Are No Questions About How Good the Secondary Is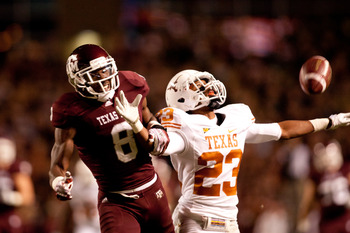 Carrington Byndom
Darren Carroll/Getty Images
After losing NFL-caliber cornerbacks Aaron Williams and Curtis Brown after the 2010 season, there were some major questions about how well their replacements, Quandre Diggs and Carrington Byndom, would fare this past season. However, Diggs and Byndom both entered the starting lineup and turned out to be two of the most consistent corners in the country in 2011.
The talented tandem combined for 30 pass break-ups and six interceptions last season, and the scary part is, both of them are seemingly just starting to tap their true potential.
Although the defensive backfield loses dependable stalwart safety Blake Gideon, the team brings back potential All-American safety Kenny Vaccaro to lead the way in 2012.
With Diggs, Byndom and Vaccaro all returning, there's no question that Texas will have one of the strongest secondaries in college football this season.
6. Texas Will Start off the Season Ranked in the Top 15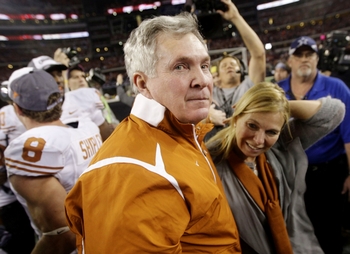 Mack Brown
Jamie Squire/Getty Images
After a massively disappointing five-win campaign in 2010, Texas started off last season ranked just 24th in the Coaches' Poll and unranked in the AP Poll. That won't be the case again this year, though, as the Longhorns will likely begin the season ranked in the top 15 in both major polls.
While it's good to get that kind of national respect from pollsters, it also means that there will be plenty of high expectations to live up to.
This is a team that hasn't exactly stepped up and embraced pressure-packed situations over the last two years, so it will definitely be interesting to see if Texas is truly ready to start dominating in the same fashion that we were used to seeing last decade.
The Longhorns won't be the favorite to win the Big 12 going into the season, as that title will belong to their rival the Oklahoma Sooners. However, they will certainly be expected to compete for a conference championship and their third BCS bowl berth in the last five years.
7. Manny Diaz's Defense Will Be Even Better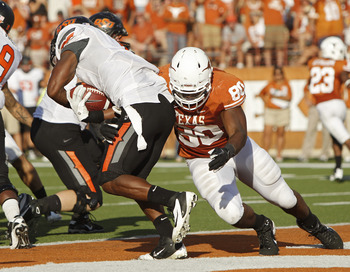 Alex Okafor
Erich Schlegel/Getty Images
During defensive coordinator Manny Diaz's first season taking over for Will Muschamp, the Longhorns defense had its share of ups and downs.
Texas held eight opponents to less than 20 points last year, but the defense failed to step its game up against the premier offenses if faced, as the Longhorns gave up 38 points to Oklahoma State, 48 points to Baylor and 55 points in an embarrassing blowout loss to Oklahoma.
Overall, Diaz's defense finished 11th nationally in total defense and 33rd in scoring defense in 2011.
Now that the coach will have another offseason to get even more familiar with all of his personnel, Texas' defense should be even stronger in 2012.
Texas may have lost linebackers Keenan Robinson and Emmanuel Acho, the top two tacklers from last year, but the Longhorns bring back five players—defensive ends Alex Okafor and Jackson Jeffcoat, cornerbacks Carrington Byndom and Quandre Diggs and safety Kenny Vaccaro, who have All-American potential.
This is a defense that has a chance to not only be one of the Big 12's strongest units; it might just be one of the toughest defenses in the country in 2012.
Keep Reading

Texas Longhorns Football: Like this team?