10 Athletes Who Make Sick Beats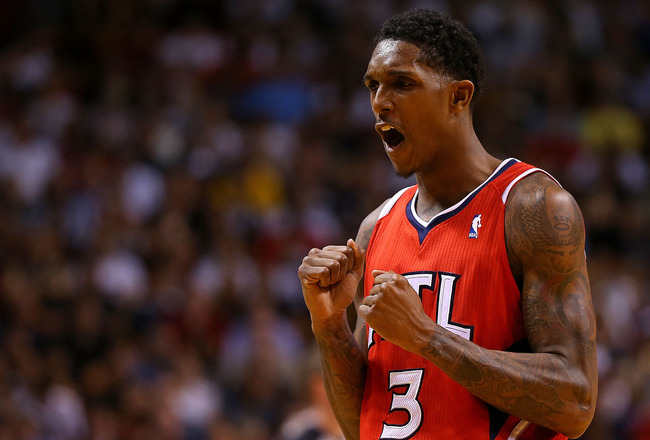 Mike Ehrmann/Getty Images
Allow me to climb Mount impossible as we highlight the athletes who can actually deliver in the music studio.
Much has been made of the athletes who think quite highly of their ability to speak in rhythm and call it rapping.
As we all know, there are far more failures in the rap game than there are Hall of Famers. We are looking at you, Kobe Bryant.
The Black Mamba may have failed as an MC, but it hardly matters when you consider he is fairly good at his day job.
Consider these next few athletes as the exception to the rule. They could very well have another calling outside the locker rooms and respective field of competition they call home.
Of course, these are just my picks. Feel free to call me an idiot for including some of these guys. Or better yet, include some of your own suggestions of athletes who can actually throw down some sick rhymes.
10. Jason Kidd
Indulge me on this one if you will. There is nothing fantastic about Jason Kidd on this track form the worst idea in record producing, 1994's B-Ball's Best Kept Secret.
That would be NBA players trying to rap through an entire album.
I just can't get over how sweet this beat is and wished it had featured with Nate Dogg crooning in the background. Jason Kidd isn't horrible which gives him a spot on what should be the easiest list of all time.
9. Cedric Ceballos
Here is a Warren G produced song, making it plausible the victory here goes to the man behind the song.
However, I have to give it up to the former Suns and Lakers star, because he has a voice for this stuff. Sure, his rapping style is best left in the 90's, but tell me he couldn't sit perfectly on the rack with some old school rappers.
8. Randy Savage
Seriously. Before you whine and complain, I have to ask you a serious question.
Is this any more ridiculous than Mystikal?
7. Clint Dempsey
Clint Dempsey makes this list for two reasons. First off, the verse that Deuce takes at the 3:10 mark is clean, polished and comes off very well.
Secondly, Don't Tread is a patriotic anthem so the US midfielder gets points for that. If you want one more reason, consider we needed more than just NBA players on this list.
6. Shaquille O'Neal
Yes, Shaquille O'Neal's flow has been heavily criticized, but he is definitely the most prolific rapping athlete.
He had five studio albums, featured on one compilation album and also a guest rapper on Michael Jackson's 2 Bad.
Here he is with Wu-Tang's RZA and Method Man.
5. Metta World Peace
If at first you don't succeed, just keep pumping out album after album. At least, that is how I imagine a hip-hop adage to go for athletes.
Ron Artest released "My World" in 2010 and then had a forward-thinking song in "Champions" in 2010. The enigmatic elbow thrower continues to try his hand at the rap game.
My word, he is getting better. Then again my ear drums may be worthless now.
4. Andre Rison
Andre Rison proved he could hold his own in this Ghostface Killah song, Fast Life. He takes the second verse which you can skip to at the 1:20 minute mark.
Many of you will just sit back and remember the late 90's instead.
3. Dana Barros
Dana Barros may have been a jouneyman guard, but he may have had a nice home in the realm of hip-hop if he so choosed.
His 1994 song Check It brings me back to an innocent time in rap when men were men and rap groups wore backwards jerseys and pants.
2. Brian Shaw
Um, look at B-Shaw laying down the old school rhythms with his Anything Can Happen.
To me, this is a magical cocktail of Ice Cube pacing and Skee-Lo sugar. It's just the right amount of swagger without stepping into the realm of insufferable super star so many athletes are want to do.
The man could deliver some great dimes to Shaquille O'Neal, and here he is delivering sweet lyrics.
1. Lou Williams
Apparently, the minute Lou Williams drops the basketball and picks up the mic, he loses one half of his last name.
Here is the melodic symphony from Lou Will entitled Imma Boss. He delivers the fast pace with out breaking his own ankles, and that's a win in my book.
Keep Reading