Dontrelle Willis Retires: Former MLB Star Pitcher Calls It Quits
July 2, 2012

Jared Wickerham/Getty Images
After an up-and-down career that has seen Dontrelle Willis go from budding young star to barely relevant, the 2003 Rookie of the Year has decided to call it quits. 
The news comes from MASNsports.com's Rich Kubatko:
#orioles just confirmed Dontrelle Willis has announced his retirement. The D-Train is off the tracks.

— Roch Kubatko (@masnRoch) July 2, 2012
Willis' career got off to about as good of a start as can be imagined.
As a mere 21-year-old, the dynamic starting pitcher from Alameda, California compiled an impressive 3.30 ERA and 1.28 WHIP in 2003 for the Florida Marlins. He struck out 127 batters in 160.2 innings en route to 14 wins, the Rookie of the Year award and an All-Star selection.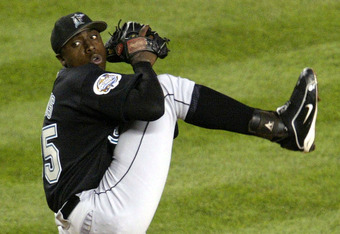 Brian Bahr/Getty Images
Most notably, he was a major part of Florida's second World Series championship.
After taking a step back in 2004, the D-Train entered mach-1 speed in 2005, going 22-10 with a 2.63 ERA and 1.13 WHIP. He was selected to his second All-Star game, was second in Cy Young voting and 11th in MVP voting.
After the magical 2005 season, however, Willis was never the same. 
The 6'4'' southpaw was fairly successful in 2006, but 2007—a year in which Willis pitched over 200 innings but compiled an ERA of 5.17—marked his last year for the Marlins and ended his run as one of the more respected hurlers in the game. 
After leaving Florida, the D-Train jumped around between Detroit, Arizona and Cincinnati, never assembling an ERA under 5.00 and never logging over 80 innings in a single season in the majors. 
Finally, in 2012, Willis was picked up by the Baltimore Orioles to pitch for Triple-A Norfolk. But after giving up six earned runs in 6.1 innings for three losses, Willis decided to end his career before it could get even worse.
Despite spending a final six seasons toiling in mediocrity, Willis will always be remembered for his incredible dominance as a youngster and his unconventional wind-up to boot.