NBA Draft 2012: Predicting Each First-Rounder's Rookie Statistics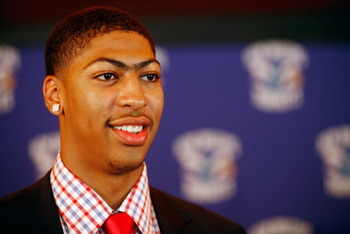 Chris Graythen/Getty Images
Preface: This is not science.
I have no formula for what I'm about to present to you. What I do have is countless hours of scouting each of these players, knowing what they bring to the table, knowing the situations of the teams they've been drafted into and most importantly, the impact their talent is going to have on their respective teams.
You might call it guesswork, and I guess you'd be right.
But I've done enough research to look at each of these rookies and feel confident in my ability to predict how they will fare in their rookie seasons in the NBA.
Will there be any busts? Who is my pick to win rookie of the year? Will the unibrow live up to his expectations? These are all questions I'm going to try to answer over the next 30 slides.
30. Festus Ezeli, Golden State Warriors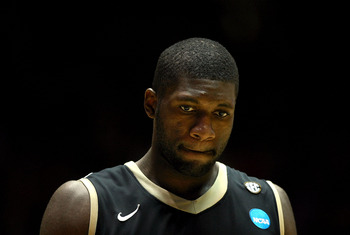 Christian Petersen/Getty Images
Projected Stats
10.5 MPG, 3.0 PPG, 2.2 RPG, 0.6 BPG, 0.4 APG
At 7'0", Ezeli has the build and athleticism to play center. But he will be an insurance policy behind proven, though injury prone Andrew Bogut, and likely will only see limited playing time in his first season.
Ezeli still has a lot of work to do on the boards and doesn't use his height to his advantage on the defensive end. He still should have a decent career as a center in this league, and if Bogut is hurt at some point during this season, expect those stats to rise and for us to see what Ezeli is really capable of in the NBA.
29. Marquis Teague, Chicago Bulls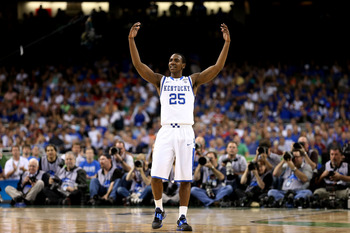 Chris Graythen/Getty Images
Projected Stats
11 MPG, 3.4 PPG, 1.2 APG, 0.9 RPG, 0.2 SPG
Teague, like many of Kentucky's young prospects selected in this draft, is a one-and-done college prospect with a ton of raw ability.
Teague's stats in college didn't blow anyone away, but his raw athleticism, his coachability and the fact that he is a winner kept him in the first round. He will learn from Derrick Rose, one of the best in the game, and may get more playing time in Rose's absence as he recovers from his injury.
Don't expect Teague to make a huge statement in his rookie season, but do expect him to excite Bulls fans with his raw talent and potential.
28. Perry Jones III, Oklahoma City Thunder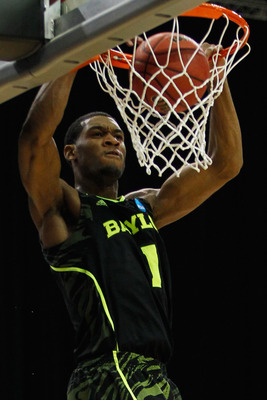 Streeter Lecka/Getty Images
Projected Stats
16.2 MPG, 7.2 PPG, 4.3 RPG, 0.4 BPG, 0.6 APG
PJ3 is going to prove to be the steal of the draft, and it almost doesn't seem fair that OKC got him. As a Bobcats fan, I was praying he would fall three more spots to No. 31 so the 'Cats could grab him. But OKC, the draft geniuses they are, nabbed easily the best player in the draft at that point.
He should have gone much, much earlier in the draft.
The stats I listed are conservative, as the Thunder have a lot of depth on their bench (any bench with James Harden coming off of it is impressive). But Perry could have a big impact for OKC in his first year. He'll prove to be a dominant big man in this game, and it's a shame his draft stock plummeted so far because he decided to stay in school one more year.
He's going to be an excellent NBA player, and OKC just added some more top shelf talent to their dynasty-in-the-making with the 28th pick. Like I said, it's almost unfair.
27. Arnett Moultrie, Miami Heat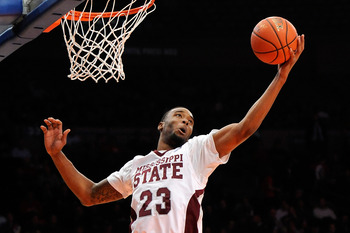 Patrick McDermott/Getty Images
Projected Stats
12.6 MPG, 4.2 PPG, 3.6 RPG, 0.3 BPG, 0.5 APG
Again, fairly conservative stats. Moultrie was a decent pick for the heat, though I think they should have taken Perry Jones III before him. The biggest hole the Heat have in their roster at this point is a consistent big man to defend the paint, and Moultrie might be the guy to fill that hole.
He was an excellent rebounder at Mississippi State, averaging a double-double in his final year with the team. If his playing time is increased, Moultrie could become the dominant presence in the paint that the Heat lack. Not a bad pick, just not as good as PJ3... I think OKC won this battle.
26. Miles Plumlee, Indiana Pacers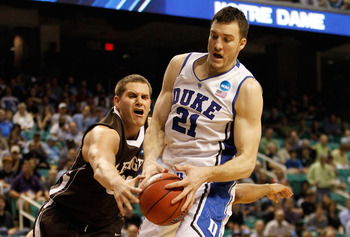 Streeter Lecka/Getty Images
Projected Stats
4.4 MPG, 1.0 PPG, 0.8 RPG, 0.3 BPG, 0.3 APG
This one was a real head-scratcher to me.
Plumlee is a gifted athlete, but in the four years he played at Duke, the most time he got on the court was 20.5 MPG in his senior year. And he only averaged 6.8 PPG and and 7.2 RPG in that season. The Pacers must have seen something they loved about the young man's character during workouts and interviews, because they passed on some much better talent to pick up Plumlee.
He won't make much of an impact in his first year. I have a feeling he's going to be pretty far down the bench, regardless of who stays and who goes with the Pacers. He may eventually learn to play in the NBA, but in four years, he barely learned how to play in college.
I'm not a huge fan of this pick, and I don't see him contributing much at all this season.
25. Tony Wroten, Memphis Grizzlies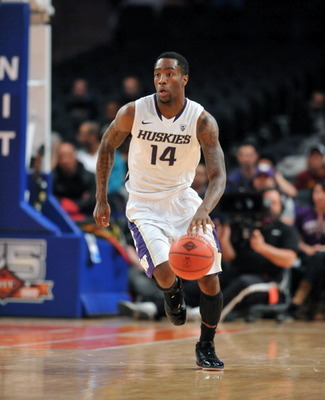 Jason Szenes/Getty Images
Predicted Stats
14 MPG, 5.7 PPG, 1.3 APG, 1.6 RPG, 0.6 SPG
Tony Wroten is a pure shooting guard. He's not the greatest passer, but he is capable of creating opportunities for himself. I think the Grizzlies reached for him, however, especially with a guy like Jeff Taylor still available who could play the SG position.
Wroten needs to develop a three-point shot to be successful in this league. As it is, he relies on slashing and driving, and a decent mid-range game. There is a niche for that style of play (see: Dwyane Wade), but his value will certainly increase with the improvement of his long-range game.
Wroten, also a one-and-done college prospect, is only 19 and still has a lot of development ahead of him. He has the potential to be very good in this league. The Grizz have a fair amount of depth, but are somewhat thin at guard, so Wroten may get more playing time than I'm giving him now.
As it is, unless O.J. Mayo is traded, he will learn from one of the best and has the potential to be a great scorer in the NBA as he matures.
24. Jared Cunningham, Dallas Mavericks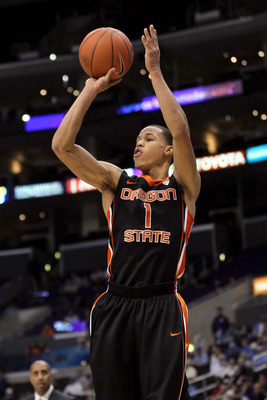 Stephen Dunn/Getty Images
Projected Stats
20 MPG, 8.2 PPG, 1.3 APG, 3.0 RPG, 1.1 SPG
I love Jarred Cunningham. With Jason Terry's departure from Dallas, it looks like he may get a fair amount of playing time if he performs well this summer.
Cunningham is a great scorer, and was vastly underrated in this draft as a shooter. He's also an excellent defender, but he doesn't really create much for others on the court. Essentially, he's a shooting guard who likes to score. He has a decent three-point shot that can get better with coaching and time, and I think this young man is going to play a vital role on a Dallas Mavericks team that suddenly needs more talent at guard.
Cunningham's inability to create for others may limit him to becoming a role player, but from what I gather, he is a great kid to coach. With more talent around him, he may be able to open his game up a little more. If so, the Mavs have their 2-guard of the future.
23. John Jenkins, Atlanta Hawks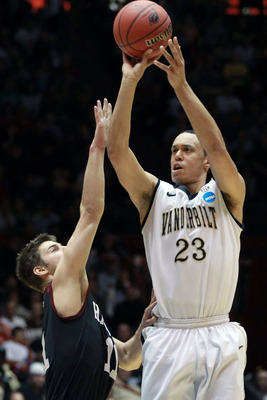 Ronald Martinez/Getty Images
Projected Stats
18.5 MPG, 9.2 PPG, 0.8 APG, 1.0 RPG, 0.4 SPG
I was completely shocked that Jenkins went as high as he did.
Jenkins, like Cunningham, is strictly a shooting guard. He doesn't do much else, but what he does, he does very well. Last season with Vanderbilt he shot 43 percent from the three-point line, and 47 percent altogether.
The problem is, unlike Cunningham, he probably will never be able to create for others. His role in the NBA is going to be as a three-point specialist, which is a wonderful asset to have, but it can also be a liability. He's not a great athlete, he doesn't attack the rim and he doesn't create. He just shoots. And shoots. And shoots some more.
Given the minutes, Jenkins could score 20-plus points per game in the future. The problem is, that's about all you'll get statistically out of him. He'll play a valuable role off the bench as a three-point shooter in his first year, and likely in every year after that.
22. Fab Melo, Boston Celtics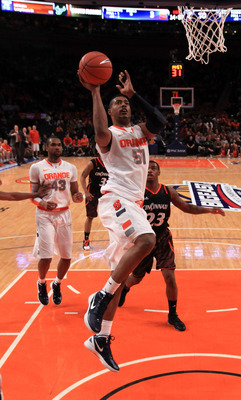 Chris Trotman/Getty Images
Projected Stats
15.4 MPG, 5.2 PPG, 5.6 RPG, 1.3 BPG, 0.3 APG
Another prospect who I think may have been a reach for the Celtics. Drafted almost purely on size and build alone, Fab Melo didn't contribute a whole lot statistically to the Syracuse Orange last season. But he was a great defensive big man, and he's a true seven-footer to have standing in the paint to deny players easy layups.
He may end up having many more minutes, depending on what happens with the Celtics for the rest of this offseason. But they are becoming something of a "retirement home," so injuries may give Melo more time to play.
I doubt he'll ever be a big-time scorer in the league, but given the minutes, he could average double-doubles every night (low scoring, high rebounding) along with two or three blocks. He should have a decent, albeit understated rookie year, much like his final year in Syracuse.
21. Jared Sullinger, Boston Celtics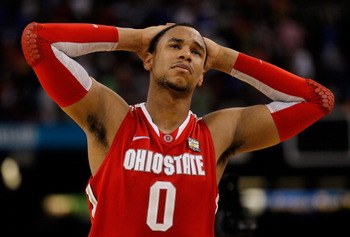 Chris Graythen/Getty Images
Projected Stats
12.2 MPG, 4.8 PPG, 3.9 RPG, 0.3 BPG, 0.7 APG
Sullinger's stock took a dive after a poor combine showing and a medical red flag regarding his back issues. The Boston Celtics decided to take a risk with him, obviously with the intent of replacing Kevin Garnett if he didn't re-sign. If KG came back, Sullinger would be his back-up and future heir of the power forward position in Boston.
Either way, it was a decent pick. Sullinger, like Perry Jones III, was a top-tier pick before he dropped. The Celtics got a pretty good power forward to play behind one of the best power forwards to ever play the game.
if KG shows his age, expect Sullinger's minutes and production to skyrocket. I don't put much stock in the medical red flags or his poor combine performance, as I've seen what he can do on the court. As long as he can stay healthy, he'll have a good career in the NBA. The numbers I posted above are extremely conservative, as I am assuming KG stays healthy.
20. Evan Fournier, Denver Nuggets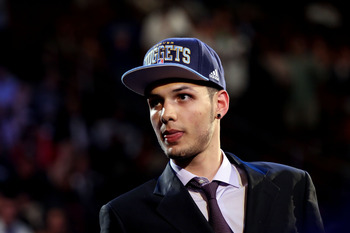 Elsa/Getty Images
Projected Stats
8.2 MPG, 2.2 PPG, 1.0 RPG, 0.1 BPG, 0.8 APG
I don't really know about this one. Like the Pacers with Plumlee, the Nuggets must have seen something in Fournier that no one else did.
His numbers in the French league weren't dazzling. He seems to play a hybrid SG/SF, which means he will likely be used as a swing man for the Nuggets. I know about as little about Fournier as anyone in this draft, and I think the Nuggets took a huge risk in reaching for the guy.
He might blow me away like Ricky Rubio, but I doubt it. I think Denver really dropped the ball here with some solid talent still on the board (Jeff Taylor would have been a good fit).
This entire article is conjecture, but this slide has more than others. I really don't know much about the guy, but from what I have seen, I'm not overly impressed.
19. Andrew Nicholson, Orlando Magic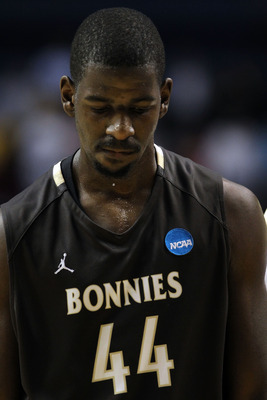 Jamie Squire/Getty Images
Projected Stats
22.5 MPG, 10.2 PPG, 6.7 RPG, 1.1 BPG, 0.8 APG
I loved this pick for the Magic. They're going through some pretty tumultuous times with their players, and with the probability that Dwight Howard won't be back in Orlando for another year, Nicholson should help fill the hole of a strong defensive big man, though not quite on the level of Howard.
He's a capable shot-blocker, a very good scorer and rebounder and a physical guy. He single-handedly made St. Bonaventure relevant this year, and he is a nice piece to build around in what will surely be a new-look Orlando Magic clubhouse.
He reminds me a lot of Thomas Robinson, and was picked with real value at No. 19 overall. He will be valuable for the Magic this season.
18. Terrence Jones, Houston Rockets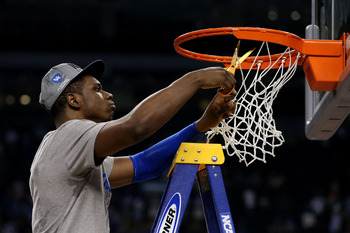 Jeff Gross/Getty Images
Projected Stats
21.2 MPG, 8.4 PPG, 6.5 RPG, 0.9 BPG, 0.6 APG
TJ, another hyped prospect from the ridiculous talent factory that is the University of Kentucky, should have a fairly productive season with the Rockets. I know I said 8.4 PPG, but that number could easily get much higher.
None of the Wildcats posted great points per game numbers last season—Anthony Davis only had 14 himself. But that was just a product of so much talent being around him with so many options to score.
Terrence is a physical forward, a great shooter for his position, can knock down a three-pointer here and there and will be an excellent rebounder. Given the right circumstances, TJ will be another double-double machine. He's an excellent athlete, plays tough defense and should fit well into the rebuilding effort in Houston.
His first season should be decent, but it could be great. I expect a long career from TJ.
17. Tyler Zeller, Cleveland Cavaliers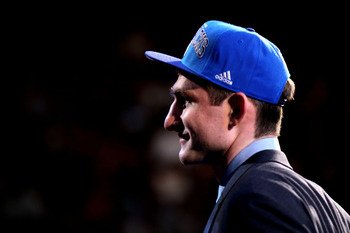 Elsa/Getty Images
Projected Stats
19.8 MPG, 9.9 PPG, 6.2 RPG, 0.7 BPG, 0.6 APG
Tyler Zeller is another true seven-footer, but plays more like a rebounding small forward than a center. His post presence isn't great, he can get beaten up under the basket and a fair bit of his offensive production will come from mid to long-range jump shots.
As a Bobcats fan, I look at him and I see Byron Mullens.
To all Cavs fans who don't follow the Bobcats, that's not necessarily a bad thing. Mullens is seven feet tall. He just doesn't use his height to his advantage under the basket, and I think Zeller will be better utilized as a power forward than as a center.
He's an iffy player who needs to bulk up and get a little stronger under the rim to experience a whole lot of success in the NBA.
16. Royce White, Houston Rockets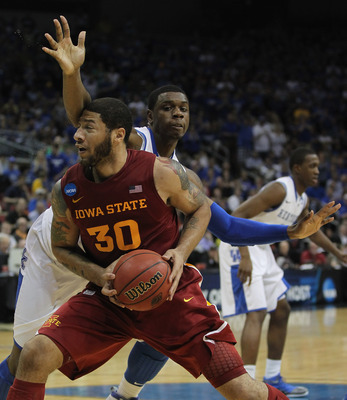 Jonathan Daniel/Getty Images
Projected Stats
20 MPG, 8.2 PPG, 7.1 RPG, 0.4 BPG, 3.5 APG
The Rockets had one of the better drafts in the NBA this year. They got two high-talent guys, both of whom are physically dominant, and both of whom should be able to contribute right away.
Pairing White at SF alongside TJ at PF gives the Rockets a physical, hard-working tandem in the future.
White is truly a do-it-all kind of guy. He will be a good assist man who will post up and score. He also has a decent mid-range and long-range game, and he can rebound very well. He was something of a risky pick due to some mental issues and a very bad fear of flying, but I think the Rockets did the right thing to draft Royce.
He's going to need to work on his free-throw shooting though. 49 percent isn't going to cut it in the NBA.
15. Maurice Harkless, Philadelphia 76ers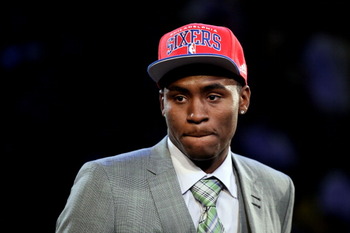 Elsa/Getty Images
Projected Stats
11 MPG, 4.2 PPG, 2.7 RPG, 0.3 BPG, 0.5 APG
I'll go ahead and get this out of the way: I'm not a huge fan of this pick.
Moe Harkless isn't a bad player, but he was drafted in front of some other guys who are going to have better rookie seasons, and better overall careers than he will.
I can't imagine him contributing too much in his first year in the NBA. He has a ton of raw talent, but unlike many other raw prospects in this draft, he's not exactly in the best position to get a whole lot of playing time to get better.
He's arguably the rawest athlete in the draft, and he's aggressive on the boards. But he doesn't quite have the basketball IQ to know when to attack and when to hold back. He just needs time to learn. He has a pretty terrible jump shot, too. So he'll need to work on that.
Moe might be a good player in the future, but he's definitely a project pick for the Sixers.
14. John Henson, Milwaukee Bucks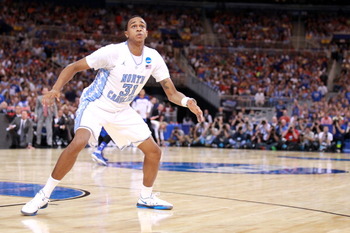 Andy Lyons/Getty Images
Projected Stats
27.4 MPG, 12.4 PPG, 9.6 RPG, 1.7 BPG, 0.9 APG
This was an excellent pick by the Bucks. They needed a big man in the paint who could rebound and defend. As good as Drew Gooden is, he plays like a forward, not a center.
I doubt Henson will spend much time on the bench from the get-go. In fact, I almost went ahead and gave him 30 MPG, because I think that's how much the Bucks need him in the paint after trading Andrew Bogut.
Monta Ellis and Brandon Jennings make up one of the best guard combinations in basketball, but the trade that brought Ellis cost Milwaukee its only true center. Henson should fill that hole admirably.
He has a nose for the ball defensively, and I think he may have a shot at Rookie of the Year.
This was a great pick by the Bucks, and Henson is going to excel in Milwaukee.
13. Kendall Marshall, Phoenix Suns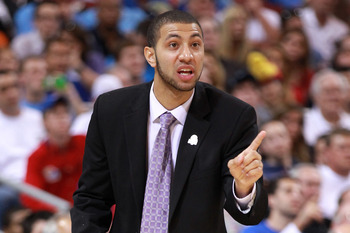 Andy Lyons/Getty Images
Projected Stats
28 MPG, 8.8 PPG, 10.2 APG, 3.0 RPG, 0.9 SPG
It was pretty obvious why the Suns drafted Kendall Marshall with the 13th pick. Steve Nash is on his way out, and they need a new floor general.
And new floor general they will get.
Marshall is not going to score much, but he is arguably the truest point guard in this draft. He's a good shooter when he decides to do so, which is going to force players to guard him as if he's going to shoot. But more than likely, Marshall will already have called a play that will involve him dishing the ball to someone to rack up what will become elite assist numbers.
Kendall has a more up-beat version of Rajon Rondo written all over him, and he is truly my favorite point guard in this entire draft because of his passing abilities. Steve Nash will be missed by the Suns, but Kendall Marshall will make the blow much easier to take.
12. Jeremy Lamb, Houston Rockets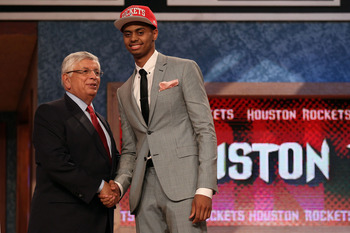 Elsa/Getty Images
Projected Stats
21.2 MPG, 11.0 PPG, 1.9 APG, 3.8 RPG, 0.6 SPG
The first pick of Houston's three-pick first round was spent on a smooth shooting sophomore out of UConn in Lamb. He took back seat to Kemba Walker's stellar post-season drive last year, and while he was unable to duplicate those results, he still plays some pretty good basketball.
The Rockets are rebuilding in a big way, and I really have no clue how they plan to use Lamb. It's going to depend on if he can hit his shots off the dribble, instead of falling into the negative category of a catch-and-shoot type of player.
He's a good perimeter defender with ridiculous length and athleticism bursting at the seams. But he still needs to add muscle, or he's going to get pushed around by bigger shooting guards and small forwards.
The combination of Lamb, White and Jones that the Rockets drafted was mightily impressive. They could become a homegrown "big three" in the near future. Houston fans have a lot to look forward to.
11. Meyers Leonard, Portland Trailblazers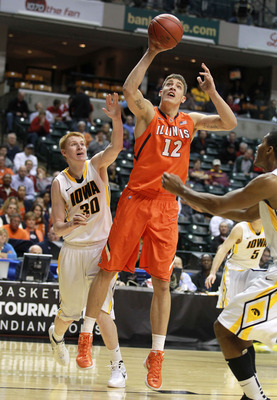 Andy Lyons/Getty Images
Projected Stats
29.8 MPG, 14.2 PPG, 8.4 RPG, 0.8 BPG, 1.0 APG
Meyers Leonard is a strange athlete. He stands at a monstrous 7'1", has a great build (isn't lanky), and can score well under the rim. He also has a good jump shot that should make him a decent threat from mid-range, and even long-range on occasion.
But his post defense is absolutely horrible. At over seven feet tall, he should be able to average double digit rebounds easily. He tends to give up on players driving into the paint. I am not really sure what it is—I doubt it's lack of effort or ability. I think it's just that he hasn't really been coached all that well yet.
I think Meyers is probably going to start at center right off the bat. LaMarcus Aldridge, nearly seven feet himself, and a very physical player, should help guide Meyers to become a better defender in the paint. He has the height, build and athleticism to be what he needs to be. I think he just needs the guidance.
Until then, this was still a good pick. The Blazers now have a pretty decent starting center, allowing Aldridge to play his true PF position.
10. Austin Rivers, New Orleans Hornets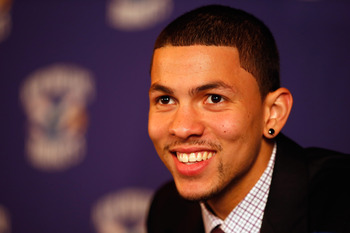 Chris Graythen/Getty Images
Projected Stats
25.5 MPG, 12.6 PPG, 2.4 APG, 3.0 RPG, 0.6 SPG
The future is here in New Orleans. Kind of, anyway,
I'm not a huge Austin Rivers fan. He's not a true point guard.
Rivers' shot 43 percent overall and 36 percent on threes last year, which isn't overly impressive, especially for a guy who wants to shoot first and ask questions later. He needs to be smart, take shots when he's open or pass the ball to players who are in better positions. Rivers didn't show he could do those things at Duke last season.
Eric Gordon has just received a max-contract from the Phoenix Suns, but as he is an RFA, New Orleans can still match that contract. If Gordon remains with the Hornets for 2012-13, expect some possibly volatility between the two guards as they battle to become the "alpha-male" on the court.
I'd rather the Hornets had taken Kendall Marshall than Rivers. Not a bad pick, but I think they could have done better. And I don't think Rivers is quite as good as he thinks he is.
9. Andre Drummond, Detroit Pistons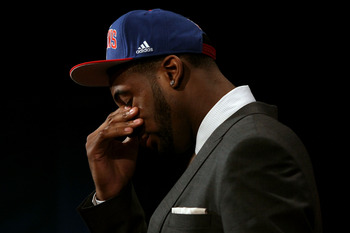 Elsa/Getty Images
Projected Stats
30.2 MPG, 15.2 PPG, 9.4 RPG, 2.1 BPG, 0.9 APG
Drummond is a physical freak. He might be the best prospect in the draft, or the biggest candidate to bust. But at ninth overall, the Pistons simply could not pass on him.
And I think it's going to pay off for them in a big way.
Drummond showed some immaturity last season on and off the court, but his combine showing was excellent. His interviews have been excellent, and the sheer physicality he brings to the court absolutely can't be denied.
He doesn't even turn 19 until August, so the immaturity can almost be excused. I think he is going to flourish in Detroit, even if the Pistons still stumble as a franchise. This is a gamble that will pay off, and I think Drummond may be the next big superstar in the NBA. He will contend for Rookie of the Year honors.
Or, all I said could be completely wrong and he could be a huge bust.
Who knows? Not me. But I definitely hope he succeeds.
8. Terrence Ross, Toronto Raptors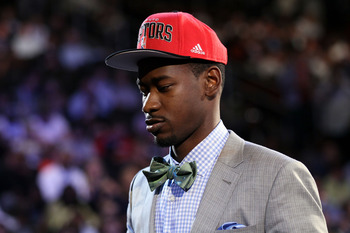 Elsa/Getty Images
Projected Stats
17.2 MPG, 8.4 PPG, 1.2 APG, 2.8 RPG, 0.5 SPG
Uh...what?
This is a reach if I've ever seen one. Ross isn't a bad player, but I'm not really sure what the Raptors were thinking by taking him at No. 8 overall.
Maybe they liked him working out, or his interview, or they saw something in him no one else saw. Who knows? I definitely don't.
I don't expect Ross to make much of an impact in his first year with the Raptors. His game just isn't refined enough to be a real weapon yet. And while he is a good rebounder, he doesn't do a good job of creating for others. With time and development, Ross could become a pretty good scorer in this league.
Right now, the Raptors are looking pretty silly for what truly was a pretty big reach.
7. Harrison Barnes, Golden State Warriors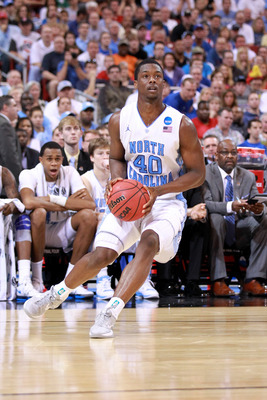 Andy Lyons/Getty Images
Projected Stats
28 MPG, 15.4 PPG, 5.2 RPG, 0.2 BPG, 0.9 APG
Barnes falling all the way to seventh was surprising. I was absolutely terrified the Bobcats were going to draft him at No. 2 overall.
Barnes, one day, will be a great scorer in this league. In his first season with Golden State he probably is going to get the ball into the rim. He has a great jump shot, he's fast and he has excellent length. But he just doesn't use it to his advantage for his position.
At 6'8", Barnes plays like an oversized shooting guard, not a small forward. And the biggest area of improvement Barnes needs to work on is being physical in the post to get more boards.
His value as a scorer will be hugely amplified if he can get 6-8 rebounds per game, and he could be a steal for the Warriors in this draft.
Barnes, like Austin Rivers, knows he's good. He knows he's going to step onto the court and demand the attention of the audience right from the start. He'll get it, and he'll score. I just wish he could be more physical.
Barnes was a real steal at No. 7 for the Warriors, who I'm sure weren't expecting him to fall all the way to seventh.
6. Damian Lillard, Portland Trailblazers
Elsa/Getty Images
Projected Stats
22.6 MPG, 12.3 PPG, 2.3 APG, 1.9 RPG, 1.0 SPG
Damian Lillard is a high-risk, high-reward player for the Blazers. Because of this, I took a middle ground on his predicted stats. I have no doubt about his scoring abilities (24.5 PPG in college can't be ignored), but the fact that he did it against clearly inferior opposition by playing at Weber State has left many hesitant to say that he can be great.
He will likely play point guard, and he's not an overly selfish player. Despite scoring 24.5 points per game last season, he still managed to dish out four assists per game. Lillard is going to have to adjust to being a floor general against better talent, and I expect the Blazers to ease him into the role.
His rookie season probably won't be bad, but it won't be great either. His potential will shine through the average stat line, and soon, Lillard could become an elite scorer in this league.
He just has to get used to the higher level of competition.
5. Thomas Robinson, Sacramento Kings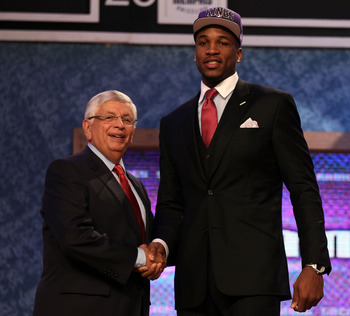 Elsa/Getty Images
Projected Stats
33.5 MPG, 17.1 PPG, 10.6 RPG, 1.1 BPG, 0.8 APG
I'll go ahead and say it: T-Rob is my favorite player in this draft and I was really hoping my Bobcats would take him. The fact that he fell all the way to fifth is completely shocking. He has a high ceiling, a ridiculous build and frame and is arguably the best defensive rebounder in the game (yes, even better than Anthony Davis).
Pairing T-Rob alongside DeMarcus Cousins is going to be ridiculous. A scary duo for sure, and one that will dominate the post and completely crash the boards.
Thomas Robinson is one of my early picks to win the Rookie of the Year award, and I think he's going to post an average of a double-double in his first season as an NBA player.
He needs to work on his mid-range game, as he tends to fall in love with the short to mid-range jumper and is very inconsistent with it. He is a good defender, but not as explosive as Anthony Davis.
The Kings got a really big steal with T-Rob, and I hope he succeeds. He's a guy worth cheering for.
4. Dion Waiters, Cleveland Cavaliers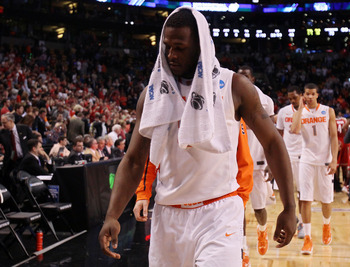 Elsa/Getty Images
Projected Stats
29.8 MPG, 16.3 PPG, 3.2 APG, 4.0 RPG, 1.4 SPG
This was a move that showed how desperately the Cavs wanted Beal, and I can kind of surmise that they're a little bitter Charlotte wouldn't trade down with them.
I have to admit, I think it would have been better for both teams. But at the same time, both teams got a couple of great players.
When Dion Waiters' name was called at No. 4, my first reaction was "who?". Dion Waiters didn't even start for the Syracuse Orange, and only saw 24.1 MPG last season. He was the James Harden of college basketball.
I think his game is going to translate nicely to the NBA, and I think Kyrie Irving now has a shooting partner to help take the load off his shoulders.
Waiters has shown excellent athleticism in the combine and in his workouts, he is an excellent shooter and pairing up with Kyrie Irving is going to create an impressive backcourt duo capable of scoring a whole lot of points.
3. Bradley Beal, Washington Wizards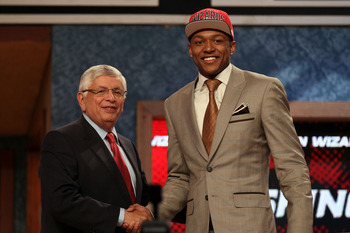 Elsa/Getty Images
Projected Stats
32 MPG, 18.4 PPG, 3.4 APG, 3.6 RPG, 1.1 SPG
Bradley Beal was the most coveted shooting guard in this class. While there are others with better stats, Beal impressed scouts with his ridiculous athleticism and his strong work ethic, as well as his nearly flawless shooting mechanics.
There will be debate going into the season about who the better pure shooter is—Beal or John Jenkins—but I doubt there will be any debate about who the better overall player is.
Paired with John Wall in the backcourt to open up opportunities for Beal, there's no question that he's going to put the ball into the basket. No questions at all.
Few people remember that John Wall is a very unselfish player. He still doesn't have the best shot in the world, he averaged eight assists per game last season. With Beal becoming a true shooting threat, and John Wall no longer far and away the best player on the team, Wall will take better shots, and likely get his assist numbers up to Chris Paul levels.
Beal improves this team with more than his shooting. The mere threat of his abilities helps unlock Wall's true potential. This was a great pick for the Wizards.
2. Michael Kidd-Gilchrist, Charlotte Bobcats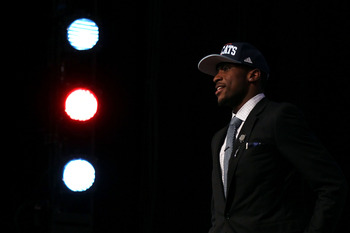 Elsa/Getty Images
Projected Stats
29.5 MPG, 13.8 PPG, 7.2 RPG, 0.8 BPG, 2.8 APG
Michael Kidd-Gilchrist isn't going to win Rookie of the Year. He probably won't even really be in the running with some of the numbers these other guys are going to put up. MKG is going to have a great season in Charlotte, but for other reasons than scoring and winning some hardware.
He's about to change the culture. The Charlotte Bobcats are going to be relevant again.
Sure, he needs to work on his jump shot. He has a strange double clutch. And while he can get it to go in quite regularly during workouts, he needs to smooth out his motion. He is 100 percent pure athlete, though. He's got elite speed, great length, a nose for the ball, a motor that is constantly running and the desire to win more than anything else.
He is going to push this team harder than anyone has, and at 18 years of age, he's going to be the leader.
He may become Charlotte's next, more athletic version of Gerald Wallace. He's versatile, athletic, a tenacious defender (MKG can guard all positions on the court) and driven. He is going to crack open the talent of this team, and he is going to help turn around a team that has been driven by a losing culture for far too long.
1. Anthony Davis, New Orleans Hornets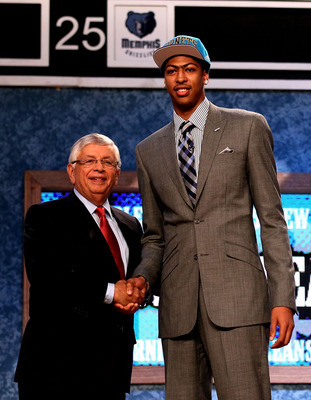 Elsa/Getty Images
Projected Stats
34 MPG, 16.2 PPG, 10.3 RPG, 2.8 BPG, 2.0 APG
While this was considered the deepest draft in recent memory, Anthony Davis seemed to be the only surefire franchise-making player in the entire draft. The guys that went between No. 2 and No. 7 should b great additions to their teams, and could become major cornerstones.
But Davis is the guy everyone knew would be that guy.
The Hornets are looking for a new identity. A new name is in the works, as is a new color scheme. The Unibrow is the new face of the franchise. He's going to be an excellent player. I hope, like so many big men before him, that injuries don't ruin his career, because what he is capable of is truly remarkable.
He's essentially a seven-foot guard/center combo. He has a great jump shot, he attacks the rim, he gets the boards and he has an uncanny ability to block shots. His first season will be good. But as long as everything stays healthy, it's only the beginning of what will likely be a record-breaking career.
I believe he and Thomas Robinson will be in a close battle for ROTY honors, especially with both averaging around double-doubles. But I think by name and defense, Davis will win it.
The New Orleans Unibrows. I like it.
Keep Reading