Jays Talk: Does Management Value Farm System More Than the Major League Team?
July 2, 2012
Tom Szczerbowski/Getty Images
Sitting at 40-39, the Blue Jays' season appears to be spiraling out of control. The team has struggled on the mound since losing their ace, Brandon Morrow, and depth starters Drew Hutchison and Kyle Drabek.
With closer Sergio Santos out until after the All-Star break, the Jays bullpen has also suffered from the injury bug. Every reliever has had to jump up a peg on the depth chart, which has resulted in Casey Janssen becoming the closer.
Janssen moving to closer has probably been Farrell's best move as manager this season, other than switching Brett Lawrie and Colby Rasmus with Kelly Johnson and Yunel Escobar in the batting order.
Since that move, Lawrie is hitting close to .300, and Rasmus has arguably been the best center fielder in the AL, outside of Josh Hamilton and Curtis Granderson.
The Blue Jays, despite their struggles, still sit a game above .500, and are only 2.5 games in back of the wild-card spot.
With the pitching woes and the inconsistent bats, a wild-car bid would be deemed a huge surprise for the team.
Are the Jays close? Absolutely.
How close? Probably a big bat (Lind resurrection), a reliever (Santos) and two starters away (Morrow getting healthy plus traded starter) from making a serious push for a playoff spot.
Jose Bautista knows this, and has urged management to step it up and realize that this team is close. We're not cooked yet. Said Bautista, per FOXSports.com:
Let's go for it...Hopefully, the change is made now. We're in a position, in the middle of the season, to compete for a playoff spot. A lot of people maybe have forgotten about the extra wild card, but I certainly haven't. There was a lot of talk about it in spring training, and I haven't heard much since.
Given the injuries league-wide amongst the starting rotations, the trade market for top-shelf starters appears to be an expensive buy for any general manager.
Alex Anthopoulos realizes this and has remained interested, but not overly stupid, in his pursuit of a starter or two.
However, there is growing concern amongst Jays fans about when, or if, the club will ever attract big-name players, or whether they will even spend the money that Paul Beeston says they have in reserve.
The Jays are spending more than enough money on the draft and international prospects, as they just signed Venezuelan shortstop/center fielder Franklin Barreto to a $2 million contract. He has drawn comparisons to Rafael Furcal at shortstop and Shane Victorino at center field.
The Jays continue to stockpile talent in the minor leagues and opt for journeyman relievers like Scott Richmond, Robert Coello and Jesse Chavez, as well as stop-gap starters like Brett Cecil, Aaron Laffey, Joel Carreno and Carlos Villanueva on the major league roster.
When is enough, enough in Blue Jays land?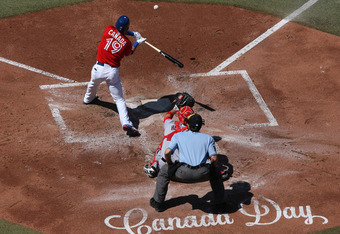 Tom Szczerbowski/Getty Images
They are spending millions and millions of dollars on potential rather than results. What I mean by that is that they are given the combination to the safe when it comes to adding prospects, but when it comes to spending the money on big-name players, the safe is now only opened by a retinal scan.
The Jays have the prospects, they have young controllable contracts already in the majors.
Why not go out and shake things up a bit and show fans, media and their players that they are serious about making the playoffs this year and in the years to come?
The pitching is out there. The question is: are they willing to gamble for results over potential?