Why Dusty Baker Embarrassed Himself in Questioning Tony La Russa's Integrity
July 2, 2012

Thearon W. Henderson/Getty Images
Let me start this by saying I'm not a huge fan of Tony La Russa. I think his micromanaging style choked the flow out of the game, and he often seemed to make a managerial move in an attempt to do something clever. 
It's difficult to argue with the results, of course. Last year's World Series championship with the St. Louis Cardinals was kind of La Russa's last word to all of his critics. Retiring after the season was an exclamation point on the sentence.
Dusty Baker is no fan of La Russa, either. But the Cincinnati Reds manager was way off base in ripping La Russa for not adding pitcher Johnny Cueto and second baseman Brandon Phillips to the National League All-Star roster that was announced on Sunday. 
Baker was right when he said that snubbing Cueto and Phillips "looks bad." And it really can't be a total coincidence that those two players happened to be involved in an ugly brawl between the Reds and Cardinals in 2010. But for Baker not to even acknowledge why La Russa might hold a grudge against Cueto and Phillips is disingenuous.
La Russa surely harbors intense resentment toward Cueto, whose kicks to the face of Jason LaRue caused a concussion that eventually led to the catcher's retirement from baseball (here's an account of the brawl's aftermath by The Cincinnati Enquirer's John Fay). How could anyone associated with the Cardinals nurse some bitterness over that?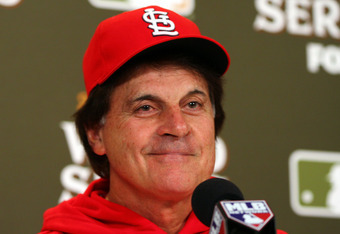 Dilip Vishwanat/Getty Images
It doesn't matter that, as Baker said, "some of the Cardinals who aren't there anymore are making some of the selections." Just admit why La Russa has animosity toward Cueto.
Then say that while you might understand why La Russa feels what he feels, it was wrong to allow a grudge over something that happened two years ago to influence a selection to the All-Star Game.
Just say the Reds have moved on and the Cardinals should, too. Even if it's not true, be the bigger man. Baker would still be sticking up for his player—as he should—without ripping off old scabs and sounding petulant. There was no need to inflame the rivalry between the two teams even further. La Russa already did that with his roster decisions. 
La Russa also made himself look foolish enough by barking back at Baker, saying he shouldn't be pitching Cueto on Sunday if he wanted him to appear in the All-Star Game.
If that was La Russa's rationalization for leaving Cueto off the team, he wasn't only wrong, but he ignored a new rule that says pitchers shouldn't be left off the roster because they pitched the Sunday before the All-Star Game. 
Maybe La Russa was unaware of the new rule. He got Jason Motte and Lance Lynn mixed up during the World Series, so anything is possible. 
The Reds' skipper also picked a losing battle in complaining that Phillips was snubbed from the NL All-Star team. While Phillips is having a good season, he's fourth at his position in OPS. A second baseman was snubbed, but it was the Diamondbacks' Aaron Hill.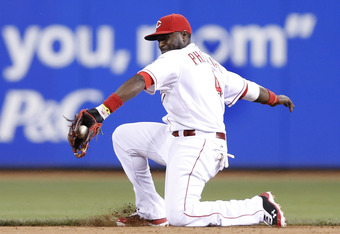 Joe Robbins/Getty Images
Baker should take issue with the fans who elected Dan Uggla to be the NL starter at second base instead of Hill or the Astros' Jose Altuve. That cost Phillips a spot on the team. 
However, Baker should also look at the NL All-Star roster and ask why La Russa selected Reds outfielder Jay Bruce over Cardinals outfielder Matt Holliday. The fact that La Russa didn't take one of "his guys" is one of the biggest surprises of the selection processes. If there's a grudge, it doesn't apply to every Reds player. 
As someone who had to put an All-Star roster together himself in 2003, Baker should remember how difficult and unfair the process can be. Perhaps he should have remembered that before popping off about La Russa because one or two of his guys were snubbed.
Follow @iancass on Twitter