Dallas Mavericks: D-Day Is Here, Afternoon Free Agency Update
July 2, 2012

Mike Ehrmann/Getty Images
You've probably heard the expression used a lot since early this morning:
Today is D-Day for the Dallas Mavericks.
As of this moment as we approach 4:35 p.m. ET, there's no word as to how the meeting with the Mavs and Deron Williams is going. Reported by Marc Stein of ESPN, Dallas is meeting with him first, before Brooklyn gets its chance. For all we know, we won't hear anything until later tonight, if at all.
The Nets are scheduled to meet with Williams in the evening, as the world keeps their eyes glued on Twitter, looking for the one piece of news that can lead to something.
But so far, there hasn't been a whole lot of news, not only with D-Will but in terms of the overall free agent picture.
So here we go: Your afternoon Mavs free agency update for July 2.
Will Delonte West be Back in Dallas Next Season?
Delonte West is one of the key unrestricted free agents that Dallas would love to have back for next season, but will the cap space and the potential signing of D-Will derail those plans?
If you ask West that question, his answer would be no. In his eyes, he's still a member of the Mavericks until he signs with a new team. But at this moment, West is waiting for D-Will to make his decision, so the dominoes may begin to fall. West said on Saturday (via Jeff Caplan of ESPN Dallas):
That's all right. If you don't have loyalty, you have nothing[...]Right now, I'm a Dallas Maverick and if I can do anything to help out and make this team better, that's what I'll do. If that's my ticket out the door, hey, that's something that comes along down the road. But right now, I'm trying to do everything I can to make my team better and get back to a championship.
You have to appreciate the loyalty and the love that West has for the franchise, and no one would not want him to return to the Mavs next season.
But between the possible cap issue, along with a logjam at the guard positions, one has to wonder if West will even be contacted by Dallas. West said:
I would like to see a team offer me something based off my skill set, not off of something that happened three, four years ago[...]The guys in this free agency, when you see the type of contracts that they'll be offered and really take a look at what they do, and you compare it to what I bring to the floor, you might see two points or three points more over here, maybe a few more assists, but you look at everything I bring to the game and the defense that I do, I'm going to be on that guy.
West took to Twitter on June 27 in an attempt to recruit Williams to Dallas, but like every other mention that he's gotten so far, D-Will didn't reply.
Keep an eye out for this situation.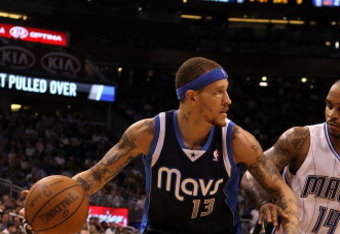 Sam Greenwood/Getty Images
Italian Three-Point Specialist Drawing Mavs' Interest
Sorry for anyone who thought this was Andrea Bargnani, but Dallas is indeed looking at the possibility of bringing in another well-known Italian scorer.
According to CBS Sports' Ken Berger, the Mavs are a possible destination for free-agent sharpshooter Marco Belinelli.
Marco Bellinelli is getting some interest from teams in the shooting-guard market, league sources say. Dallas is one possibility.

— Ken Berger (@KBergCBS) July 2, 2012
Again, the logjam at the guard positions play a huge factor with the players they have and the ones they've spoken to. But Dallas needs someone who can hit the perimeter shots, and Belinelli could fill that role.
Belinelli has played for three teams in his five-year career. More recently, he's played in New Orleans for the past two seasons. He averaged a career-high 11.8 points per game this past season and shot 37 percent from behind the three-point line.
JET On the Runway Out of Dallas? Not Quite Yet
Out of all the wonderful things that Jason Terry has done in the last couple of years as a member of the Mavs, he's been on the record of saying some dumb statements.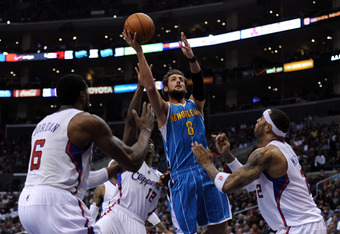 Harry How/Getty Images
But despite all of that, the JET may not be flying out of Dallas just yet.
The Dallas Morning News is reporting that the former Sixth Man of the Year will give Dallas the chance to match any offer that is thrown his way, if the Mavs choose to consider bringing him back.
Terry has reportedly drawn huge interest from the Boston Celtics in the likelihood that Ray Allen decides to not return to Boston, and would provide immediate scoring off the bench.
Since being traded to Dallas from Atlanta in 2004, Terry has been a lovable figure in Dallas both on and off the court. He's averaged close to 17 points per game in his eight seasons with the Mavs and is shooting 38 percent from behind the three-point line for his career.
If you need to get caught up on everything the Mavs have done in free agency up until this point, make sure you check out my other update articles that have been published.