Novak Djkovic: Grading His Wimbledon Performance So Far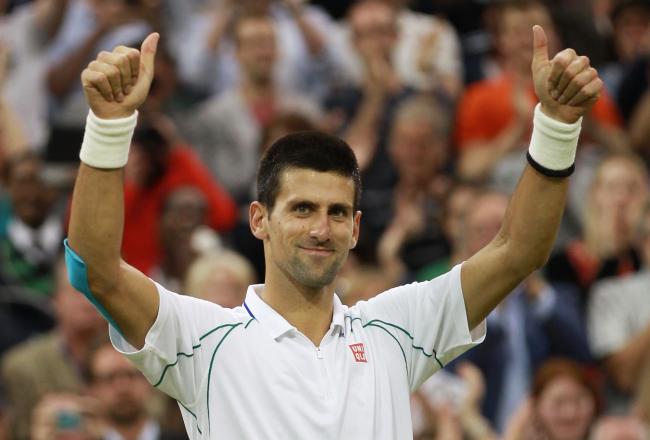 Clive Brunskill/Getty Images
Amid all of the upsets at Wimbledon thus far—Rafael Nadal goes down in the second round, Maria Sharapova bites the dust just a few days later—there's been one favorite who's managed to live up to the hype.
Novak Djokovic, just a couple of weeks removed from a crushing loss to Nadal in the French Open finals, has not only looked good this year at the All England Club—he's looked completely focused, too, which seems to be the one thing many of his contemporaries have been missing.
Djokovic has managed to tune out the pressure of rebounding from his loss at Roland Garros, of possibly facing Nadal again and of playing on Centre Court. He's just been playing. That doesn't mean he's been perfect, but he's still been able to stay composed enough to remain in the running as his fellow favorites have fallen, one by one.
Here are grades for his performance at Wimbledon thus far.

Round 1
Def. Juan Carlos Ferrero
6-3, 6-1, 6-3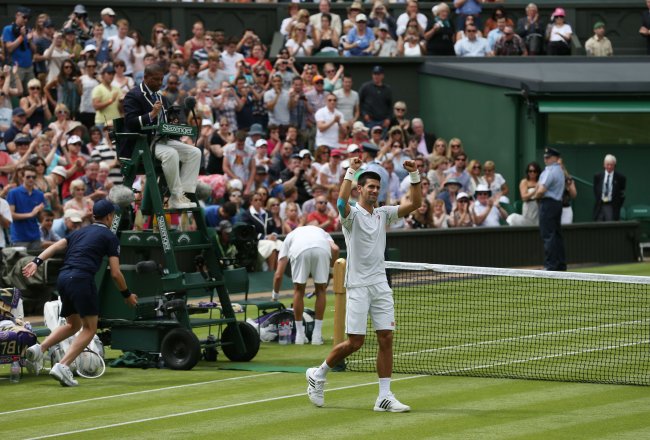 Julian Finney/Getty Images
The 2011 champion began his title defense against Ferrero and had little trouble, defeating him in straight sets. Not a bad way to start off this pressure-cooker, which came just a couple of weeks after that gut-wrenching loss to Nadal in a rain-delayed final at Roland Garros.
Ferrero was no slouch of an opponent, either; the former top-ranked Spaniard has advanced to the quarterfinals at Wimbledon twice in his career and has been crowned the winner at the French Open.
It wasn't a piece of cake from the first game—Ferrero broke Djokovic in the third game of the first set—but it didn't take long for Djokovic to strike back. With the win, he improved to 28-1 in his last five majors.
Grade: B+

Round 2
Def. Ryan Harrison
6-4, 6-4, 6-4
Just like in the first round, Djokovic made quick work of Harrison, defeating his second straight opponent in straight sets. The two endured a rain delay and, as a result, didn't finish the match until 9:52 p.m., but that didn't faze Djokovic: He returned a first-serve percentage of 76, according to the Daily Mail, and a second-serve percentage of 78.
But Djokovic was the last one to give himself any undue praise; after the match, he told Bloomberg's Christopher Elser:
It was a straight-set win but it was harder than it looked. I got the crucial breaks in every set and it was enough to win. It was a great match but I was in trouble in the second set and it could have gone either way. It is difficult to adjust under the roof, and Ryan was serving fantastically.
Perhaps that's been the difference between Djokovic and some of the other front-runners at the All England Club; he knows what he has to do to win, but even after he gets those wins, he still knows that he has to be better to keep getting the job done—and he knows how to do that, too.
Grade: B+

Round 3
Def. Radek Stepanek
4-6, 6-2, 6-2, 6-2
This was the only round that has given Djokovic substantial trouble thus far, and coincidentally, it came the day after Rafael Nadal suffered a shocking defeat in his own second-round match.
Djokovic surrendered five break points in the first set but got right back on track in the first game of the second set and managed to rally for the win. Afterward, he refused to admit to any nervousness or distractions as a result of Nadal's loss and instead gave credit to his experienced 33-year-old opponent, to whom he lost back in 2006. Djokovic told the BBC:
"It was a tough match but I think I played second third and fourth well. I knew he was very experienced and he is one of the few who comes to the net and has a lot of variety and a lot of shots that can hurt anybody."
This marks the only time Djokovic has failed to win in straight sets thus far at Wimbledon. Not too shabby. And with Nadal officially out of the mix, it meant there would be no chance of a rematch of last year's Wimbledon final—or of this year's French Open final.
Grade: B

Round 4
Def. Viktor Troicki
6-3, 6-1, 6-3
After his quasi-scare in the third round, Djokovic was right back in top form for the fourth, defeating Troicki with ease in order to advance to the quarterfinals for the fourth consecutive year.
Will Novak Djokovic win his second straight Wimbledon title?
Rain got in the way of most of the other matches at the All England Club on Monday, but Djokovic managed to win under the retractable roof once again in a mere 90 minutes. Overall, Djokovic broke Troicki six times and hit 31 winners, remaining undefeated in his last 12 matches against his fellow Serb. He won the second set in just 24 minutes.
Next up will be either Richard Gasquet or Florian Mayer, but either of them will face a tough task against a world No. 1 who is looking more intimidating each day.

Grade: B+

Overall Grade: B+
He hasn't been perfect, but he's been just as good as anyone has been in this crazy year at Wimbledon—and what's scary for his opponents is the fact that he seems to be gaining more and more momentum with every match. It won't take long for him to bump up that grade to an "A" with a second straight Wimbledon title.
This article is
What is the duplicate article?
Why is this article offensive?
Where is this article plagiarized from?
Why is this article poorly edited?