NBA Free Agents 2012: Stars That Will Earn More Than Their Worth
July 2, 2012
Chris Graythen/Getty Images
The NBA free-agent period can provide a team with an opportunity to significantly upgrade its roster, but at the same time, there's plenty of risk involved. Every offseason, several contracts are given out that end up turning into bad investments.
Let's take a look at three free agents who will likely end up getting contracts much larger than their production would warrant. The lack of market depth is also going to play a role in making sure they get big deals from a needy franchise.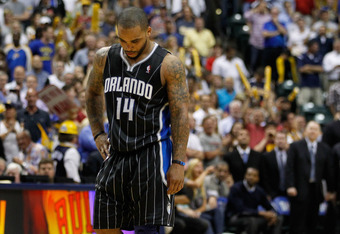 Gregory Shamus/Getty Images
Jameer Nelson
Unless a team has an amazing amount of top-end talent like the Miami Heat, having a reliable point guard is more important than ever. So it's no surprise that so many PGs decided to test the free agent waters with hopes of attracting a lot of interest.
One player teams should be especially wary of is Nelson. After making good progress in his first few seasons, he never developed into the elite leader of an offense. He averaged just 12 points and six assists for the Orlando Magic last season.
Some team will probably get caught up in all the potential he showed early in his career and give him a big deal, but there should be more cost-effective options available if teams exercise a little patience. Nelson carries too much risk.
No group of players receives more crazy contracts than big men. There are so few productive ones throughout the league, even those with limited upside like Kaman often become hot commodities and receive massive deals.
Kaman enjoyed a brief resurgence in the middle of last season that made him a popular trade target. He ended up staying with the New Orleans Hornets. Now he enters free agency, and there should be no shortage of interested teams.
Ultimately, that will drive up his price beyond what he's capable of providing. At this point, he's nothing more than an average contributor in the paint, and he will soon begin to decline. Expectations will be much higher than that, however.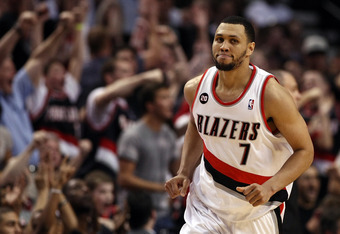 Jonathan Ferrey/Getty Images
Brandon Roy
After taking a season off, Roy has decided he's willing to listen to offers again as he attempts to return from constant knee problems. He was once on track to become one of the league's elite scorers before his body started fighting back.
While there's always a chance he could return to that level, the risk far outweighs the reward. Any training work he's done on his own can't possibly match the grind of an entire NBA season, making it impossible to know how his knees will react.
There will probably be a couple teams who can't resist the thought of adding a 20-point scorer to their roster. The chances of it paying off are small, though, so teams would be better off looking at players with less concerning medical pasts.