Detroit Pistons: Suddenly, Team's Future Seems Bright
July 2, 2012

Elsa/Getty Images
I must confess, I did not see this last month coming.
This probably will not come as a shock to you, as I—like most sports writers—do not have a crystal ball that can predict future events.
Prognosticators and commentators trade in the commodity of speculation, but at the end of the day nobody truly knows what will happen on any given day in the NBA.
Personally, I thought that by the end of June, the Pistons would be in a somewhat better position than they were at the end of May, but it seemed far-fetched to expect too much from the Detroit brass.
Dark days
Think about it. This was a team that was terrible most of the 2012 season, and though they finished strong, they still seemed to be far from a finished product.
I have been hammering team president Joe Dumars for years regarding the incomplete team he has been putting out there.
They have lacked a true point guard, athleticism on the wings and any semblance of an interior defensive presence.
The roster was not completely talent-less, but it certainly wasn't stacked.
The Pistons still owed Ben Gordon and Charlie Villanueva a combined $40 million over the next two years. Brandon Knight and Greg Monroe are cheap and talented, but the rest of the roster was composed of either underachievers or players past their prime.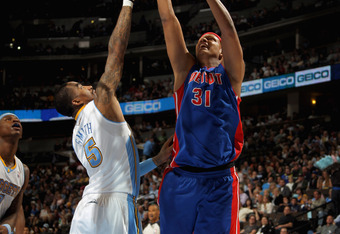 Doug Pensinger/Getty Images
The fans took notice, and last year made the Pistons the worst draw in the sport, with the Palace only getting filled 65 percent of the way.
Sad days indeed for a team that routinely led the league in attendance during their Eastern Conference Championship years.
Lady Luck didn't do the Pistons any favors during the Draft Lottery, as Detroit was slotted with the number nine overall selection in a somewhat—albeit not overly—strong draft.
Most thought that Detroit would have to choose between three very flawed rookie big men: John Henson, Tyler Zeller and Meyers Leonard.
It appeared that this team would still be a few years away from even playoff contention.
First, a trade
But Dumars had other ideas for his squad.
He engineered a masterful move that sent Gordon and a protected first round pick to Charlotte for Corey Maggette.
Sure, you hate to lose a first round pick, but it will be lottery protected for another year, and top eight protected the year after. Within five years, however, there will be no restrictions on this pick.
That being said, Maggette has an expiring deal, meaning that Detroit could be skinning nearly $2 million off of their team salary this year, and $13 million next year.
Moreover, this allows the Pistons to rid themselves of a huge mistake in Gordon, and offer up his minutes to young players that can still develop.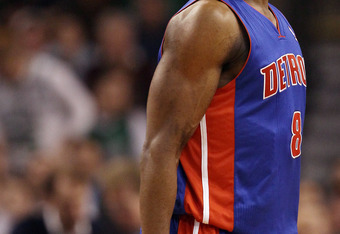 Elsa/Getty Images
Draft luck abounds
Next, the Pistons saw yet another highly rated talent slip to them in the Draft.
Two years ago, that player was Greg Monroe.
Last year, that player was Brandon Knight.
This year, it was Andre Drummond.
Now I have not been a huge fan of Drummond this year. I had a chance to watch Connecticut quite a bit this year, and I was startled by the rawness of Drummond's game.
He has an incredibly raw offensive game with a shot that seems to be easily blockable at the next level.
He was only an average rebounder despite being huge, and his defensive instincts leave quite a bit to be desired.
The most aggravating thing I saw in Drummond was his tendency to walk away from contact rather than asserting himself in the post.
A guy his size needs to announce his presence, and let the opponents get out of his way. He shouldn't be walking on eggshells under the hoop.
That being said, there are quite a few reasons to believe that Drummond will be a good pro.
One, he has yet to receive consistent coaching.
He spent two years at Capital Preparatory Magnet School in Hartford, Connecticut before heading to St. Thomas More in Oakdale, Connecticut for two more years.
He was getting ready to head to another prep school when he changed his mind and went to the University of Connecticut.
There, he should have had a very steady coaching situation, but the legendary coach Calhoun was hurt nearly the entire year with back issues, and therefore only coached Drummond for part of the season.
In Detroit, he will have the best, most steady coaching of his life.
Drummond, given proper coaching and the right attitude, could develop into a defensive force for Detroit.
On paper, he is the perfect compliment to both Monroe's defensively limited game and a perimeter defense that was porous at best last season.
Having a legit shot-blocker down low will help all facets of this team's progress.
In addition to Drummond, Detroit picked up two very talented wings in the second round of the draft.
Khris Middleton was considered a first round talent just a year ago, but injuries and inconsistent minutes led him to slide into the second round this year.
Kim English is not much more than a spot-up shooter, but this late in the draft all you are looking for is value and depth and English should provide both.
Two imported wild-cards
Fans have been talking about what type of impact last year's early second round pick, Kyle Singler, could have on this year's team.
Singler spent last year in Europe, honing his game in the Spanish League.
True, he should provide depth on the wings, and a smart, intense presence in the locker room.
But the real import to watch is coming from further east—as in the Ukraine.
According to ESPN's Marc Stein, the Pistons are planning on signing Vyacheslav Kravtsov, a highly athletic seven foot center.
As I have yet to see Mr. Kravtsov play, I checked out some scouting reports on him.
According to Eurobasket.com, Kravtsov could be the type of player that Detroit fans love.
One of the top shot-blocker[s] in Europe who plays very hard and can bang with any opponent. More than just a 7-footer with an NBA body, though, Kravtsov possesses outstanding athleticism on top of that to complete a very intriguing physical profile. He runs the floor extremely well, moves laterally quickly and fluidly, and is absolutely explosive around the basket, looking capable of tearing down the rim every time he goes up to finish. He's also quick off his feet to contest or block shots, giving him virtually everything you could ask for physically from a player his size. Good passing ability for a center. He has a decent shooting touch and can hit the shot from and around the paint with consistency. He does not have a very developed offensive creation though. His low post skills could use some work. Defensively, he shows a good activity level and has the great lateral quickness and strength to be a great one-on-one defender in the post or from the midrange.
So in the course of a month, the Pistons added two physically gifted, defensive-minded seven footers, a spot-up shooter, a veteran small forward that specializes in getting to the hoop and providing athleticism, and two rookie small forwards with very good college careers.
In a month, the Pistons drastically re-shaped their roster, and now they are one of the younger teams in the conference.
Financially inflexible, for now
Any hopes that the Pistons fans may have about signing an impact free agent will have to wait.
The Pistons, with their current salary and obligations to their rookies, should be pushing very close to the luxury tax threshold, which is probably going to be around $70 million this year.
This leaves it unlikely that Detroit will bring in even a moderately priced free agent.
That being said, they do have some options.
They can choose to amnesty Charlie Villanueva, and clear another $8 million or so off of their cap for each of the next two years.
They could also choose to deal Austin Daye or Jason Maxiell for a future draft pick. 
Without one of those moves, this team will instead ride into the season with their current roster intact.
They then will get ready to make a move next year when Maggette, Daye and Maxiell's contracts are eligible to come off the books.
Building the team right
For as much as I have been hammering Dumars over the last few years, he finally seems to be thinking clearly, and should get plenty of credit for what he has done this summer.
He is building a team from the ground up, whose foundation is steeped in hard work, defense, and a commitment to winning.
Obviously plenty of things can change between now and the immediate future, but on paper, at least, this team appears to be heading in the right direction.
From a fan's perspective, the Pistons become an interesting option again.
The team traded in their soft leather gloves for a hard hat, and once again this team should be "going to work".
The fans will come back, and not because the team is winning: in all fairness, this team still is not a clear favorite to be a playoff team.
But the fans will come back because they now have something that they had lacked in year's past—optimism.
Furthermore, this optimism, guarded as it might be, is centered around something they used to take for granted but had come to question.
And that is the worthiness of entrusting faith in Dumars.
The fans are starting to remember why they had that faith in the first place.