NBA Free Agency 2012: Breaking Down Teams That Could Make a Play for Steve Nash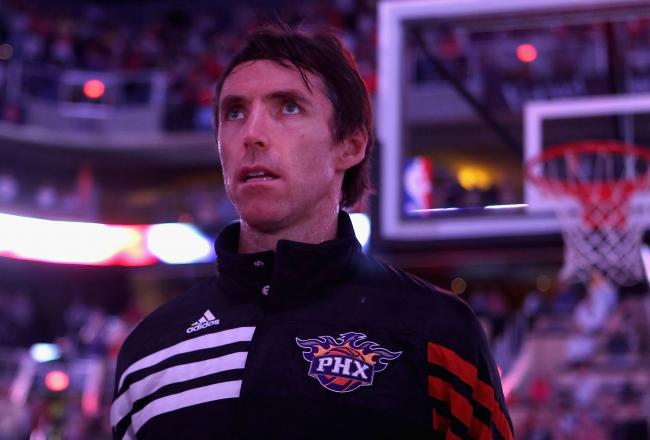 Christian Petersen/Getty Images
The offseason is upon us, and the 2012 class of NBA free agents is ready to make a move.
From a superstar point guard to the best three-point shooter in the NBA, this class has range like we've rarely seen before. There are defensive stoppers, multiple future Hall of Famers and a handful of potential stars.
But strangely enough, there is one 38-year-old who is stealing the headlines from every one of his younger counterparts.
Two-time MVP Steve Nash, who at 38 ranked second in the NBA with an average of 10.7 assists per game, is on the radar of nearly every team in the NBA. While Deron Williams is clearly the prized possession of this class of free agents, his absence will likely lead to the signing of the 16-year veteran.
That is, if the Toronto Raptors don't scoop him up first.
While we're all aware of the front-runners, who could steal Nash without us knowing it? Believe it or not, there are nearly a handful of teams who fit that bill.
So, who are the favorites to surprise us all?
According to Stefan Bondy of the New York Daily News, the Nets are preparing for the worst-case scenario with Deron Williams. Their target to soothe the potential pain of losing the player they gave up everything to acquire is none other than Steve Nash:
What's the best fit for Steve Nash?

Free agent Steve Nash is meeting with the Nets today, according to a league source.

— Stefan Bondy (@NYDNInterNets) July 1, 2012
The Nets offer Nash an interesting situation to work with, as they pair MarShon Brooks and Gerald Wallace on the perimeter. They're also in position to re-sign Brook Lopez, the twin brother of Nash's former teammate Robin Lopez.
With a city like New York and a new franchise with money to spend, Nash could be a more realistic option than what one might assume at first glance. Assuming D-Will signs elsewhere, Steve Nash could be a Net.
Indiana Pacers
The Indiana Pacers made noise in free agency when they re-signed George Hill to a five-year deal, according to Mike Wells of The Indianapolis Star. This keeps Hill alongside Darren Collison as the split point guards, leaving one to question whether the Pacers actually want their offense to have a direction.
If they do, Steve Nash is their best alternative. A fact which the Pacers are certainly aware of:
Knicks, Heat, Pacers, Raptors &?Suns expected to make their pitch to Steve Nash Sunday, per source. Not certain if all teams will be in NYC.

— David Aldridge (@daldridgetnt) July 1, 2012
While the Pacers certainly have money to work with, it's hard to imagine they'll get the deal done considering Roy Hibbert has been offered a mega-deal from the Portland Trail Blazers. In all likelihood, the deal would have to be done via a sign-and-trade with Phoenix, including Darren Collison.
As reported in David Aldridge's above tweet, the Miami Heat are among the teams looking to acquire Steve Nash's services. While Mario Chalmers played very well during the postseason, the Heat are clearly looking for a great facilitator to run the offense.
As Tom Haberstroh of ESPN.com reports, Nash is all ears, saying:
I would listen...[LeBron]'s phenomenal. I love what [Miami is] doing there. A lot of people don't like them because they put all that talent there. But they're professional, they play hard, they play together. Their coaching staff has done a great job, so I have a tremendous amount of respect for them.
For those omnipresent Heat haters, the talent may be growing by one superstar asset. Let the cries and pleas for different destinations begin.
According to Frank Isola of the New York Daily News, the Brooklyn Nets may not be the only New York team that Steve Nash is interested in.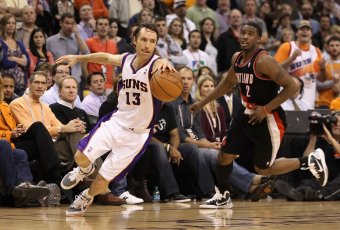 Could Steve Nash be playing alongside Wesley Matthews next season?
Christian Petersen/Getty Images
The always-mentioned New York Knicks are reportedly interested in the Canadian superstar, having met with him on Sunday to discuss the possibility of his potential signing. Unfortunately, the Knicks would only be able to offer Nash a deal of roughly $3 million per year.
While that is a much lower amount than what the Raptors have offered, the Knicks do have one thing going for them: Nash lives in Manhattan.
Portland Trail Blazers
According to an unconvincing Eric Smith of Sportsnet's The Fan 590, Steve Nash has a short list. The Portland Trail Blazers just so happen to be one of those lucky suitors:
From what I have heard from these people, and they could be wrong, but these are coming from some pretty legitimate sources, it is a three-team race for Steve Nash in free agency: Portland, Phoenix and Toronto.
Smith's words don't come with an encouraging tone. They do come with a positive sign for the future, however, as the belief of Nash's intent to sign with Portland does make sense. While sixth-overall draft choice Damian Lillard is expected to be the franchise point guard, he is a rookie with what some believe to be a postseason-ready team.
For a player who struggles with his court vision, who better to mentor him than the maestro himself?
This article is
What is the duplicate article?
Why is this article offensive?
Where is this article plagiarized from?
Why is this article poorly edited?