UFC 148 Video: Watch Free Fights with Sonnen, Silva, Ortiz, Griffin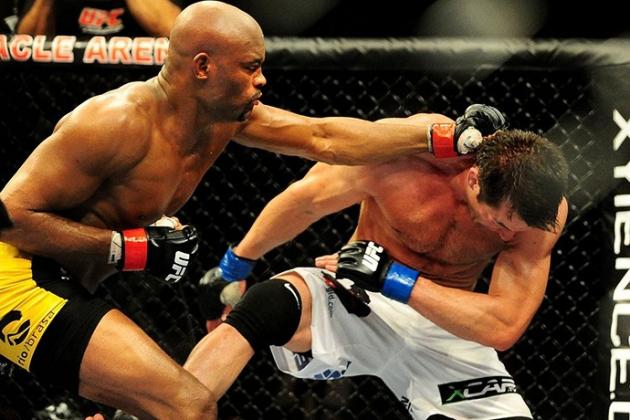 Mark J. Rebilas-US PRESSWIRE
With the biggest UFC fight of the year looming just six days away, the UFC has released a series of free fight videos featuring the biggest stars of UFC 148.
In the following slideshow, you can watch the following full fights, absolutely free, on your home computer, iPad or iPhone:
Anderson Silva vs. Vitor Belfort (UFC 126)
Anderson Silva vs. Yushin Okami (UFC 134)
Chael Sonnen vs. Brian Stann (UFC 136)
Chael Sonnen vs. Dan Miller (UFC 98)
Forrest Griffin vs. Rampage Jackson (UFC 86)
Forrest Griffin vs. Mauricio Rua (UFC 76)
Forrest Griffin vs. Stephan Bonnar (TUF 1 Finale)
Tito Ortiz vs. Ken Shamrock (The Final Chapter)
Tito Ortiz vs. Yuki Kondo (UFC 29)
What are you waiting for? Brush up on your fight history and get ready for UFC 148: Silva vs. Sonnen 2 with this epic video slideshow.
Begin Slideshow

»
Vitor Belfort and Anderson Silva were once training partners and friends, but that all changed when Belfort accepted a shot at Silva's UFC middleweight title.
The animosity between the two was evident at the weigh-ins the day before the fight, when Silva donned a Jabbawockeez mask and got in Belfort's face.
And the fight delivered in spades with a historic kick and finish from Silva.
Yushin Okami was the last man to beat Anderson Silva, way back in 2006 at a Rumble on the Rock event in Hawaii. But it was a tainted win. It wasn't even a win, really. Silva was disqualified for using an illegal up-kick to a downed Okami.
Both men would go on to have excellent middleweight careers, and it was only a matter of time before they met again. Would Silva be able to avenge his loss in the main event of the UFC's first time back in Brazil in over a decade?
Chael Sonnen wasn't always as popular and outspoken as he is today.
He was once considered just a solid middleweight with no viable hopes for contention or the kind of fame he enjoys today. Back at UFC 98, he faced Dan Miller in a main-card bout. Watch as Sonnen begins the three-fight winning streak that would catapult him into title contention.
Chael Sonnen very nearly became the first man to beat Anderson Silva back at UFC 117, only to tap out to a triangle choke in the last two minutes of a fight he completely dominated. Sonnen was then suspended for using performance-enhancing drugs and stayed out of action for over a year.
When he returned, it was against rising middleweight Brian Stann at UFC 136 in Houston. Watch as Sonnen begins his road back to the middleweight title.
It is perhaps the most famous fight in UFC history. Forrest Griffin and Stephan Bonnar were participants in the first season of The Ultimate Fighter, and the pair met on August 26, 2006 to determine the first-ever TUF season champion.
What followed was one of the most action-packed fights in UFC history. If you've never seen this historic fight, now is your chance. What are you waiting for?
During his time in Japan's PRIDE organization, Mauricio Rua defeated the best and established his own personal claim as the best light heavyweight on the planet.
"Shogun" would sign with the UFC after the sale of PRIDE, and he made his debut against former TUF winner Forrest Griffin. It was supposed to be a fight that would instantly escalate Rua into title contention, but Griffin had other ideas.
Forrest Griffin was coming off the biggest win of his career, a UFC 76 bout with Shogun Rua that would earn him his first-ever UFC light heavyweight title shot. The popular Ultimate Fighter winner got that shot at UFC 76 against champion Quinton "Rampage" Jackson, and the resulting fight would be one of the best of the year.
Watch it above.
Tito Ortiz and Ken Shamrock had a long, heated rivalry that ultimately led to this main event on a free television broadcast. It was, as the show title stated, the final chapter in an extraordinary feud that helped lift the UFC to new heights in popularity.
Tito Ortiz defeated Wanderlei Silva at UFC 25 to capture the UFC light heavyweight title. For his first defense, he faced off against Japanese Pancrase veteran Yuki Kondo.
Ortiz was able to use his submission skills to great effect in the fight. Watch above for one of the early fights in the historic career of a UFC Hall of Famer.