Jordi Alba and the Best Young Spanish Players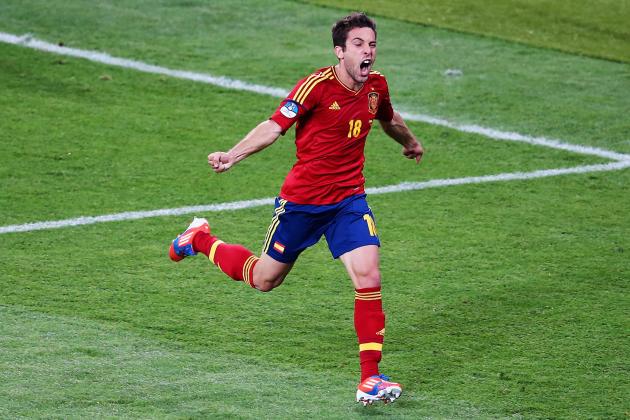 Martin Rose/Getty Images

Jordi Alba's magnificent display at Euro 2012 did a lot for him and his reputation in world football. For his countrymen, it also opened up a gateway for the many wonder kids that will eventually come to find their regular place in the Spanish national team setup.
Alba's goal-scoring performance in the Euro 2012 final against Italy was an appropriate occasion to mark his transfer to Barcelona.
There was something noticeably Barcelona-like in the way Alba tore through the midfield, latching onto a Xavi pass and finding the back of the net like a veteran striker.
Was this the moment that the young left-back transformed from the exciting Valencia full-back and into potentially one of the world's best attackers? Absolutely. There's no doubt that many will now catch on to how well Alba plays the game and what his contributions will be for his new side.
Importantly, however, the quality and excitement in Alba's game will greatly improve at the Nou Camp. An invaluable learning curve.
Alba's participation in the Euros for Spain was significant for other younger players looking to make their mark for the national team.
Yes, Real Madrid and Barcelona hold almost all the cards when it comes to the first-team selection process, but Alba—at the time a Valencia player—proved that it is not an exclusive club.
With the age of a number of key figures a concern over the long-term, Spain are in a healthy position to call upon many of their younger stars to fill similar roles.
Begin Slideshow

»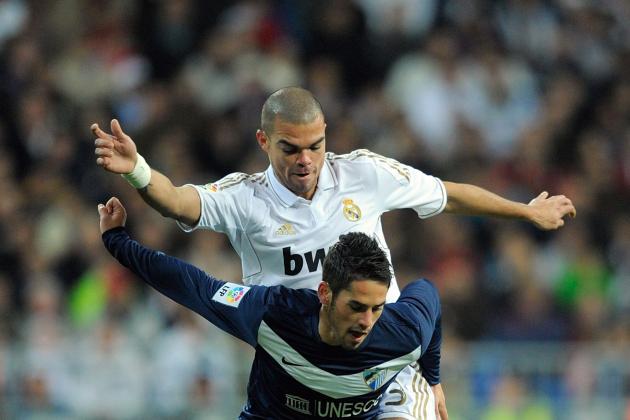 Denis Doyle/Getty Images

Isco is a real talent that La Liga can be excited about for the long-term. He overshadowed Santi Cazorla and Joaquin last season as one of Malaga's summer buys and has established himself as a central figure in the club's ambitions for European football.
Like a number of other young Spanish stars, Isco has a mean streak and likes to display his ability to take care of himself. But he is also blessed with incredible technique and footballing ability.
His football education was by no means wasted at Valencia, but his transfer to Malaga showcased that he is gifted enough to make an immediate impact.
An eye for a pass, ability in front of goal and the destination of a major international trophy, Isco can become a leading player for Spain's national team for many years to come.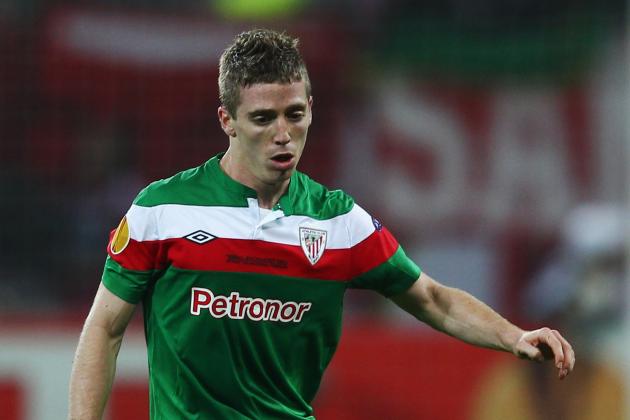 Alex Grimm/Getty Images

It's unlikely people will ever get tired of hearing Iker Muniain's name. At least when his name continues to crop up in praise.
The Athletic Bilbao star is capable of filling a number of roles in the midfield and forward lines. His aggression—like Isco—has helped to speed up his footballing education and make him a genuine star on the continent.
Where other players his age might hide behind their age and small frame, Muniain is eager to demonstrate what a wonderful talent he is and contribute all over the pitch.
Surprising but in a way understandable, Vincent Del Bosque's decision to overlook Muniain for Euro 2012 will be no great weight on the shoulders of a young star. His time in the national team will come, and like the man who held his favoured position in this tournament, Muniain has the potential to grab a Player of the Tournament accolade as Andres Iniesta has.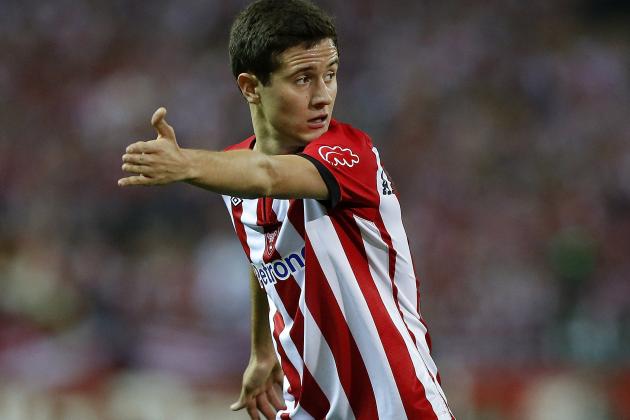 Angel Martinez/Getty Images

The production line continues with Athletic Bilbao's Ander Herrera. If ever there was an excellent candidate to fill one of the roles when Xavi or Xabi Alonso decide to call it a day, Herrera has shown his excellent contributions from a midfield role.
His age should not be a concern, as yes he has failed to have a great effect on all his games. But Bilbao's meeting with Barcelona last season on the rain-soaked field of San Mames highlighted what an wonderful talent Herrera is.
A big game player when he needs to be, he contributed in impressive fashion to the 2-2 final score line.
At this stage, it's still unclear whether he will figure at World Cup 2014. But should a couple of places in the national team arise, Herrera will be in great addition to the final squad.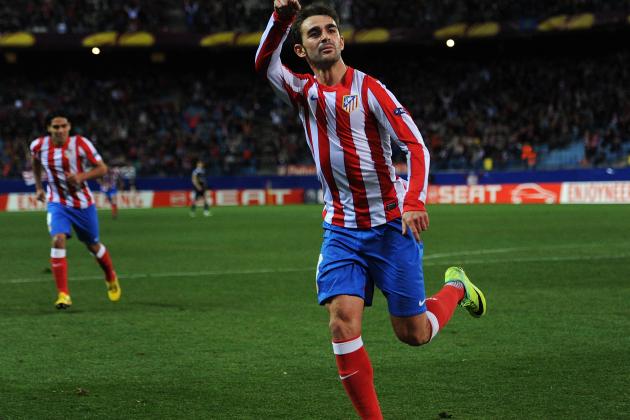 Jasper Juinen/Getty Images

Although not as young as the other names in the list, Adrian Lopez still deserves recognition as one of Spain's emerging talents.
Adrian, in impressive fashion, is really doing his part to help Atletico Madrid fans forget the partnership of Sergio Aguero and Diego Forlan.
Alongside his own goal machine in Falcao, Adrian has helped Atleti capture their second Europa League trophy in three years.
He's hasn't marked out a reputation for himself as a prolific goal scorer, but he makes up for it in tremendous work rate and the talent and ability to pull off the spectacular in front of goal.
Perhaps a better candidate than one or two this time around, his absence from the national team this year has left no doubts that Adrian will figure greatly in Spanish colours in the future.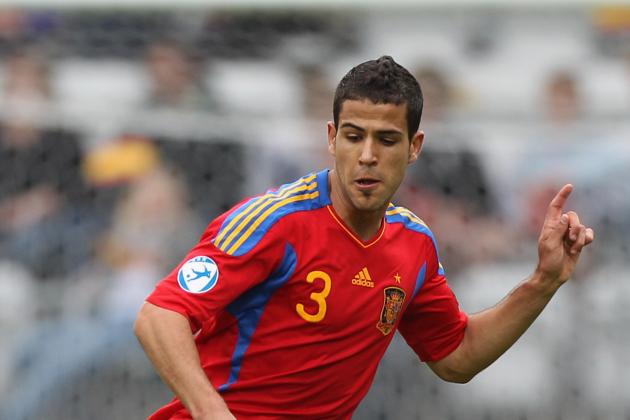 Michael Steele/Getty Images

Atletico Madrid's decision to let go of Alvaro Dominguez this summer might have been a surprise move, but you can understand their need to address other areas of the pitch.
What is certain, however, is that Dominguez will be an excellent addition to a young and ambitious Borussia Monchengladbach side. His strength and technique on the ball will be a great asset for his new club and the national side moving forward.
Is he good enough to displace the current centre-back pairing of Gerard Pique and Sergio Ramos? Not a chance. And their age doesn't leave much room for manoeuvre, either. But he will contribute to the overall squad where it's needed.
The real lack of playing time for players like Raul Albiol and the running down of Carles Puyol's career will certainly leave a space open for Dominguez. The leadership qualities are there, as is a clear road for many years in the top flight of football.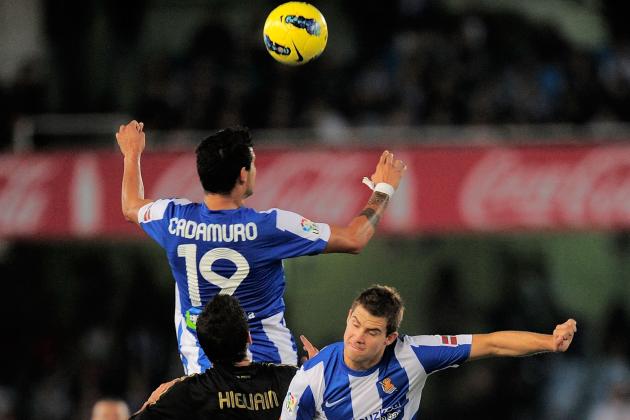 Denis Doyle/Getty Images

Like his fellow countrymen, Inigo Martinez is able to make excellent use of the ball at his feet. His precision and technique has been captured with two wonderful efforts on goal from the half-way line and has prompted a number of links to Barcelona.
The young centre-back claims he is happy at Real Sociedad, and his role in the first team will go a long way to ensuring he has a career in the national team.
Another one of Spain's brightest prospects, Martinez is sure to be a figure in the Spanish squad in the future.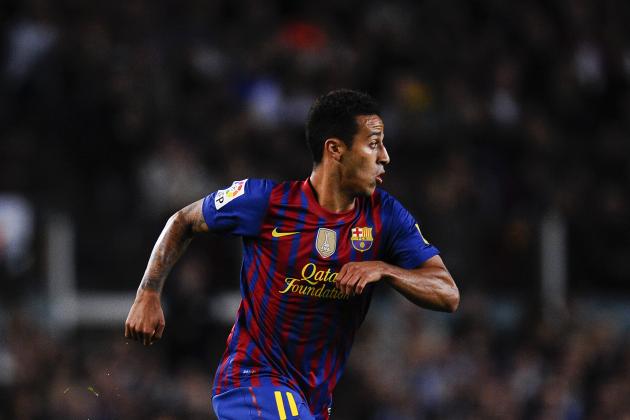 David Ramos/Getty Images

Thiago is blessed with the ability to operate in a number of roles for Spain (and Barcelona) in the future. With the Spanish team's decision to opt for an uncharacteristic approach of no strikers, Thiago has the talent to combine with some of the best in the world in any of the midfield positions.
His playing time at Barcelona might significantly increase next season and will only do him favours to stake a place in the World Cup 2014 squad.
Undoubtedly one of the central figures for Barcelona moving forward.
David Ramos/Getty Images

Another rising star from Barcelona's youth academy. Cristian Tello's pace means he can be a great contribution to any side.
His age has perhaps had an effect on his decision-making in the final third, but there is no doubt that he has to potential to bring a lot to Spain in the future.
His season at Barcelona was fortuitous, as he was afforded a number of chances to play through the injury of David Villa. But he allows his side to stretch and unsettle defences.
He also made a decent contribution in a Champions League game which, unluckily for him, was overshadowed by a record-breaking performances from Lionel Messi.