Spain vs. Italy: Future Studs Who Will Make a Bigger Impact at 2014 World Cup
July 2, 2012

Alex Livesey/Getty Images
Spain and Italy aren't going away.
After swiftly rolling through competition at Euro 2012, the young talent that both of these squads possess means you should expect more of the same once the 2014 World Cup rolls around. 
Sure, La Roja and the Azzurri have some aging stars.
Xavi is 32, Xabi Alonso is 30, Gianluigi Buffon is 34, Antonio Di Natale is 34, Andrea Pirlo is 33 and so on. 
But there's a reason these countries are constantly at the top of the FIFA World Rankings: They are consistently bringing in young talent and always reloading. 
This year's Euro Championship proved just that. Let's take a look at the brightest stars from the competition who will be even bigger forces in Brazil. 
Juan Mata, 24, Spain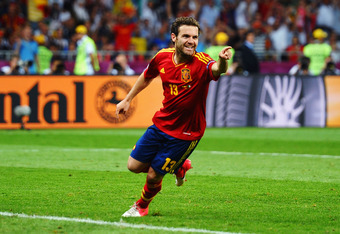 Laurence Griffiths/Getty Images
OK, Mata didn't really get to showcase his talent, but at 24 years of age, the Chelsea star is ready to crack Spain's historically good midfield. 
The only appearance Mata made in this year's Euros was in the 87th minute of the final against Italy. Of course, in just three minutes on the pitch, he was still able to net a goal.
Mata has scored six times in just 18 caps for Spain's senior team, and that's actually an improvement over his production on the under-21 team. 
As long as he continues to get more time on the pitch, the talented midfielder will be a force for Spain in the coming years. 
Mario Balotelli, 21, Italy
Mario Balotelli is only 21. Let that sink in.
With the exception of Cristiano Ronaldo, Balotelli was arguably the best striker at this tournament. In five starts (six appearances), Balotelli netted three goals and got off a ridiculous 4.2 shots per game. 
The eccentricity of Balotelli will likely never change, but if he matures at least a little bit over the next few years, watch out. Combine his immense skills with a truly calm head on his shoulders, and you will have the best striker in the world. 
Hopefully, at least for casual fans, Balotelli finds the perfect blend of bat-expletive craziness and domination on the pitch. 
Jordi Alba, 23, Spain
With his performance at the Euros, Alba established himself as one of the best left backs in the world. 
And he's just 23.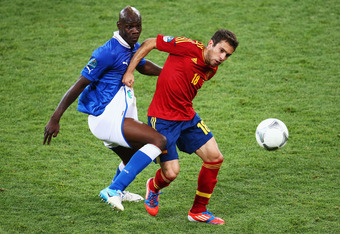 Martin Rose/Getty Images
Not only was the new Barcelona defender terrific on the defensive side of the pitch, he looked more like a left attacking midfielder once he got onto the opposition's half. 
Blessed with terrific creativity and pace, Alba was a constant threat, as he made threatening runs all tournament. 
He finally netted a goal against the Italians, but his one goal and one assist throughout the entire tournament don't do Alba justice. He was much more dangerous than those stats suggest.