USC Football 2012: 7 Things That Will Be Different from Last Year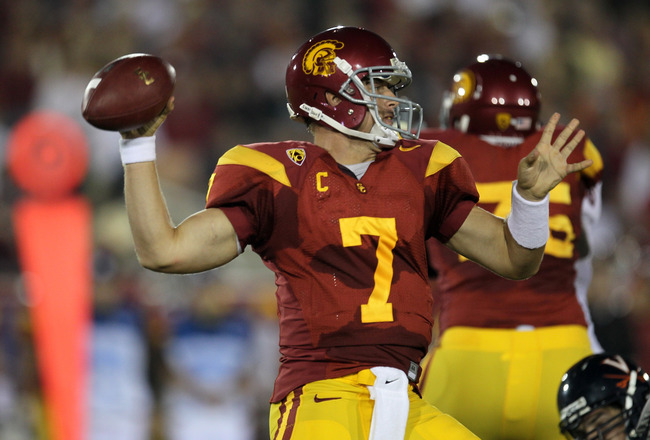 The return of star QB Matt Barkley makes USC a legitimate national title contender
Stephen Dunn/Getty Images
For the past two years, USC has basically been forced to reside in college football purgatory, as the Trojans have had to deal with the repercussions and the fallout of the now infamous Reggie Bush scandal.
Many would say that the program was dealt an unfair blow by the NCAA, while the guilty parties were able to get away without punishment. However, it's now time to move on and begin a new chapter in the Trojans' storied history.
If you happen to be a USC fan, this has been a pretty wonderful past few months for you.
After the team finished the 2011 season with 10 wins and a top-10 national ranking, the Trojans got the terrific news that quarterback Matt Barkley would be returning for his senior year.
USC had the talent to win the Pac-12 South division even if Barkley had decided to enter his name into the 2012 NFL draft, but now that the star signal-caller is returning, the Trojans are being talked about as a legitimate national title contender.
As with every other team in college football, the Trojans will have to deal with plenty of changes from last season. So with that in mind, let's have a look at how things will be different at USC in 2012.
1. There's Light at the End of the Tunnel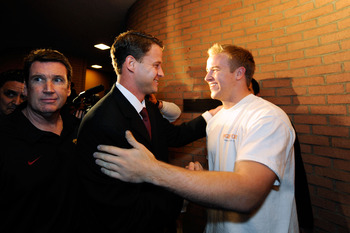 Lane Kiffin and Matt Barkley
Kevork Djansezian/Getty Images
No matter what you thought about the final ruling on the Reggie Bush scandal (personally, I thought it was ridiculous), which forced USC to give up scholarships and prevented the Trojans from playing in the postseason for the past two years, the good news is, it's all in the past.
There is now a light at the end of the tunnel for a program which went to an unprecedented seven straight BCS bowl games under former coach Pete Carroll, as the Trojans will now be allowed to compete in the postseason once again in 2012.
This year, the Trojans have the type of talent on both sides of the ball to win not just a Pac-12 championship but a national championship as well.
It's a season full of possibilities for USC. Now, we just have to wait and see how it all ultimately plays out.
One thing's for sure: it's been pretty weird to go through two-straight bowl seasons without seeing the Trojans in one of college football's many postseason clashes, and it will be fun to welcome them back to the mix this year.
2. Matt Barkley Will Be the Most Talked About Player in College Football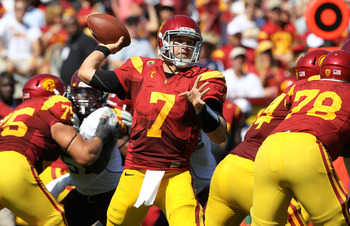 Matt Barkley
Stephen Dunn/Getty Images
Last offseason, Stanford QB Andrew Luck was the college football player that everyone was fawning over.
The amount of publicity that Luck received was basically unprecedented, and it didn't leave much room for his fellow Pac-12 counterpart, Matt Barkley, to garner many preseason headlines.
You could make the argument, though, that Barkley actually ended up having the more impressive overall 2011 campaign.
Now that Luck is an Indianapolis Colt, it will now be Barkley's turn to assume the role of college football's cover boy for the 2012 season.
The star senior signal-caller is already being touted by many as the preseason favorite to win the Heisman Trophy and the front-runner to be the No. 1 overall pick of the 2013 NFL draft.
After his performance last season, Barkley definitely deserves the attention, but there comes a point when all of the hype and expectations can begin to weigh on a young college player.
Just ask Luck, Jake Locker or even former USC quarterback Matt Leinart.
Like Barkley, all three were in the same exact position as he's in now before the start of their final collegiate seasons. Yet, none of them managed to live up to expectations and win a national championship or a Heisman Trophy in their final year.
Now that Barkley is college football's most coveted commodity, it should be very interesting to see how he handles all of the pressure.
The seasoned senior quarterback looks like he's handling everything as well as possible right now, but we'll have to wait and see how he performs once the fall finally rolls around.
3. The Secondary Will Be One of the Best in the Country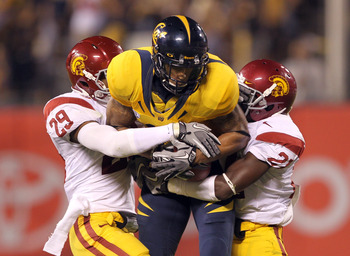 Jawanza Starling and Nickell Robey
Ezra Shaw/Getty Images
If you go by just the numbers on the stat sheet, there wasn't really anything that was all that impressive about USC's secondary in 2011.
The Trojans ranked 102nd in the country in pass defense last season, and they only managed to muster up a measly nine interceptions.
Still, when you take into account the fact that the USC defense faced 457 total pass attempts and only gave up a very respectable 6.9 yards per pass attempt, the perception does change a bit.
This is a defensive backfield that returns all four starters from last season, including potential All-American candidates such as cornerback Nickell Robey and safety T.J. McDonald.
With the type of talent, depth and experience that the Trojans have in the back end of their defense this season, you have to assume that the USC secondary will be one of the most improved units in college football in 2012.
4. Matt Kalil Won't Be Guarding Matt Barkley's Blindside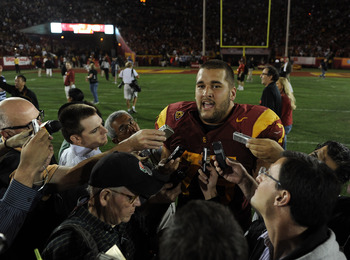 Matt Kalil
Harry How/Getty Images
For the second year in a row, USC is going to have to figure out how to replace an offensive tackle that was selected in the top 10 of the NFL draft.
Last year, it was Tyron Smith that had to be replaced.
This year, it's left tackle Matt Kalil, who was taken by the Minnesota Vikings with the fourth pick of the 2012 NFL draft.
Kalil was one of college football's most consistent and reliable offensive linemen for the past two seasons. He was a big reason why USC allowed just eight sacks in 2011 which was the lowest total in the country.
QB Matt Barkley will certainly miss his talented blindside bodyguard, but even without Kalil on the edge, the Trojans should still have one of the top offensive lines in the nation this year.
The returning four starters—center Khaled Holmes, guards Marcus Martin and John Martinez and tackle Kevin Graf—will all compete for Pac-12 honors this year. Kalil's replacement, sophomore Aundrey Walker, seems like he has the physical tools to become USC's next big NFL tackle prospect in the years to come.
5. Oregon and Notre Dame Will Both Visit Los Angeles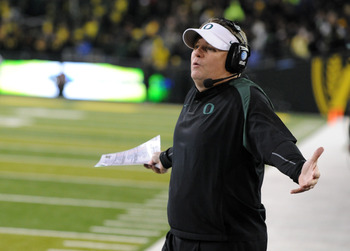 Chip Kelly
Steve Dykes/Getty Images
Two of the toughest opponents on USC's 2012 schedule—Pac-12 foe Oregon and longtime rival Notre Dame—will both have to make the trip to Los Angeles this season.
There aren't many opponents that will be able to hang with the Trojans this season, but the Ducks and the Irish are two teams that both have the talent to put a true scare into USC. That's why it's so important to have home-field advantage for both games.
If all goes according to plan, USC will be 8-0 at the beginning of November. But with these two tough tests still remaining on the slate, the Trojans certainly won't be able to just waltz into the BCS championship game from there.
6. Teams Now Know About WR Marqise Lee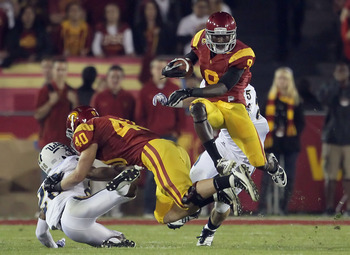 Marqise Lee
Jeff Gross/Getty Images
One of USC's secret offensive weapons last season turned out to be a dangerous young true freshman receiver by the name of Marqise Lee.
Lee exploded onto the scene in 2011, catching 73 passes for 1,143 yards and 11 touchdowns, and he turned out to be a perfect complement to fellow receiver Robert Woods.
The 6'0'', 190-pound former four-star recruit will now enter his sophomore season as one of the most talked about and feared receivers in the Pac-12. He won't be able to catch any opposing secondaries sleeping this season.
The fast, fluid and savvy young pass-catcher would demand double-teams if he played on almost any other team, but with Woods on the other side of the field, it's going to be a nightmare for defenses to try to stop both receivers.
Pac-12 coaching staffs now have a season's worth of game film on Lee, and they will likely spend some considerable time trying to figure out how to slow him down. But that will probably prove to be much easier said than done in 2012.
7. The National Spotlight Will Be Shining on the Trojans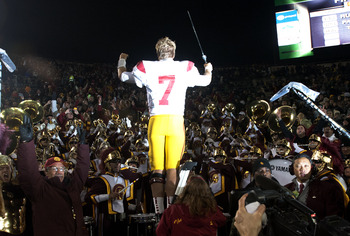 Matt Barkley
Steve Dykes/Getty Images
USC hasn't been ranked in the top 10 of the preseason polls since 2009.
That will change this year, however, as the Trojans are set to take either the top spot or the second position behind LSU in both major rankings this summer.
After watching USC routinely beat up on weaker conference foes for nearly a decade under former coach Pete Carroll, it should be interesting to see how the team handles being back on the national scene in 2012.
After last season's impressive 10-win campaign, there's now a serious buzz surrounding USC football for the upcoming season. It will be entertaining to watch how the Trojans handle the role of preseason favorite—something that they haven't had to deal with at all during the Lane Kiffin era.
Kiffin has the type of elite talent that he needs to take his team on a run to Miami. But it remains to be seen how his players will be able to handle all of the pressure and scrutiny that is going to be thrust upon their shoulders over the next few months.
Keep Reading

USC Football: Like this team?