NFL: Roger Goodell's Discipline Falling on Deaf Ears
July 2, 2012

Mike Stobe/Getty Images
Roger Goodell's hold on the NFL is slipping.
Along with the rest of the NFL fans, the harsh disciplinarian has seen too many unfortunate off-the-field incidents throughout the 2012 offseason.
Recently, San Francisco 49ers' linebacker Aldon Smith was stabbed at a party. According to Eric Branch of the San Francisco Chronicle:
"Five months after being arrested for driving under the influence in Miami Beach, Fla., Smith sustained what the team described as minor injuries early Saturday at a party east of San Jose where two people were shot and one was stabbed. The Santa Clara County sheriff's office did not identify the victims, but Smith was the stabbing victim, according to multiple reports."
Regardless of how everything started, players in dangerous situations and the wrong places have been seen more often.
The Lions alone have had multiple issues this offseason with six incidents for 2012, and according to George Sipple and Kevin Bull of the Detroit Free Press, cornerback Aaron Berry is the most recent:
"Berry, 24, was charged with misdemeanor driving under the influence, two counts of accidents involving unattended vehicles and two counts of failure to stop and render aid leaving the scene of an accident early Saturday morning, according to Harrisburg Police Cpl. Atah Akakpo-Martin."
Now include other incidents like Justin Blackmon, who was arrested on DUI according to the Associated Press via ESPN, and Goodell is clearly losing the battle in trying to keep NFL players from making bad decisions.
Lest we forget about everything that has unfolded with the New Orleans Saints and bounty-gate, there's also all the players who have filed a lawsuit against the league for health-related issues.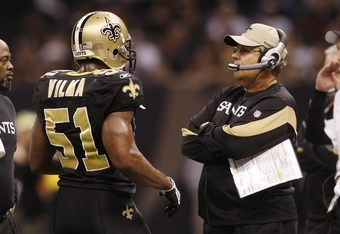 Chris Graythen/Getty Images
Pro football may not be headed down a path of self-destruction, because the sport itself is far too popular to crumble like a house of cards. Still, the game is not headed down a better path, either.
When you combine the offseason incidents, bounty-gate, and former players suing, you can see that the league has definitely had easier times. Perhaps Goodell just came along at the wrong time, because before he became commissioner, the NFL had not been dealing with nearly as many issues.
Any players or fans who are frustrated about all the rule changes to make the game safer certainly have a strong case. The game has changed, and although it's still extremely physical, it's nothing compared to the pre-21st century.
All of that changing could be a side-effect of some of the offseason incidents. Much of what has occurred in 2012 has consisted of younger players potentially affected by their NFL windfall, but nonetheless, Goodell's reputation is declining.
It could also be traced back to how long it took the league and the NFLPA to find mutual ground during the NFL lockout. In short, everything that has transpired under Goodell is beginning to accumulate and backfire on him.
Make no mistake about it, his disciplinarian style from when he began before the 2006 season was needed to make a strong impression. Unfortunately, recent events have not made him a favorable commissioner, and it'll be interesting to see how Goodell handles everything.
Compared to all of his predecessors combined, Goodell has been the biggest and most strict commissioner in the league's history. Obviously, the biggest issue was regarding the most violent of hits and, if anything, unnecessary roughness.
We've seen that specific penalty get called a lot more in recent seasons, and it has led to absolute frustration across the NFL spectrum. From an all-encompassing perspective, Goodell may have to change his ways in order to win back the majority of the players and fans.
However, if off-the-field incidents continue to occur, Goodell may be on thin ice before anyone can react.
Follow John Rozum on Twitter.