6 Current UFC Fighters Who Would Make Great WWE Stars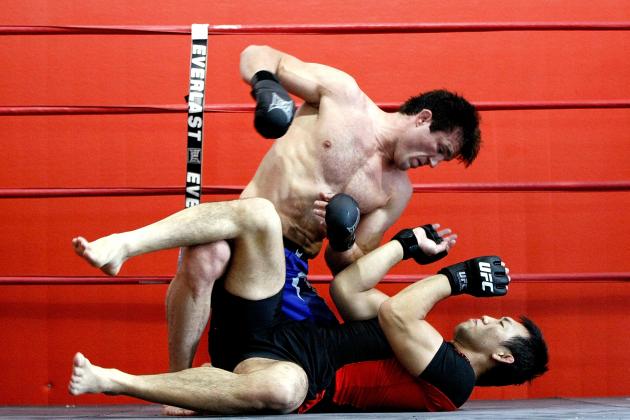 Jonathan Ferrey/Getty Images

The UFC contains some of the best pound-for-pound fighters in the world.
Moreover, these warriors have some of the most volatile personalities seen in the sports world.
Considering their personas, these fighters would become huge stars if they went from the Octagon to the wrestling ring.
Their skills, as well as charisma, would make a significant impact on wrestling. Choosing the wrestling route would definitely lead to them becoming WWE Superstars. Until then, we can only imagine which UFC fighters would make great WWE Superstars.
Who would follow in the footsteps of UFC Hall of Famer Ken Shamrock and succeed?
Here are six fighters that would excel in the WWE.
Begin Slideshow

»
No. 5 is a tie between two men who arguably put the UFC on the mainstream.
Bonnar and Griffin put on an all-out war in the first season finale of The Ultimate Fighter, with Griffin winning via unanimous decision. Both men secured contracts that night, and it was all due to their phenomenal fight.
The Bonnar-Griffin bout had all of the drama needed to create a classic that drew a multitude of fans to watch the UFC.
Both men also have charismatic appeal. They can talk the trash while still providing exciting fights.
They can easily perform as a tag team or have a lengthy feud.
It won't matter if they are good guys or bad guys. They will keep you enthralled in the ring.
Michael Bisping isn't really known for his personality.
In fact, he's known for his attitude.
Bisping doesn't insult his opponents with flair but with an extra sting toward his opponents.
It works. His enemies hate him for his insults. Fans hate him as well.
Bisping would be a pretty good heel in the WWE, if not great. He has that arrogant demeanor that fans love to see, especially when he takes a beating.
Bisping's arrogant attitude is much like Wade Barrett's persona.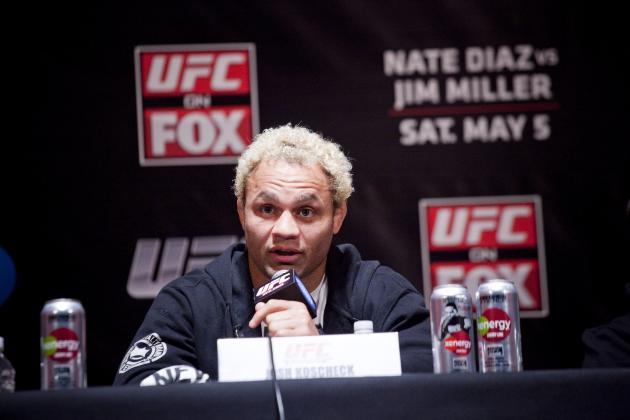 Michael Nagle/Getty Images

Koscheck is not liked by any means.
Many UFC fans wanted to see Koscheck get torn apart by George St. Pierre in their second match for the UFC Welterweight Title.
They weren't disappointed.
It's quite easy for fans to cheer against Koscheck.
He's obnoxious as well as a troublemaker in the first season of The Ultimate Fighter. Whether playing pranks or almost causing brawls, Koscheck knows how to push buttons.
Who is the perfect heel to root against? Josh Koscheck!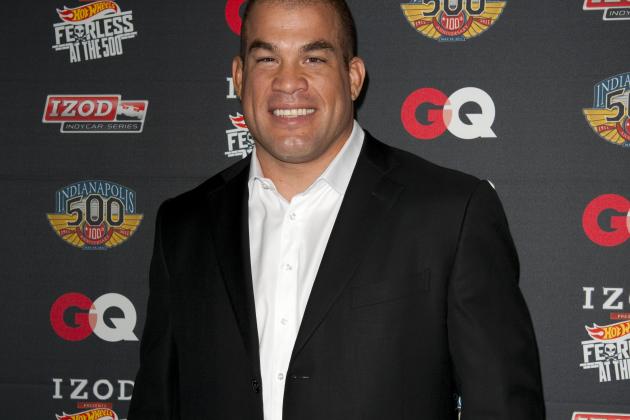 Robert Laberge/Getty Images

His nickname alone makes a great WWE character.
Ortiz's taunting antics over the years have made him one of the most despised men during his prime.
His feuds with Ken Shamrock and Chuck Liddell were personal and oozed their hatred toward each other.
Ortiz would have made quite the heel in his prime. Now, it could be a mixed bag.
The trend for the past few years is to root for wrestlers who were once great heels. Triple H and Ric Flair are two examples. Fans cheer for these wrestlers because they've earned the respect.
Over time, Tito Ortiz would earn that same respect.
Jonathan Ferrey/Getty Images

Sonnen is undoubtedly the most vocal fighter in recent history.
He interviews like a wrestler. He has the talk and the walk. The No. 1 contender for the UFC Middleweight Championship conducts "promos" and gets the crowd riled up.
Sonnen is the CM Punk of the UFC—a man who isn't afraid to speak his mind.
In his recent verbal onslaught on Silva, he managed to enrage him which is difficult to do since angering the seemingly quiet Silva takes a lot.
Sonnen would fit in the WWE as both a face and a heel. He can easily play the bad guy and his work as a face would be similar to CM Punk, an antihero.
His interviews and ability to get the crowd invested in his fights before they happen is the reason why Chael Sonnen is the best fit for the WWE.