MLB Trade Deadline: New York Mets Should Consider Trading Jason Bay
July 2, 2012

Patrick McDermott/Getty Images
It's crunch time and the New York Mets need to consider moving Jason Bay out of Flushing. 
When Bay joined the Mets in the winter of 2009, I thought they had found their power hitter and everyday left fielder. 
Instead, the Mets have an injured outfielder with a large contract and an injury bug he can't seem to shake. 
No one foresaw the concussion or the bruised ribs; the severity of these injuries make me wonder if the Mets would consider releasing or trading Bay and his contract as a means to salvage their payroll.
Tim Dierkes of MLBTradeRumors.com cited Jason Bay as one of many highly paid players who may be considered for release by their respective teams.
There is no reason to suspect that even though the Mets have been know to dump high-profile players with bloated salaries (see Oliver Perez and Luis Castillo), they will do so with Bay.
If they release Bay, then the team does not have to cover his $17 million option for 2014. I don't foresee the Mets doing that this season, but during the next offseason, that would become a strong possibility.
His absence would open up some wiggle room for the front office to add bullpen help, an area that the Mets have been struggling with this season.
Bay offers a lot to a club, but the Mets have not been the right fit for him.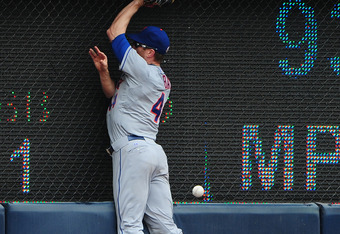 Scott Cunningham/Getty Images
It happens to many teams (Vernon Wells and the Angels being one example), and now the Mets need to consider moving him in order to make a push for the NL East title. 
His history with the Mets reads thus: .251/21/109. That's three years worth of offense for $66 million.
It's unfortunate that Bay is hurt. After having such great 2008 and 2009 seasons with the Red Sox (he batted .267 with 36 homers and 119 RBI in 2009) he has been unable to continue that success with the Mets.
Sure, Citi Field is no Fenway. The latter is a hitter-friendly park, and even though Citi moved their outfield walls in, they aren't the same.
But his history as a player who can hit to all parts of the field, as well as his power and defensive capabilities, are definitely enough to lure some teams in need of a right-handed bat.