2012 NBA Draft: Way-Too-Early Predictions for NBA's All Rookie Teams Next Year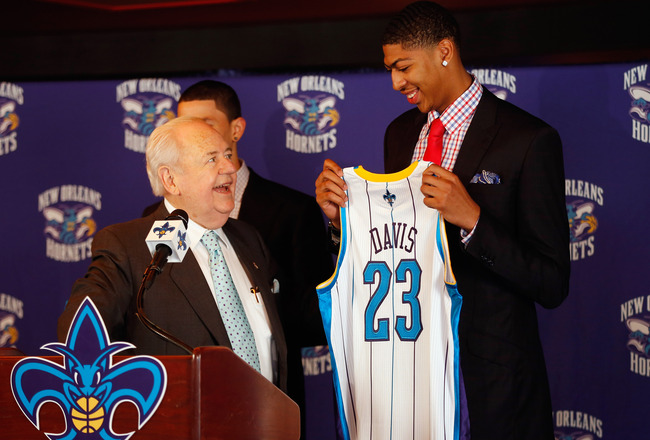 Chris Graythen/Getty Images
With the 2012 NBA Draft in the books and the offseason upon us, it's never too early to look forward to the 2013 season.
That's especially true when talking about this year's rookie class.
In a very deep draft, plenty of rookies will get the opportunity to produce immediately in their inaugural NBA campaign.
With that being said, here's a look at some way-too-early predictions for the 2013 NBA's All Rookie teams.
First Team PG: Damian Lillard, Portland Trail Blazers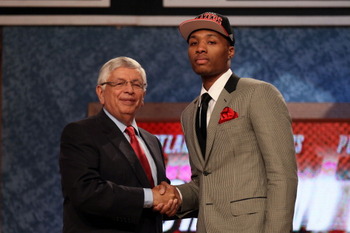 Elsa/Getty Images
I love Lillard's game and his ability to shoot the ball will result in him putting up some very good numbers as a rookie.
As a senior, Lillard shot 46.7 percent from the floor, 40.9 percent from behind the arc and 88.7 percent from the free-throw line.
He will be given the opportunity for immediate minutes and could be a serious Rookie of the Year candidate.
First Team SG: Terrence Ross, Toronto Raptors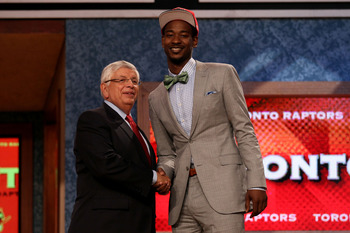 Elsa/Getty Images
There are a ton of good 2-guards in this draft class, and while I love Dion Waiters, Bradley Beal and Jeremy Lamb, I think Ross will be a big surprise.
He will be fighting for minutes at the start of the season with DeMar DeRozan, but I expect before long the shooting guard sport will be Ross'.
He has great size for the position at 6'6" and insane athleticism.
He's a guy that can do everything on the floor well.
Ross can score from the inside and outside and is also a very good rebounder and defender.
He may seem like a bit of a surprise here, but I think he will have a very good rookie season.
First Team SF: Harrison Barnes, Golden State Warriors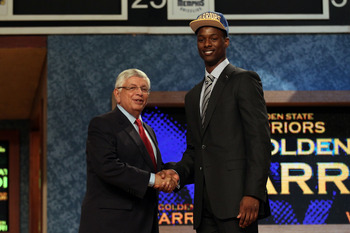 Elsa/Getty Images
Barnes slides into a very nice situation in Golden State, in a starting lineup that should also include Stephen Curry, Klay Thompson, David Lee and Andrew Bogut.
He has the ability to become a top scoring option in the NBA, but the pressure won't be on him initially to do so. He will be able to just go out and play and should put up good numbers.
On a talented team like the Warriors, I expect Barnes to have an impact during his rookie season.
First Team PF: Anthony Davis, New Orleans Hornets
Jeff Gross/Getty Images
Davis will probably play the 4 as much as he plays the 5 and the rookie team rarely sticks to awarding players based strictly on position.
The No. 1 overall pick will impact the game in a big way at the defensive end of the floor and he will put up solid numbers offensively as well.
It was very hard to leave Thomas Robinson off the first team, but Davis will be that good.
First Team C: Jonas Valanciunas, Toronto Raptors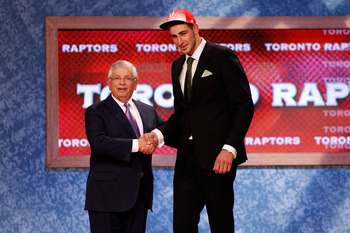 Mike Stobe/Getty Images
Valanciunas is coming to the NBA and will show Toronto Raptors fans that he was well worth the wait.
He had a solid season for Lietuvos Rytas where he averaged 11.7 points, 7.4 rebounds and 1.7 blocks per game, while shooting 62.3 percent from the floor.
Toronto is getting a pair of youngsters that will make an impact in 2013.
Second Team PG: Kendall Marshall, Phoenix Suns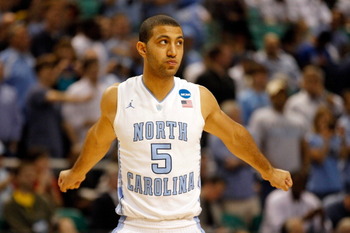 Streeter Lecka/Getty Images
I have some doubts about how Marshall's game will translate to the NBA, but in a very weak point guard class, he's clearly the only other guy next to Lillard that's ready to play.
Marshall won't be bad as a rookie, but he almost gets this spot by default.
Second Team SG: Bradley Beal, Washington Wizards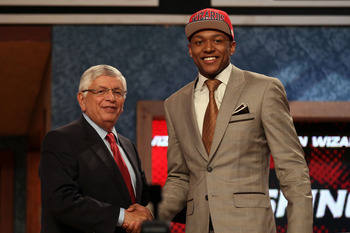 Elsa/Getty Images
I could easily have had Beal on the first team, but I think Ross is going to be very good.
Beal will as well, as he jumps into a Wizards lineup that is suddenly better than last year.
We will see how his shooting translates to the NBA, as he only shot 33.9 percent from behind the college three-point line last season.
I have no doubts he will be good, but he got slightly edged out for first team honors.
Second Team SF: Michael Kidd-Gilchrist, Charlotte Bobcats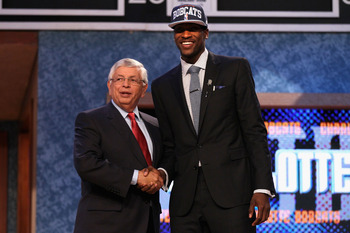 Elsa/Getty Images
MKG certainly has first-team type talent, but I think Barnes will be in an opportunity to put up better overall numbers.
In addition, Kidd-Gilchrist will be playing on a bad team and may have his struggles at the offensive end.
I love his defensive ability and think he will have a nice rookie year, but when these teams are voted on, they are picked mostly due to numbers and MKG's won't be as good as Barnes'.
Second Team PF: Thomas Robinson, Sacramento Kings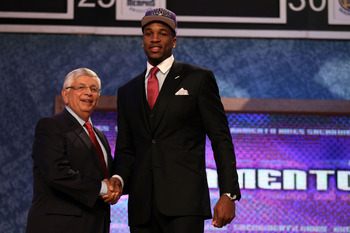 Elsa/Getty Images
I love Robinson's game and his potential, but it was hard not to put Davis on the first team ahead of him.
That doesn't mean Robinson won't have a good year though.
After putting up 27 double-doubles on the year at Kansas, Robinson may be the most NBA-ready rookie. He could be in the running for the Rookie of the Year as well, but his inclusion on the second team just shows how deep this draft was.
Second Team C: Tyler Zeller, Cleveland Cavaliers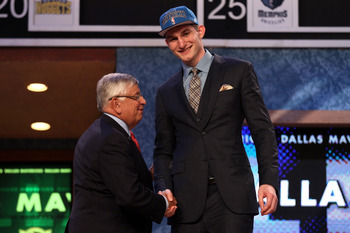 Elsa/Getty Images
Zeller is a bit of a surprise, but I think he could be productive as a rookie.
He's a very good athlete that can run the floor well and has very good leaping skills. In addition, Zeller is very good fundamentally and has a soft touch around the rim.
He won't be an All-Star, nor will he average the 16.3 points or 9.6 rebounds that he did during his senior season, but the ACC Player of the Year has a chance to surprise people as a rookie.
Keep Reading