Florida Football Recruiting: Denying Admission to 4-Star DT Will Hurt Gators
July 2, 2012
The Florida Gators football program is going to take a huge hit with the apparent loss of four-star defensive tackle recruit Dante Phillips.
Anytime a program that's in a rebuilding process loses a four- or five-star recruit it's going to sting, but this situation may bring the pain both on and off the field as far as Florida recruiting is concerned.
According to a report via Robbie Andreu of gatorsports.com, Phillips has been denied admission to the university:
Four-star defensive tackle Dante Phillips has been denied admission to the University of Florida, according to his stepfather, Damon Wilson.
"We were kind of blindsided," Wilson said Monday. "He did everything he needed to do to be cleared by the (NCAA) Clearing House, but now he's been told he doesn't have a scholarship to Florida.

"He's been cleared by the NCAA. He's academically eligible. But the admissions office says he can't enroll at Florida. If he can't get in there, we have to look at other places. He's got some offers out there. He's totally qualified (academically)."
Also via Andreau's report, Phillips will try to appeal the decision, but he doesn't expect to win.
I have three words to describe this situation: What. A. Mess.
This is going to hurt in more way than one.
On the Field: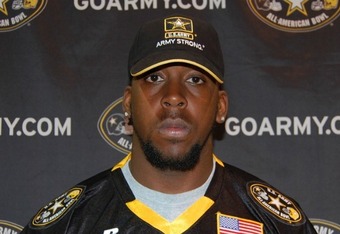 Phillips projects to be a stud, there is really no other way to put it. He's 6'6'', 268 pounds coming out of high school and he can run a sub-five 40.
This would be the appropriate time to shed a tear, Gators fans...
At that height and weight he should be able to play any position on the defensive front, and one could only imagine how dominant he could become with the training and coaching Florida would provide him.
This is certainly a huge loss as far as the game of football is concerned, but the bigger issue may come on the recruiting trail.
Recruiting Impact: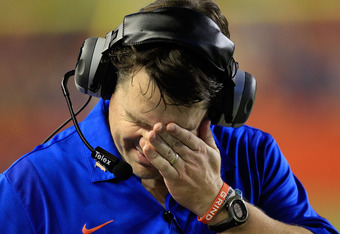 Sam Greenwood/Getty Images
I have no problems with a prospect being denied admission because of academic standards, and honestly nobody should. The problem I have with this, and the problem other potential Gators could have, is the way this reportedly happened.
Read the statement made by Phillips' stepfather again. He uses the words "blindsided", which is never something you want to hear from a parent no matter the situation. Later on in Andreu's report, we find another potentially troubling statement for future recruits:
Wilson said Phillips always thought he was in good shape academically to enroll at Florida.

Phillips was in Gainesville last Thursday when UF informed him he had been denied admission.

"Something like this should never happen," Wilson said.
So, Phillips reportedly thought he was good to go academically at Florida, but all of a sudden he was denied and is not?
As a coach or recruiter for a college team, isn't it your responsibility to let a kid and his parents know if there's even a hint of a possibility that things may not go through? At least according to this report, Phillips and his stepfather were both under the impression that he was set.
I can imagine that's where the word "blindsided" came into play.
We don't know Florida's side of the story based off this, but either way this isn't a good look for them.
If Phillips can get blindsided after making his commitment—over two years ago mind you—and signing with the program, what leads a parent to believe that the same scenario won't happen to their child?
Was there any communication regarding even the potential of a denied admission? Hopefully there was, but chances are we'll never know.
As far as Florida is concerned, what we don't know might hurt them.