Detroit Tigers' Austin Jackson: Biggest 2012 MLB All-Star Snub
July 3, 2012

Al Messerschmidt/Getty Images
Austin Jackson got a raw deal, period.
The Detroit Tigers center fielder was not one the 34 players selected from the American League to attend the 83rd MLB All-Star game.
But he definitely should be heading to Kansas City on July 10 for his first All-Star game.
Jackson has a team-leading .322 average and .404 on-base percentage, and has eight home runs and 35 RBI in just 58 of Detroit's 80 games.
Jackson was hitting .400 in April before going down with an abdomen injury that kept him out of the lineup for 21 games. He returned to the club on June 9 and didn't miss a beat, going .317 with three home runs and 17 RBI in 20 games last month.
The 25-year-old lost out on the AL roster to starting outfielders Josh Hamilton (Texas Rangers), Curtis Granderson (New York Yankees) and Jose Bautista (Toronto Blue Jays), and reserves Adam Jones (Baltimore Orioles), Mike Trout and Mark Trumbo (Los Angeles Angels of Anaheim).
There's no dispute about the starters who all deserve their spots in the Midsummer Classic.
But Jackson absolutely has an argument with the reserves.
His resume is similar to Trout's (.339, 9 HR, 33 RBI), Trumbo's (.308, 20 HR, 55 RBI) and Jones' (.298, 19 HR, 42 RBI), and Trumbo has played 13 more games than Jackson, while Jones has played 21 more games.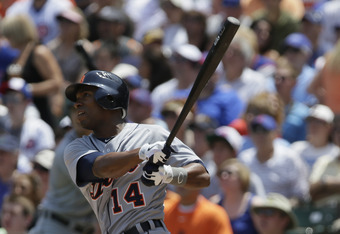 John Gress/Getty Images
Jackson is riding a nine-game hit steak, and is hitting .333 (13-for-39) with one home run and five RBI in that span. And Jackson becomes exponentially more dangerous in favorable counts. This season, he's hitting over .600 when he's ahead in the count, which is best in MLB.
His biggest improvement this season has been cutting down on strikeouts. A year ago, Jackson struck out 181 times, which was third most in the Major Leagues last season, and tied for 25th most all time. Through 58 games this year, Jackson has 58 strikeouts and is on pace for less than 110 for the season.
He ranks fifth in the AL in average, third in OBP and eighth in OPS (.928).
Not only did All-Star voters ignore Jackson's numbers, but they didn't account for his defensive prowess or his value.
Jackson hasn't committed an error in center field this season in 133 chances and is one of five AL outfielders with a perfect fielding percentage this year. And the Tigers were lost without Jackson in the lineup, compiling an 8-13 record while their leadoff hitter was on the disabled list.
Notes
Jackson could have made the All-Star roster if he'd been chosen by AL manager Ron Washington, but Washington chose Joe Nathan, his own closer, for one of the final AL roster spots. The Rangers have seven players represented in the All-Star game.
Jackson will likely be the first player to replace a current All-Star that withdraws from the game between today and July 10.
Other notable snubs for this year's All-Star game were A.J. Pierzynski (Chicago White Sox), Johan Santana (New York Mets) and Zack Greinke (Milwaukee Brewers).
As of Tuesday, Jackson is not a candidate for the AL Final Vote contest.