Pacman Jones Amazes with Story of Legendary Million-Dollar Weekend
March 30, 2017
Handout/Getty Images
One-million dollars goes a long way, unless you are Cincinnati Bengals' Adam "Pacman" Jones, because then it's enough to make for a really good weekend. 
Pacman did a great deal of bad during his tumultuous career, and now he is hoping to do some good by imparting his experiences to the next wave of superstars. 
The latest tall tale from the Rookie Symposium has Jones making it rain one fateful weekend to the tune of a cool million. Even Terrell Owens was shocked. 
Sports Illustrated's Peter King reports on the most interesting nuggets to come out of the Rookie Symposium. 
Jones regretfully recounted spending $1 million in one weekend! To which Owens looked at him, smiling, and said, "Man, you crazy!"
No follow up?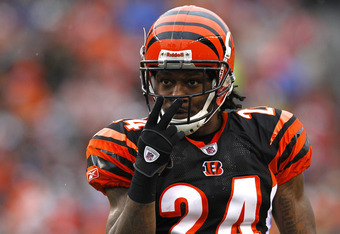 Tyler Barrick/Getty Images
What the hell did he spend that much money on? Normally I would err on the side of privacy and keep these things to a personal nature, but how do you not finish off this story with a laundry list of weekend treasures?
I am sure he recounted to the room full of rookies how he managed to waste that much money, but for our purposes, this is the biggest tease in all of sports. 
Judging by Pacman's past exploits, I can assume a good portion of the weekend was spent at the strip club. The drinks there are fairly expensive...from what I hear. 
I still can't fathom dropping even a percentage of that much money there. Creativity is a must if you are going to throw that much money at the world in so little a time. 
I know this is meant to be a lesson to future millionaires on how to be fiscally responsible. Seeing as how I am in no danger of blowing a million any time soon, I ask you to give me your best million-dollar weekend. 
Follow me on Twitter for a whole lot of awesome.