MLB All-Star Rosters 2012: Cincinnati Reds Shouldn't Question Tony La Russa
July 2, 2012

Jamie Squire/Getty Images
Tony La Russa, the first manager to ever retire immediately after winning the World Series, is coming out of retirement for a one-game stint as the National League manager of the 2012 MLB All-Star Game.
But before La Russa could even take his old Cardinal uniform out of the closet, Cincinnati Reds manager Dusty Baker took a shot at the future Hall of Famer.
Baker accused La Russa of "snubbing" pitcher Johnny Cueto and second baseman Brandon Phillips from the NL All-Star roster (from Sporting News). Baker believes that La Russa left Cueto and Phillips out of the game because of their involvement in a brawl between the Cardinals and Reds two years ago.
In August of 2010, Phillips told the media (from NBC Sports):
I really hate the Cardinals. Compared to the Cardinals, I love the Chicago Cubs. Let me make this clear: I hate the Cardinals.
The next day, Phillips led off against St. Louis by tapping the shin guard of Cardinals catcher Yadier Molina, a routine that Phillips follows before every game.
Molina, having heard the comments from the day before, did not appreciate the gesture. A bench-clearing brawl ensued, resulting in three suspensions and four fines.
Cueto was given the longest suspension–seven games—after kicking Jason LaRue in the head with his cleats. LaRue suffered a concussion, one that forced him to retire from the game of baseball.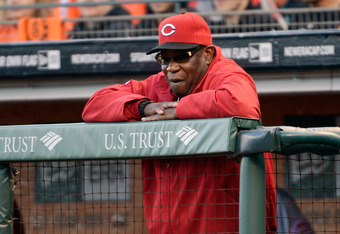 Thearon W. Henderson/Getty Images
La Russa has not taken Baker's comments lightly, telling the St. Louis Post-Dispatch:
The comments Dusty made clearly disappoint me and are attacking my integrity. The All-Star experience is too important to let anything stand in the way of a decision like that.
Last week, fans and players voted on the first 24 All-Star selections, leaving La Russa to fill the final nine spots of the roster. La Russa's only restriction was that all 16 National League teams had to be represented in the game.
It's understandable for a manager to defend his players, but Baker had no right to criticize La Russa in this situation. 
La Russa, more so than anyone, understands the importance of the Midsummer Classic. Last year, La Russa's Cardinals were down 3-2 to the Texas Rangers when St. Louis regained home-field advantage for the final two games of the World Series. Without a National League victory in the All-Star Game, the Cardinals may have never won the title.
La Russa isn't holding a grudge against the Reds—he's simply finding the most flexible roster that will give the NL the best shot at winning their third game in the last 15 years.
Of the final nine players La Russa selected, three were starting pitchers and one was a middle infielder.
As far as pitching goes, La Russa's three picks (Clayton Kershaw, Wade Miley and Cole Hamels) were all left-handers; Cueto is right-handed. And anyone who knows La Russa knows his bullpen tactics border on obsessive-compulsive. He's constantly moving pitchers on and off the rubber in hopes of finding the best matchup possible.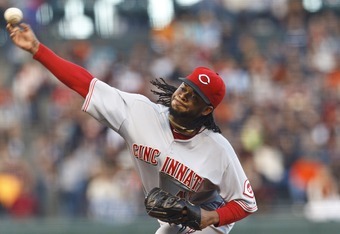 Jason O. Watson/Getty Images
Before his picks, the NL had five left-handers in comparison to eight righties. 
It's simply strategy.
Plus, if Baker is as concerned with Cueto's All-Star bid as he says, why would he start Cueto the Sunday before the All-Star Game? Why would La Russa pick someone with two days' rest when he has an entire league of pitchers to choose from?
And in response to Brandon Phillips, it couldn't have been more of a tossup between him and Washington Nationals' shortstop Ian Desmond. 
Here, take a look for yourself:
Phillips: .285 AVG, .442 SLG, 10 HR, 46 RBI
Desmond: .276 AVG, .484 SLG, 13 HR, 43 RBI
With nearly identical stat lines, the decision must have come down to versatility. Desmond can play second base better than Phillips can play shortstop.
La Russa is third in wins among managers in MLB history. He's won the World Series three times and has been voted Manager of the Year four times. As far as I'm concerned, you don't question that kind of success.