Philadelphia Eagles: Getting Back to Basics Will Guarantee Playoffs in 2012
Jonathan Daniel/Getty Images
If the Philadelphia Eagles can get back to mastering the art of basic football, they will at least make the playoffs in 2012.
Is more than just a trip to the postseason expected of this team? Absolutely, but I'm not going to guarantee anything beyond the playoffs.
So, what do I mean by getting back to the basics?
Well, if Dorothy was skipping down the yellow brick road in Philly, she'd be singing "Dropped passes, missed tackles and turnovers, oh my!"
Yes, those three things—dropped passes, missed tackles and turnovers—absolutely doomed the birds last season. Forget about all the other stuff and think about basic football for a minute...what are the basics?
The basics are what every coach preaches, especially in training camps. Blocking and tackling are the two most rudimentary things when it comes to playing football. Then there are things like technique, securing the football, throwing and catching, route-running and understanding the playbook.
Those are all fundamentals that players must master, with some more than others depending on their position. In 2011, the Eagles were among the NFL's worst in dropped passes, tackling and turnover differential.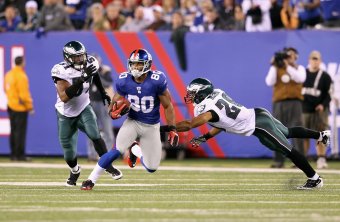 Al Bello/Getty Images
The fact that the Eagles played sloppy football last season is not groundbreaking news here. However, given how they performed in those three categories, I still find it astonishing they were even able to post an 8-8 record last year.
The Eagles were tied for second-worst in the turnover ratio in 2011 at -14. That put them in the company of teams like Washington, Arizona, Tampa Bay and Indianapolis. Needless to say, none of them made the playoffs.
In contrast, teams like New England, Houston, Green Bay and San Francisco were all leaders in this category. All four teams made the playoffs.
Heading into December of last season, the Eagles were tied for the league lead in dropped passes with 23. Unfortunately, I can't find any end-of-year stats for this category to go by, but I'm sure you can remember that this was a problem last year, to say the least.
As a matter of fact, Pro Football Focus has a new post up today where they have DeSean Jackson ranked as the fourth-worst wide receiver in "drop rate" over the past three seasons. Drop rate is the percentage of passes dropped based on how many "catchable" balls came their way.
According to PFF, Jackson has a drop rate of 12.95 percent, based on dropping 25 catchable passes out of 193.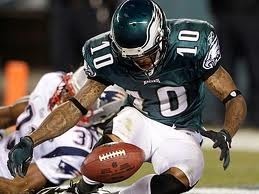 Photo: Yong Kim/Philly.com staff
Last season, Jackson wasn't the only one dropping passes as Jeremy Maclin had his fair share as well. And the normally sure-handed Avant even had issues here and there catching the ball.
Other teams leading the league in dropped passes were Cleveland, Tampa Bay, St. Louis and somewhat surprisingly, the Giants. However, New York is the only anomaly there since they actually won the Super Bowl, but remember, their regular season record was just 9-7.
Not only did the Eagles have serious ball problems (turning it over and dropping it), but they couldn't tackle either.
PFF posted an article around Week 11 last year that showed the Eagles as being the second-worst tacking team in the NFL. At that time, they had a missed tackle rate of a whopping 13.24 percent after missing 69 tackles out of 521 tackle attempts.
The Eagles ended the season with 108 missed tackles. I can't say for sure where exactly that ranked, but rest assured it's not good. In this category, they were in the company of teams like Tampa Bay, Carolina and Miami.
By the way, my point with naming other teams who were around the Eagles in the rankings of these categories is to show that most of them did not make the playoffs last year (except for the Giants, in the category of dropped passes).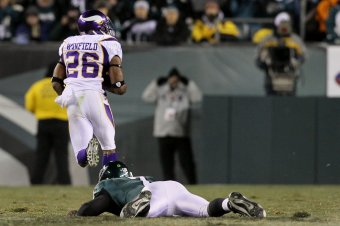 Jim McIsaac/Getty Images
There were a few playoff teams who may have been in the top 10 (worst) in one or two of these categories, but none who were in the top three or four.
So again, football fundamentals: Catch the stinkin' ball when it hits your hands, hold onto the ball when you have it, make better decisions when you throw it and for the love of God, tackle somebody!
The Eagles have talent on both sides of the ball. They've created an extremely positive atmosphere this offseason by making popular moves. There are no lingering issues or distractions heading into training camp.
Right now, life is grand in Philadelphia.
It can't get any easier. If the Eagles can improve to at least the top half of the league in these three basics of football, they will make the playoffs in 2012.
If they can improve even more while in the postseason, the sky is the limit.
Follow me on Twitter!
This article is
What is the duplicate article?
Why is this article offensive?
Where is this article plagiarized from?
Why is this article poorly edited?

Philadelphia Eagles: Like this team?