NHL Rumors: Ranking Best Fits for Free Agent Zach Parise
July 2, 2012

Paul Bereswill/Getty Images
At least five teams will be waiting with bated breath on Monday to find out if they are the path free-agent forward Zach Parise has chosen.
According to TSN's Bob McKenzie (via SI.com), Parise narrowed down his field of consideration to five teams, which reportedly includes New Jersey, Minnesota, Philadelphia, Pittsburgh and Detroit.
As the world awaits his final word on Monday, here's a look at Parise's best options, ranked worst to best.
The Flyers' offense has long been one of the most scintillating in the NHL, and there's little doubt that with the addition of Parise, it could be one of the best in the league. But whether or not Parise is serious about signing with Philly is unclear.
According to Comcast SportsNet Philadelphia's Tim Panaccio, the Flyers extended an offer to Parise that is somewhere in the neighborhood of 12 years and $80-$110 million. Sources told Panaccio that the Flyers' offer would pay Parise more than any other team.
But there hasn't been much evidence that Parise is all that interested in playing in Philly. Maybe the money really will be enough to lure him—but given his personal connections with many of the other teams still in the running, and given the fact that they're all willing to pay him plenty, it's hard to believe he'd choose the Flyers.

4. New Jersey Devils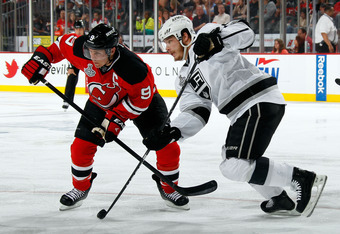 Bruce Bennett/Getty Images
Though both sides seem to be trying to deny it, it doesn't look good for Parise and the Devils. New Jersey couldn't come to an agreement with its captain before free agency began at noon on Sunday, and ever since, the front office has been disturbingly silent, according to The Record's Tom Gulitti. 
Though the Devils reportedly made "a very competitive offer," as a source told Gulitti, they might not be able to compete with the offers coming out of other camps. Especially considering the fact that the Devils just re-signed Martin Brodeur for two years and $9 million, it's unclear whether they will have the funds to retain Parise.
Still, Parise urged the New Jersey faithful not to lose hope. He told the Associated Press:
"I'm not at liberty to say right now who's in or anything like that. But just because it got to noon, by no means does that say that the Devils aren't one of my top teams."

3. Minnesota Wild
A couple of factors look really good for the Wild: the fact that Parise is a hometown guy, and the fact that he's currently building a house in the Minneapolis suburbs, according to the AP. 
There's also the fact that the Wild have over $19 million to spend in order to lure in Parise, and according to the team's Twitter account, it already has submitted an offer:
From the Wild war room: the #mnwild have submitted contract offers to free agents Zach Parise and Ryan Suter.

— Minnesota Wild (@mnwild) July 1, 2012
Now, it's just a matter of waiting.
Though the Wild can pony up the cash, they aren't as competitive as teams like Pittsburgh or Detroit that are actively pursuing Parise and can also afford to pay him. But maybe he'll give the Wild a hometown discount. 

2. Detroit Red Wings
The Wings made a plethora of free-agent signings on Sunday, but that didn't affect their ability to make "a significant offer" to Parise, according to The Detroit News, which reports that it will take 10-12 years and about $90 million to get him to sign. 
After their acquisitions on Sunday, the Wings have about $11.5 million remaining in terms of salary cap space, but they can obviously pad that number by trading or releasing players. 
Given the rich history of success in Detroit, it's hard to believe Parise won't give the Red Wings their due when he makes his ultimate decision. They can pay him, and they can give him a very good shot at winning.
There's a lot of buzz surrounding the idea of Parise going to the Penguins, primarily because if he joins them, he could be giving hockey its version of the Miami Heat. With Sidney Crosby, Evgeni Malkin and Parise all on the same roster, it's hard to believe there would be any team in the Eastern Conference able to compete with them.
According to the the Pittsburgh Tribune-Review's Josh Yohe, Pittsburgh is prepared to give Parise the 10-year contract he wants, worth between $75-$80 million:
I'm expecting Pens to offer Parise something in neighborhood of 10 years, $75-80 million.

— Josh Yohe (@JoshYohe_Trib) June 30, 2012
On top of the money and the chances of winning in Pittsburgh, Parise and Crosby are close friends, and according to ESPN's Pierre LeBrun, Crosby has reached out to his buddy in an effort to get him to sign:
Told that Crosby reached out to Parise as part of Pittsburgh pitch

— Pierre LeBrun (@Real_ESPNLeBrun) July 1, 2012
For Parise, there isn't much of a downside to signing with the Penguins.