NHL Free Agents 2012: Alexander Semin and Best Scorers Available
July 2, 2012
Bruce Bennett/Getty Images
There are plenty of good scorers available in 2012 NHL free agency. Teams looking for offense will have plenty to choose from.
While Zach Parise is the belle of the ball, he is expected to sign today.
For those who miss out on him, there is still plenty of talent out there.
Here are a few of the top scorers on the market. 
Alexander Semin

Alexander Semin is one of the top free agents, and outside of Zach Parise, he's the best scorer available. Last season with Washington, Semin scored 17 goals and added 33 assists.
Semin has scored as high as 40 goals and as many as as 84 points.
Semin has come under fire lately for his reputation as a bad teammate. On TSN, analyst Pierre McGuire blasted him (via CBS Sports):
"This is not a great teammate," said McGuire, doing his best to make the situation sound as serious as possible. "I'll tell you that right now, not a good guy to have around your group unless you have unbelievably great leadership and rely on that. He's the ultimate coach killer, that's what he is."
That reputation will hurt him in free agency, but he is still an elite scorer. He's struggled in recent years, but he has as much talent as anyone.
Detroit seems to be the favorite. Detroit has a great group of veterans, including fellow Russian Pavel Datsyuk, to help Semin. He could be a great fit.
The KHL is also interested in luring Semin. The KHL offers tax-free contracts and Semin would have a chance to go back home.
Wherever he lands, Semin is an elite talent. If he goes to the right situation, Semin could get back to the 40-goal plateau.
Jaromir Jagr

The 40-year old winger showed last year that he still has it. Last season in Philadelphia, the future Hall of Famer scored 19 goals and added 35 assists.
According to his agent, there's a lot of interest in Jagr:
"He got 21 offers; I'm not kidding," said agent and former Flyer defenseman Petr Svoboda. "We're not in a hurry. We have plenty of time to sign him. There's lots of interest."
One of those teams appears to be the Montreal Canadiens. According to the Sporting News, the Habs have offered a one-year, $3 million contract to Jagr.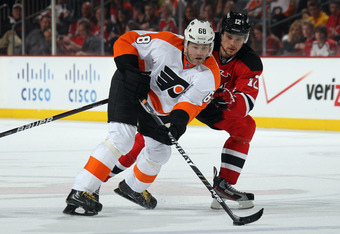 Bruce Bennett/Getty Images
Jagr makes sense for the Canadiens. He scored eight goals on the power play last season and the Canadiens had the third-worst power play in the league, scoring at a 14.3 percent conversion rate.
Jagr is also an option for the Edmonton Oilers. He almost signed with them in 2008.
Other potential landing spots include the Detroit Red Wings and his former team, the New York Rangers.
There's also a good chance that Jagr returns to Philadelphia. General manager Paul Holmgren believes there's a "50/50" chance that Jagr returns. 
Shane Doan

Shane Doan won't decide if he's leaving Phoenix until July 9, according to Darren Dreger. July 9 is the earliest the Coyotes will know about their ownership situation. 
If the ownership situation stabilizes, there's a good chance Doan stays in Phoenix. If not, plenty of teams will be interested.
One of those teams might be the Washington Capitals. Doan, who scored 22 goals and had 28 assists last season, would add a lot of leadership and grit.
Another interested team is the New York Rangers. While the Rangers are in pursuit of Rick Nash, Doan is an option for them. 
The Red Wings will be interested in adding his top-six scoring ability and playoff experience. 
He could, of course, stay in Phoenix. His agent said that Doan "wants to give the Coyotes every opportunity."
Wherever Doan goes, he will make a huge impact. 
Jiri Hudler

Jiri Hudler wants to stay with the Red Wings, but money might lead him elsewhere. As his agent told The Detroit News:
"Jiri loves Detroit," Svoboda said Saturday, hours before unrestricted free agency began. "Jiri loves the organization, the city, his teammates. He appreciates everything the organization has done for him."

"He loves Detroit but you only get the chance to be (an unrestricted) free agent once, maybe twice, in a career," Svoboda said.
Hudler, who scored 25 goals and added 25 assists last season, will be a hot target. 
According to Ansar Khan of MLive, Hudler has met with the Phoenix Coyotes. He could be a replacement for Ray Whitney.
Another team interested in Hudler is the Vancouver Canucks, according to Ted Kulfan of The Detroit News. 
Hudler is a dynamic player and one of the few game-changers. He might get a lot of money to play a big role.
Final Word

There are a number of good scorers who can help an offense. Whether it is the explosive—but troubled—Alexander Semin, wily veterans Jaromir Jagr and Shane Doan or a rising star in Hudler, there are plenty of options for teams to choose from.