Ranking the Best NBA Players at Least 30 Years Old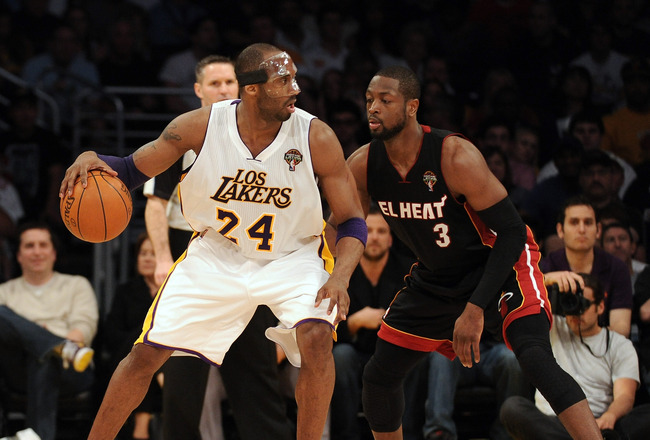 Harry How/Getty Images
Who said this is a young man's game?
As far as I can see, from this top-10 list of the league's best players 30 years of age or older, the NBA has some wily veterans that aren't yet convinced that their respective careers are on the decline.
In fact, five of the past six Finals MVPs are on this list, and a few of them won their first Finals MVP when they were already in their 30s. Even though their physical regression begins around the age of 30, these players begin to use their mental capacity in order to prolong their careers. Michael Jordan went to work on improving his jump shot when he hit the proverbial age of decline.
Kobe Bryant has taken a similar approach. His ability to get to the rim isn't nearly the same as it used to be, so he's taken the approach of shooting jumpers at a higher volume. Eventually, Dwyane Wade will need to do the same once his body starts to disobey him.
We take the time to celebrate the league's great veterans with a top-10 list dedicated to what they have accomplished since turning 30 and their influence on the court from a physical and mental standpoint.
10. Pau Gasol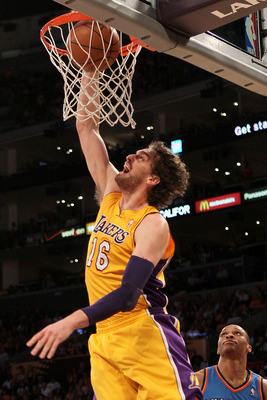 Stephen Dunn/Getty Images
There are probably a few thousand people in Laker-land that want to burn me at the stake for placing Pau Gasol amongst the league's top-10 players over the age of 30.
We have to look further than the past two year's worth of postseason disappointments and acknowledge that Gasol is still one of the league's top power forwards. Despite his somewhat disturbing performance in the playoffs since helping lead his Los Angeles Lakers to a title in 2010, Gasol still helps give his team a convincing advantage in the paint.
Gasol's length is nearly unmatchable, and his ability to use that length is what makes him so difficult to defend. He can shoot over the top of his defender from as far out as the three-point line, rebound and block shots without jumping, and is one of the most underrated passers in the league for a player his size.
The interior passing between him and Andrew Bynum makes the Lakers one of the most difficult teams to defend. There aren't many teams in the league that have a starting frontcourt that can match up with the size, length and versatility of the Lakers' bigs, which helps to explain why the team has won two titles since 2009.
Gasol turned 30 years old in 2010 and will actually be turning 32 two days from now, so happy early birthday to you, Pau!
Maybe you can wish for your regular-season game to transcend to the postseason this year.
9. Ray Allen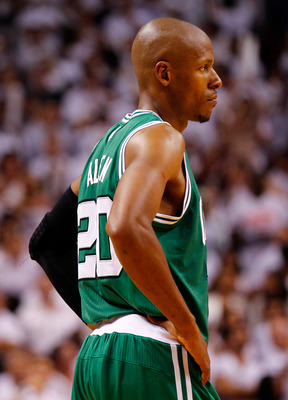 Mike Ehrmann/Getty Images
Rarely will you see two legitimate championship contenders heavily pursuing the same 36-year-old shooting specialist.
Obviously, Ray Allen isn't like many other shooters. In fact, he's arguably the greatest shooter in the history of the game, which is something that any team looking to add a shooter would simply love to have.
Right now, it appears the Celtics may win the battle. While the Heat can essentially guarantee a title with Allen on the roster, they can't match the contract the Celtics are prepared to offer, nor can they match loyalty—something that may play a large part in Allen's decision making.
But that's all beside the point. What we are here to celebrate is the fact that Allen has been playing basketball over the age of 30 since 2006, and has done more in his career since that time than the majority of the league's players would ever accomplish in a seven-year span.
Since turning 30, Allen's lowest shooting percentage from beyond the arc has been 36 percent. He has shot 40 percent or better from beyond the arc four times since then, including setting a career high at the age of 36, when he converted three-pointers at a staggering 45 percent clip.
This came during a season where Allen dealt with injuries and missed 20 games. Just to prove it's no fluke, take a look at the season before, when he played in 80 games and converted three-pointers at a 44 percent clip at the age of 35.
Not even an injury-ravaged postseason will derail the Celtics, Heat or Memphis Grizzlies from heavily pursuing the soon-to-be 37-year-old.
8. Tim Duncan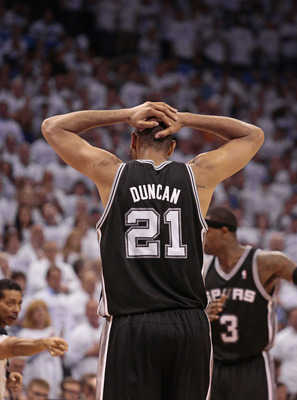 Brett Deering/Getty Images
Even though his individual numbers aren't nearly what they used to be, Tim Duncan continues to lead the San Antonio Spurs to the similar success they have seen since he joined the team in 1997.
Winning his first title at the age of 22 and his fourth at the age of 30, Duncan maintains a Hall of Fame-worthy career even in his later years. The Spurs finished the 2011-12 season high atop the Western Conference as the No. 1 seed and took a 20-game winning streak into Game 3 of the Western Conference Finals.
While he got plenty of help, Duncan still led the way because of his fundamental approach to the game.
Duncan's patented bank-shot is still among the best go-to moves in the league, and his play continues to demonstrate that he is one of the league's smartest players. Hardly ever will you see a bad shot or pass leave the hands of Duncan, and that's why the 36-year-old has four championships, three Finals MVPs and two league MVPs to his name.
You can be a great player if you have the talent and mental and physical capacities, but what sets Duncan apart from just about every other player in the league is his patience and his calm approach to every situation. There is never a moment Duncan would shy away from because he maintains the same level-headed approach and applies it to different situations, no matter how significant.
Until the age of 33, Duncan had averaged a double-double in 13 consecutive seasons to start his career. It wasn't until he was 34 years old that he averaged under 10 rebounds per game for the first time. Still, averaging 15.4 points, 9 rebounds and 1.5 blocks per game isn't too shabby for a 36-year-old with bad knees.
7. Manu Ginobili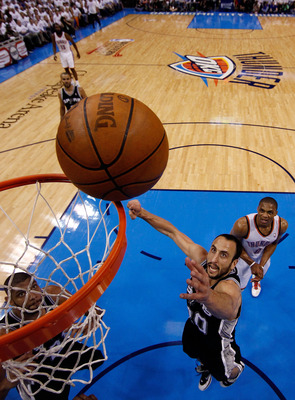 Pool/Getty Images
Although injuries have played an unfortunate role over the past two seasons, Manu Ginobili still maintains as one of the league's craftiest and deadliest players.
The 2008 Sixth Man of the Year has played a vital role in the San Antonio Spurs' destruction of the league since 2002. With three championships to his name, Ginobili has usually played the role of a spark off the bench for the Spurs. His ability to drive and shoot allows him to dominate the floor and leave defenders searching for answers on how exactly to defend him.
Because Ginobili is a 37 percent shooter from beyond the arc over his prestigious 10-year career, defenders will always need to be wary of his ability to hit the three-ball. However, it becomes nearly impossible to defend him at some points because he's such a crafty slasher and knows how to get to the rim with relative ease.
What hurts the most is the fact that we're probably not going to get nearly enough Ginobili as we could have. He entered the league as a 25-year-old in the 2002-03 season, but had been playing professionally in Argentina and Italy since 1995. During that time, he had already won two Italian League MVPs and a Euroleague Finals MVP after leading Kinder Bologna to a 2001 Euroleague championship.
Ginobili turned 30 prior to the 2007-08 campaign, which happened to be the same year he won Sixth Man of the Year after averaging a staggering 19.5 points per game off the bench.
Manu dealt with injuries throughout the lockout-shortened season, and it resulted in him only playing in 34 regular-season games. However, once the postseason came around, Ginobili became the player we all know, averaging 14.4 points, four assists and 3.5 rebounds per. All at the age of 34.
Not bad for a 57th pick.
6. Kevin Garnett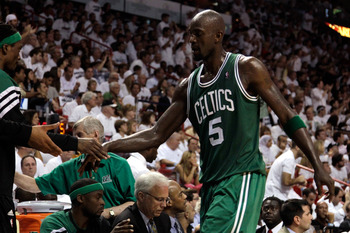 Mike Ehrmann/Getty Images
Another ageless veteran who is set to receive a lucrative deal despite being past his prime, Kevin Garnett will most likely find himself in a Boston Celtics uniform until the day he retires.
Can you blame him? The Celtics are the team that gave him his first and only NBA championship, so it's only natural to expect Garnett to commit to the team that delivered. He already fully understands the team he's currently with and has developed a nearly unmatchable chemistry with his All-Star teammates.
Plus, Rajon Rondo makes life way too easy for Garnett. The guy thrives on offense off of a simple pick-and-roll he runs with his point guard. He can still establish low-post positioning and find ways to create mismatches, but his go-to move with the Celtics has been running the high pick-and-roll with Rondo.
It's adding years to Garnett's career, as well as the careers of Ray Allen and Paul Pierce. With Rondo running the offense, he's setting up his teammates for scores, so the "Big Three" don't have to work as hard at creating their own shot.
Garnett has been thriving heavily off of Rondo and it shows. "KG" is still just as lethal a mid-range shooter and just as effective a defender as the player who won Defensive Player of the Year back in 2008. His back-to-the-basket game is still nearly unstoppable, as his length and ability to create space allow him to get a clear shot at the rim from within close.
At the age of 35 last season, Garnett averaged 15.8 points per on 50 percent shooting to go along with 8.2 boards and a block.
He maintained good health the majority of the season, only missing six regular-season games.
5. Paul Pierce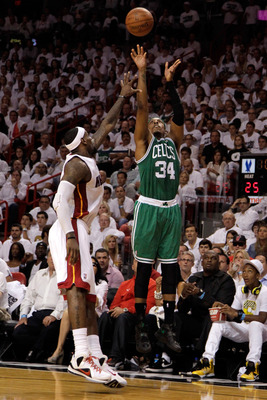 Mike Ehrmann/Getty Images
Paul Pierce is an absolute phenomenon.
He looks out of shape, has a slow shot delivery and appears to have trouble running, yet he can still easily be considered one of the league's top-five small forwards, and there aren't many who would argue against that.
At the age of 34 this past season, Pierce played some of his best basketball in years. The 19.4 points per game was the most he's averaged since 2008-09, and the 4.5 assists per game were the most since 2007-08.
He's still maintaining scary consistency in just about every facet of his game, and it's part of the reason why the Boston Celtics are still making it to Game 7 of the Eastern Conference Finals at this stage. Pierce's scoring touch and ability to hit timely shots from anywhere on the court has allowed him to maintain that consistency, as he has continued to play the same game he's been playing since joining the league.
If Pierce is averaging nearly 20 points per game on a team with Kevin Garnett, Ray Allen and Rajon Rondo, could he possibly average close to 25 points if he were still the focal point of Boston's offense? Fatigue would certainly begin to play a part, but it's still a testament to just how prolific of a player Pierce is, even this late in his career.
We haven't been able to see much of Pierce on his own since turning 30; Garnett and Allen joined Pierce the same year he hit the proverbial age of decline.
Chances are that Pierce probably covets that championship and his Finals MVP, both won at the age of 30, more than the fact that he averaged nearly 26 points per game over the two years prior to winning.
4. Steve Nash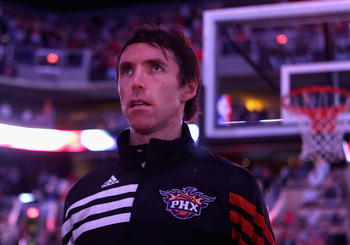 Christian Petersen/Getty Images
The ageless wonder, a 38-year-old Steve Nash could be among the highest paid players in the league this upcoming season.
Word is that the Toronto Raptors are planning on offering a deal that would net him $36 million over the next three seasons. The scariest thing about this deal is it really isn't as bad as it sounds. Nash would generate some serious interest in the Raptors franchise and may even turn them into a playoff team if another solid player or two can be signed.
Even better is the fact that Nash fits right into the team dynamic of not having players who can defend well.
Nash can make miracles happen, but even he couldn't bring Marcin Gortat, Shannon Brown and a 39-year-old Grant Hill to the postseason. He'll need a bit more than DeMar DeRozan, Andrea Bargnani and Jonas Valanciunas as his top running mates if the Raptors expect to actually make the postseason.
At the age of 37 last year, Nash averaged 12.5 points, 10.7 assists and 3 rebounds per game. He also tied a career high, shooting 53 percent from the field while also converting on 39 percent of his three-pointers and 89 percent of his free throws.
Since turning 30, Nash has led the league in assists five times and free-throw percentage twice. He's also won two league MVPs and led the Phoenix Suns to some of their best seasons in franchise history.
Not since Charles Barkley was leading the way had the team seen similar success.
3. Dirk Nowitzki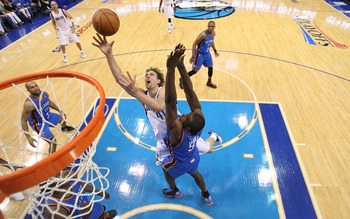 Ronald Martinez/Getty Images
Despite coming off of one of the worst shooting seasons of his 14-year career, Dirk Nowitzki leveled out at the end of the year to maintain a 21.6 points-per-game average on 46 percent shooting.
I think we can cut him some slack. He did just win the 2011 NBA championship and Finals MVP for the first time in his career, so maybe Dirk can get away with producing the second-worst shooting percentage of his career.
We might just have to chalk it up to the lockout because Nowitzki got it going later on in the year, as we all should have expected.
The real story, however, is the 2010-11 season, which was probably the finest of his career. Not only did he shoot a career-high 52 percent from the field while averaging 23 points and seven boards per game, but he also just so happened to win that elusive title which had been teasing him so much. Year after year, Nowitzki would lead his team to 50-, or even 60-, win seasons only to come away with an early playoff exit.
It wasn't the case in the 2011 postseason, as Nowitzki's "clutch gene" finally kicked in at the right moments. A wide array of his mid-range shots dropped throughout the 2011 playoffs, in combination with a silky three-point touch, which usually isn't the strongest part of his game. Nowitzki, a 38 percent career shooter from deep, converted 46 percent of his three-pointers in 21 postseason games last year.
Not bad for a 32-year-old who was already considered past his prime.
Because he relies so heavily on his jump shot, Nowitzki should be able to thrive in the league for a few more years before a significant decline actually begins to take place. The lack of physicality in his game and a tendency to hover around the perimeter allows him to stay out of harm's way, which possibly explains why Nowitzki has played in 70 or more games every year but his rookie season (aside from last year's lockout-shortened campaign).
He only missed four games last year.
2. Dwyane Wade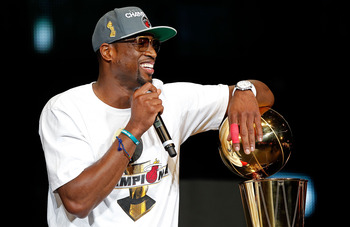 Mike Ehrmann/Getty Images
The most recent NBA champion on this list, 30-year-old Dwyane Wade is coming off of his second NBA title and first since 2006.
It was LeBron James taking the glory as Finals MVP this time around. However, in 2006, Wade blew the doors off with arguably the greatest individual NBA Finals performance of all time. Wade averaged 34.7 points, 7.8 rebounds and 3.8 assists per game to lead his team back from a 2-0 deficit, while managing to overshadow his Hall of Fame teammate, Shaquille O'Neal.
Wade was only 24 years old when he won his first championship. Injuries and surgeries would ravage his career over the next two years, and it wouldn't be until the 2008 Olympics that we would get to see the Wade of old. In his prime year, at the age of 27, Wade led the league in scoring with 30.2 points to go along with 7.5 assists and five rebounds per game.
The 30-year-old Wade isn't exactly ready to begin putting up those types of numbers again.
In fact, he's absolutely content with the fact that LeBron James has taken over the Miami Heat. Wade even made it public when he made it known that he willingly gave up the reins of the team to the younger and more athletic James.
His physical attributes may not be the same, but his mental toughness has only grown, and it shows with career-changing decisions like the one he made last summer.
At 30, Wade dealt with injuries for the first time since 2007. They weren't significant enough to keep him out for an extended stretch of time, but it was enough to make Wade a bit shaky at times during the postseason. He'll be getting knee surgery this summer, which shouldn't be a surprise to anyone.
Wade averaged 22.1 points, 4.8 rebounds, 4.6 assists, 1.7 steals and 1.3 blocks per contest last season.
1. Kobe Bryant
Ronald Martinez/Getty Images
If you can't respect Kobe Bryant's game, your whole perspective is whack.
Maybe you'll love him when he fades to black.
Bryant turned 30 prior to 2008-09 season, when he was busy winning his first of two consecutive titles. It was also the same year that Bryant won a Finals MVP for the first time after defeating the Orlando Magic in five games. Bryant failed to win any of those MVPs during the Lakers' three-peat of the early 2000s.
Kobe took advantage of the opportunity that was bestowed upon him. The Los Angeles Lakers not only took Kwame Brown and a few others out of the equation, but they also brought in All-Star power forward Pau Gasol to make Lakers basketball look like Lakers basketball again. With Gasol by his side, Bryant would help lead the Lakers to two titles, while winning two Finals MVP awards.
Winning the championship against the Boston Celtics certainly wasn't as easy as the title Bryant and the Lakers won the year before. However, the 31-year-old Bryant managed to overcome a horrific shooting performance in Game 7 with key rebounds and key assists to earn a second consecutive Finals MVP.
Bryant hasn't been to the conference finals since then; his team has gone 1-8 in the past two semifinals. I certainly wouldn't pin any blame on Bryant, however, as he recently averaged 30 points per game in this year's postseason as an injury-ravaged 33-year-old.
In case you didn't know, Bryant is hurting everywhere. He endured torn wrist ligaments all year and continued to play with that bum index finger on his shooting hand, yet still managed to average 27.9 points per, mere percentage points short of a third scoring title.
The sense of urgency Kobe displayed this year was incredible. Without Lamar Odom giving the team support off the bench, Bryant took the initiative to start playing more minutes and continued to play with the aggressive mentality that has garnered him league-wide respect over the past 16 years.
Keep Reading