MLB 2012: Midseason Awards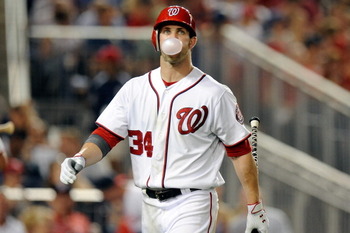 Greg Fiume/Getty Images
The first half of the 2012 MLB season has featured a multitude of compelling storylines. From Jamie Moyer to Bryce Harper; R.A. Dickey to Mike Trout, a wide range of players have garnered massive amounts of media attention for various reasons, including old age and unprecedented success.
As we rapidly approach the 83rd All-Star game to be held in Kansas City, it is about time to honor baseball's top performers through the first 80+ games of the year.
From MVP to Manager of the Year, we cover it all in MLB's 2012 Midseason Awards.
AL MVP: Robinson Cano: .316 AVG, 55 R, 100 H, 23 2B, 20 HR, 50 RBI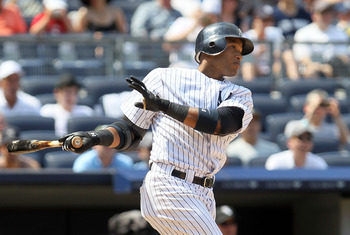 Jim McIsaac/Getty Images
I realize I will likely receive a fair share of criticisms for this pick; however, with so many legitimate candidates through 80+ games, the selection for AL MVP wasn't easy. A torrid start to the season made 2010 winner Josh Hamilton an early frontrunner for his second MVP award. But a short stint on the DL followed by declining production has helped even the playing field.
David Ortiz has proved an entire nation wrong with his recent resurrection and Paul Konerko continues to make a late push for the Hall of Fame. But neither has the complete resume to earn the title of MVP.
Because right now, it belongs to Robinson Cano.
After overcoming a seemingly annual slow start, Cano started to heat up along with the weather when the calendar turned to June. A month in which he hit .340, with 11 homeruns, and 21 runs scored has vaulted Cano to the top of the AL MVP discussion—right where I had him in my preseason predictions.
While his overall offensive numbers may fall short in comparison to Hamilton's, it is Cano's overall game that makes him the pick for midseason MVP of the American League.
The man does it all.
He hits for average, doubles, power, production, and plays gold glove defense at a position that is commonly seen batting in the bottom-third of the order. To put it more simply, Cano provides the Yankees with the production of a premier corner infielder, while playing a stellar second base.
In fact, as he continues to make a case for being the best all around player in the game, Cano is putting up numbers comparable to very few 2B of all time. And before it's all said and done, he could be atop the short list.
If you aren't convinced yet, consider that he ranks behind only Joey Votto and David Wright in a statistical category that is rapidly becoming the most utilized number when evaluating player value. Cano's 4.2 WAR (Wins Above Replacement) indicates that he may in fact be the most irreplaceable player in the American League.
Honorable Mention: Josh Hamilton, David Ortiz, Miguel Cabrera, Mark Trumbo, Paul Konerko
NL MVP: Joey Votto- .350 AVG, 50 R, 96 H, 34 2B, 14 HR, 47 RBI, .469 OBP, 1.097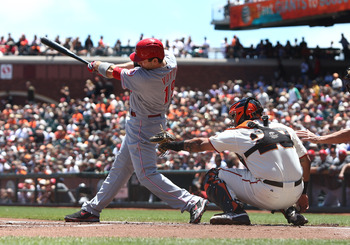 Tony Medina/Getty Images
Oftentimes, the average fan tends to take a rather narrow statistical perspective when evaluating the MVP award. Favoring the sexy home run and RBI totals certainly gives you a general idea of a player's production, but it doesn't always tell the whole story.
That is surely the case with this year's midseason NL MVP award.
A quick glance at the offensive numbers would tell you that Carlos Beltran or Ryan Braun is most deserving at the midway point. But just like Cano in the AL, it takes a bit more digging to uncover the player who provides their team with the most value.
It is the Most Valuable Player award after all.
And after a careful evaluation, most signs point to one name: Joey Votto
The Reds first baseman is vying for his second MVP in three years while carrying Cincinnati to first place in the Central division. His 34 doubles, .469 OBP and 1.097 OPS all rank first in the majors by a large margin, and only a rough month of April separates Votto from being the clear-cut choice for the award.
Votto's constant production and solid defense have made him the model for consistency, and his 4.8 WAR leads all of baseball, underscoring his invaluable importance to the Reds' lineup.
Honorable Mentions: David Wright, Ryan Braun, Carlos Beltran, Andrew McCutchen, R.A. Dickey, Matt Kemp
AL CY Young: Justin Verlander: 9-5, 2.58 ERA, 132.2 IP, 128 K, .95 WHIP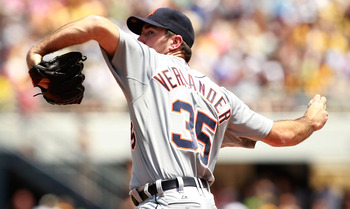 Jared Wickerham/Getty Images
Felix Hernandez helped put an end to the judgment of pitchers based on wins and losses when he received the CY Young award with a 13-12 record two years ago.
While Justin Verlander's historic season made for little debate in 2011, it won't be so easy the second time around.
We knew it would be next to impossible for him to repeat his MVP numbers from a season ago, but half way through the season; Verlander is in good position to defend his title as AL CY Young in 2012.
Some bad luck has left the Tigers' ace with a fairly average win/loss record at 9-5; however, his other statistics are all far from average. Verlander leads the league in innings pitched (total and per start) and strikeouts, while surrendering less than one walk/hit per inning.
He leads the majors with four complete games and suffers from the worst average run support in the entire American League.
Only Chris Sale and Jered Weaver have numbers in the AL comparable to Verlander's at this point in the year. But with three to four fewer starts apiece (and considerably fewer innings), it will take an impressive second half for either to best the reigning American League MVP.
Honorable Mentions: Chris Sale, Jered Weaver, David Price, CC Sabathia, Matt Harrison
NL CY Young: R.A. Dickey: 12-1, 2.15 ERA, 113 IP, 116 SO, .88 WHIP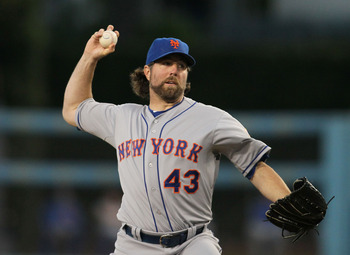 Victor Decolongon/Getty Images
At the beginning of the 2012 season, some questioned whether or not R.A. Dickey would be able to maintain his spot in a big-league rotation. Now, the only question surrounding Dickey is if he will lose another start the rest of the year.
At 37 years old, Dickey is having one of the most remarkable seasons the game has ever seen. With an atypically fast knuckle ball and swift pace, he is making quick work of the entire National League.
Dickey caught the world by storm when he tossed back-to-back one-hitters in mid-June. But it's his consistency that makes him a candidate for not only the NL CY Young award, but the MVP award too.
He leads the league in wins and WHIP while trailing only Stephen Strasburg in strikeouts. And Dickey's 75 hits and 27 earned runs allowed are both considerably lower than the only two pitchers who have pitched more innings.
The emotional story behind the early-life struggles of the Mets' unexpected ace is arguably more empowering than his rise to success in the Major Leagues. Midway through the 2012 MLB season, the NL CY Young award may be the easiest award to hand out.
It should be a lock that R.A. Dickey starts the All-Star game for the National League in the coming week. If he can continue to pitch anywhere near the way he did in the first-half, we could be looking at one of the most surprising CY Young winners ever.
Honorable Mentions: Matt Cain, Gio Gonzalez, Stephen Strasburg, Brandon Beachy, Clayton Kershaw
AL Rookie of the Year: Mike Trout: .343, 52 R, 10 HR, 36 RBI, 23 SB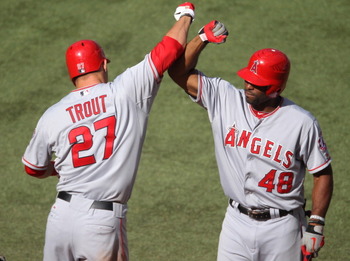 Tom Szczerbowski/Getty Images
Lost in the shadow of Washington's Bryce Harper is a kid in Los Angeles whom some have compared to Mickey Mantle. A player so promising he makes King Albert's $240 million contract seem like an after thought in Hollywood.
At just 20 years of age, Mike Trout has captivated more than the city of L.A.
He has taken the entire game of baseball by storm.
If it weren't for the fact that he spent most of April in AAA, we would likely be talking about Mike Trout for AL MVP instead of Rookie of the Year.
Now don't get me wrong, I'm sure millions of kids out there would give their left pinkie finger to receive such an award, let alone play in the MLB. But for the kinds of numbers Trout is posting, the Rookie of the Year award is an understatement.
It's almost an insult.
Despite playing 20 fewer games than nearly every other player, Trout leads the American League in batting average and stolen bases. He has scored nine fewer runs than AL leader Ian Kinsler, but has done so in 100 fewer at-bats.
But what makes Trout so special isn't simply his unprecedented offensive success at the major league level.
It's his all-around game that has every scout in the nation drooling from the mouth.
Even with the small sample size, many have already labeled him the best defensive outfielder in the game. Just last week he made a leaping catch in Baltimore that could stand as the best of the year.
According to the WAR statistic, Trout is already the third most valuable player in the game, and with just 98 big league games under his belt, the legendary comparisons don't seem so bizarre after all.
Honorable Mentions: Jesus Montero, Yu Darvish, Will Middlebrooks, Yoenis Cespedes,
NL Rookie of the Year: Bryce Harper: .280 AVG, 41 R, 8 HR, 23 RBI, .354 OBP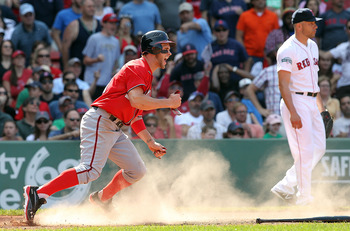 Jim Rogash/Getty Images
It didn't take long for Bryce Harper to make a name for himself in the big leagues when he became the youngest player ever to steal home in his eighth career game.
At just 19 years old, the Nationals' phenom was called up earlier than expected in late April after a handful of injuries left Washington's outfield depleted. Fortunately for the Nats, he hasn't given them any reason to question the decision.
Harper made his presence felt immediately, both on the field and in the media. From his outfield mishaps to the infamous "clown question bro", the teenager has been a lightning rod for reporters ever since his call-up.
But more importantly, he has helped the Nationals maintain a narrow lead in the NL East with his natural ability and passion for the game. Harper's hustle helped energize a club struggling to score runs, and his heavy bat certainly hasn't hurt either.
His eight home runs ranks him third on the team and second among NL rookies. And his eight steals, 25 walks, and four triples show Harper has a complete game.
Sure, he is going to have growing pains, some of which may be tough to deal with for such a confident young man. But when it comes to his heart and effort, there simply are no question marks.
Honorable Mentions: Rick Nieuwenhuis, Norichika Aoki, Yonder Alonso, Wilin Rosario, Zack Cozart
AL Manager of the Year: Buck Showalter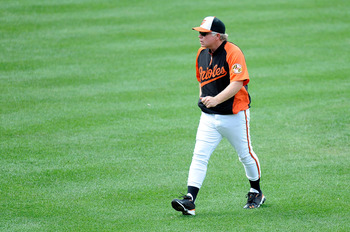 Greg Fiume/Getty Images
After four consecutive last-place finishes in the AL East, the Orioles gave fans little hope for improvement when their most notable offseason move was the departure of Jeremy Guthrie.
Though known for fast starts in the early months of the year, Baltimore surprised everyone in baseball when they led the game's toughest division for the first quarter of the season. We have been waiting for (essentially expecting) the seven or eight game slide that would send the O's tumbling towards yet another fifth place finish.
But it hasn't happened.
Now 80 games into the season, the Orioles remain just five games back of the first place Yankees in the division standings. Behind a handful of no-name starting pitchers (no offense Jason Hammel) and timely slugging, Baltimore has managed to stay in front of three teams with superior talent.
Over-performance in sports, and more specifically baseball, is typically a testament to the coach or manager.
And that's exactly what is happening in Baltimore.
Guys like Jim Johnson, Adam Jones, and Wei-Yin Chen have found great success playing for a manager who has instilled belief in a team that truthfully doesn't belong.
I would be willing to bet that the average fan could not name more than three pitchers (aforementioned excluded) on the O's current staff. Yet Buck Showalter's bullpen has the third best ERA in the majors.
It remains to be seen if the Orioles can sustain such an unexpected pace for the remainder of the season. But the simple fact that Baltimore sits in second place ahead of Boston, Tampa and Toronto at this point in the year warrants some sort of recognition, doesn't it?
Good luck the rest of the way, Showalter. You're going to need it.
Honorable Mentions: Robin Ventura, Manny Acta
NL Manager of the Year: Davey Johnson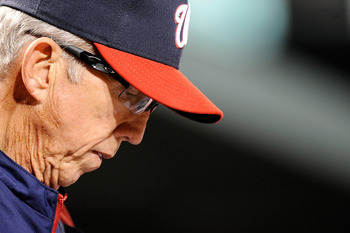 Patrick McDermott/Getty Images
Just like their cross-town rivals in Maryland, the Nationals have exceeded expectations across baseball thus far. The only difference is that unlike Baltimore, Washington actually had high expectations.
One year removed from their best finish ever in the NL East (3rd), many viewed the Nats as a legitimate playoff contender coming into the 2012 season. But halfway through the year, the expectations in the nation's capitol have likely changed.
Now Davey Johnson's club leads the competitive NL East by six games in the loss column, and they own the best record in the entire National League.
Washington's success this season has centered around its stellar starting pitching and a solid bullpen. With the best team ERA in the majors, the Nats have been able to overcome a heap of injuries and a rather inconsistent offense.
Despite the struggling bats, however, Johnson has stuck with his players the entire way. After taking over for Jim Riggleman in the second half of last season, Johnson has garnered the respect of his entire roster and much of the D.C. fan base.
Seemingly every time the Nationals have faced adversity this year, Johnson has made the right call. When Michael Morse and Jayson Werth went down with injuries, Harper received an early call-up and attributed much of his early success to his manager.
When Henry Rodriguez began to falter in the closer role, Johnson made the switch to Tyler Clippard. And when the media began questioning Ryan Zimmerman's spot in the order, Davey stuck by his guy.
Well, the moves are starting to pay off, and Washington is finally getting healthy. Morse and Zimmerman are back in the lineup and are beginning to produce. The pitching hasn't skipped a beat, and the team is gaining confidence.
With the talent of the other teams in the NL East, it would be silly to crown the winner in July. But there's no question that Washington's sights are set on their first division title, or possibly even a pennant.
Honorable Mentions: Terry Collins, Clint Hurdle, Don Mattingly
Keep Reading